As we talked about in the last post, I'm proposing a new way to think about account-based marketing (ABM) and how it relates to demand generation.
It's not one or the other. It's both.
By now, most B2B marketers have made the transition from traditional campaigns to an ABM approach, leveraging technology from vendors who have defined ABM in a vacuum and have built their platforms around those definitions.
Unfortunately for us marketers, most of the original ABM platforms determined the focus should be account engagement.
They built platforms to deliver and report on engagement and other vanity metrics, with the assumption that engagement ultimately led to closed/won deals.
Most marketers using these platforms are now realizing that account engagement doesn't always have a direct line to revenue, and are still looking for the answers to help them build pipeline and close deals.
The traditional ABM platform focus on account engagement is missing a huge part of the puzzle – there's no attribution to the results marketers care about the most.
And of course, serving more ads to generate more engagement keeps money flowing into the platforms and ad network – it's in their best interest to make engagement look impactful.
You Need Engagement AND Demand
Marketers are still left with a problem.
Even if you are executing ABM campaigns (i.e., buying and joining B2B targeting data, onboarding audiences, testing campaigns, enriching leads), you have no sense of how to optimize that target account engagement across channels to drive demand and pipeline.
You have no clear way to see the insights and impact on revenue and ROI from each program.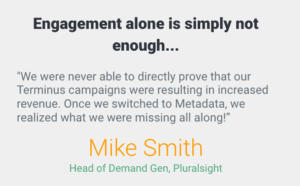 So, if an end-to-end ABM platform can't get me there, how do I fill the gap?
You need programs and technology focused on the demand generation side of your funnel. But what are the differences between an ABM platform and a Demand Generation platform?
The standout features of a Demand Generation platform are:
Focuses on generating high-quality leads from target accounts that turn into triggered and influenced pipeline, not just engagement.
Combines business and personal data (intent, firmographic, technographic, demographic) to build incredibly accurate audiences in marketplaces with high match rates.
Automatically runs self-optimizing campaigns at scale that engage the right target accounts at the right time, and turns that into demand for your product.
Fully enriches all inbound leads with company and professional information, using multiple data sources.
Provides reporting focused on the return on investment of your marketing campaigns: showing the total amount of spend, and the total amount of resulting pipeline and revenue.
Real-World Example
Let's say you're running an ABM campaign with the goal of driving opportunities and pipeline. You launch the campaign using the two ad examples below and want to optimize.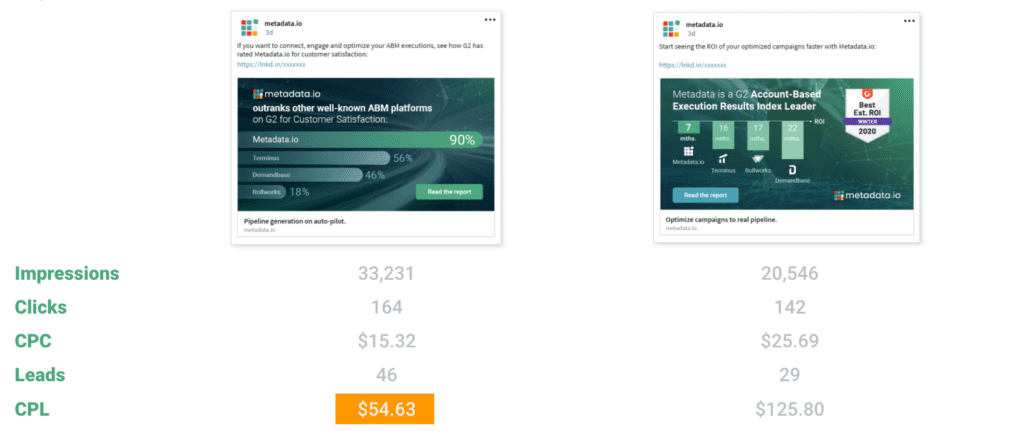 If we judge the performance of this campaign from a traditional ABM-engagement standpoint, we'd be stoked with the performance of the ad on the left and likely optimize out of the ad on the right.
However, now let's look at deeper, demand generation KPIs for this same campaign and see which ad would win.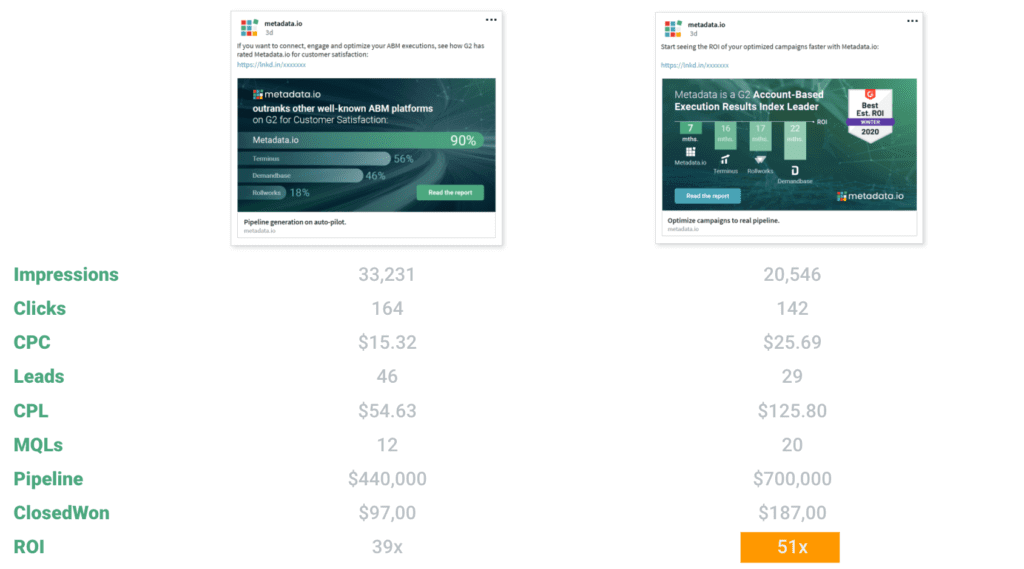 We now see that the second ad outperformed the first ad by a relatively large margin when you analyze past general engagement metrics like cost per click and cost per lead.
Have your cake and eat it too
You need to show ROI and engagement now – there is no excuse. Especially today – every dollar matters.
CMO's know it's possible and are expecting it more frequently. You need different methods to deliver and measure the two sides of your funnel: the account engagement/influence side (which can be served well via traditional ABM platforms), as well as the demand generation side.
If you're only doing account engagement and influence, and don't have a clear way of showing how that approach leads to revenue, it's time to rethink your strategy and include a new focus on demand generation.
The table below shows some of the main differences between a traditional ABM platform, and a Demand Generation platform. Start by ensuring you have technologies or processes that support the demand generation side of your funnel.