The One to One Future
Flip The Funnel
Account-Based Marketing For Dummies
Key Account Management: The Definitive GuideA
Practitioner's Guide to Account-Based Marketing
You've heard people talking about this new Account-Based Marketing thing and want to know a little more. You're wondering if it's the El Dorado of growth your company is searching for. But, you want to know a little more before bringing it to the C-level for discussion. You don't want to take a chance, look foolish and simply jump into a passing fad.
We get it. At Metadata, we truly believe Account Based Marketing is the new panacea for B2B growth. But don't just take our word for it. Listen to the experts and read up on it for yourself. These are the top books we ask all our employees to read, or at least skim, when they come on board to the Metadata. By leveraging their teachings, our team has done some amazing things for our clients like: reduced lead costs 45% for Align Commerce and tripled the number of Opportunities for Concurrent in just 3 weeks. If you want mirror our success, start with these books.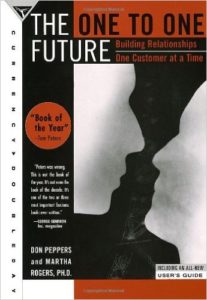 The One to One Future
The One to One Future was published in 1993 by Don Pepper and Martha Rogers, Ph.D. It ignited a lot of what know now as Account Based Marketing. Revolutionary at the time, they advocated a shift away from mass marketing to a more individualized B2B approach. They saw a tailored customer path unfolding 6 years before Eloqua, the first marketing automation tool. Here is a quote perfectly illustrating their philosophy:
It is information about individual consumers that will keep a marketer functioning in the 1:1 future. Without individual information, as opposed to market or segment information, 1:1 marketing would not be possible.
Pepper and Roger's focused on these points in One to One: Concentrating on on the top 20%, the Pareto principle, of the most loyal customers. By showing top customers exceptional service, they may account for as much as 80% of revenue. Fostering tailored customer relationships with a variety of communication channels, like Faxes. Yes, Fax were "high-tech" back in 1993. Pepper & Rogers might now advocate using Whatsapp. Working with customers in the same fashion you do with suppliers.
Critics like George Gendron called it "one of the two or three most important business books ever written."
If you really want understand the foundations of Account Based Marketing buy this book.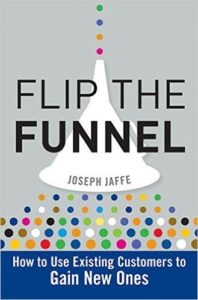 Flip The Funnel
Joseph Jaffe wrote the Flip The Funnel in 2010. After years of running a Marketing Consulting firm, Jaffe envisioned a better way to acquire new customers. He knew it's cheaper to retain a customer than to acquire a new one. This is especially true in the B2B arena. Jaffe argues that marketing resources should shift to focus on active customers. He advocates concentrating on existing client accounts, while providing Customer Service 2.0, as the optimal route to growth. By nurturing current customers into brand advocates, new referrals are picked up at a fraction of traditional acquisition costs.
Tony Hsieh, CEO of Zappos endorses FTF with: "In Flip the Funnel, Jaffe outlines a way to authentically build companies by making the most of the dedication and loyalty of their employees and customers"
FTF concepts are an easy way to start optimizing your acquisition efforts without engaging an Account Based Marketing solutions provider. Read this if you need to start off slow or want to optimize your existing ABM program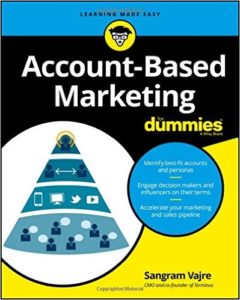 Account-Based Marketing For Dummies
Our good friends at Terminus wrote Account Based Marketing for Dummies. They cover what most experts think of as Account Based Marketing in 2016. A sampling of the topics covered are:
Essential tools you may need
How to unify Sales & Marketing
How to target your potential key accounts
Leveraging marketing automation
Content Development
Customer advocacy
If you want a comprehensive overview of Account Based Marketing in 2016, give this book a read.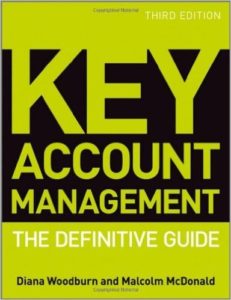 Key Account Management: The Definitive Guide
The 3rd edition Key Account Management: The Definitive Guide was written by Diana Woodburn and Malcolm McDonald in 2011. Woodburn and McDonald met teaching at the Cranfield School of Management in the late 90s. This book is the culmination of their research. It covers:
How to select the right key accounts.
The different relationship stages an account goes through
Key Account profitability
Performance and rewards of your Key Accounts
Woodburn and McDonald give an in-depth view of Account Management for ABM. If you work in a large multinational corporation or are looking for a academic deep dive into ABM, this is the book for you.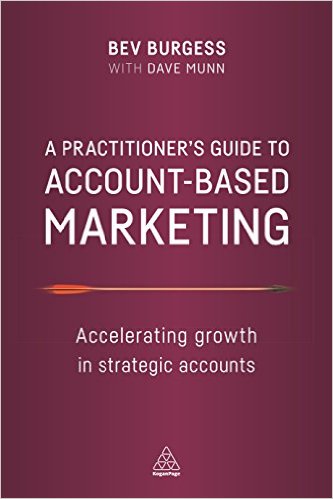 A Practitioner's Guide to Account-Based Marketing: Accelerating Growth in Strategic Accounts
Written by Bev Burgess, this will be most up to date book on Account Based Marketing by an ITSMA rep. Bev plans on covering the basics of ABM like aligning intra-departmental efforts(R&D, Sales, Marketing), investing in the right tools and technologies, mapping and profiling customers accounts, as well as a plethora of case studies. Given the fluid definitions of Account Based Marketing as of late, it will be interesting to see how Burgess's book contrasts with Account Based Marketing for Dummies.
All we can say is we can't wait to read it.
These are our recommended readings on Account Based Marketing. Give some of these books a go and let us know how you liked them on Facebook. If you read all of them, we might even offer you job at Metadata!