LinkedIn Conversation Ads + Metadata
Launch LinkedIn Conversation Ads directly from Metadata.
"We were able to generate $5.3M in pipeline and $1.3M in revenue with LinkedIn Conversation Ads."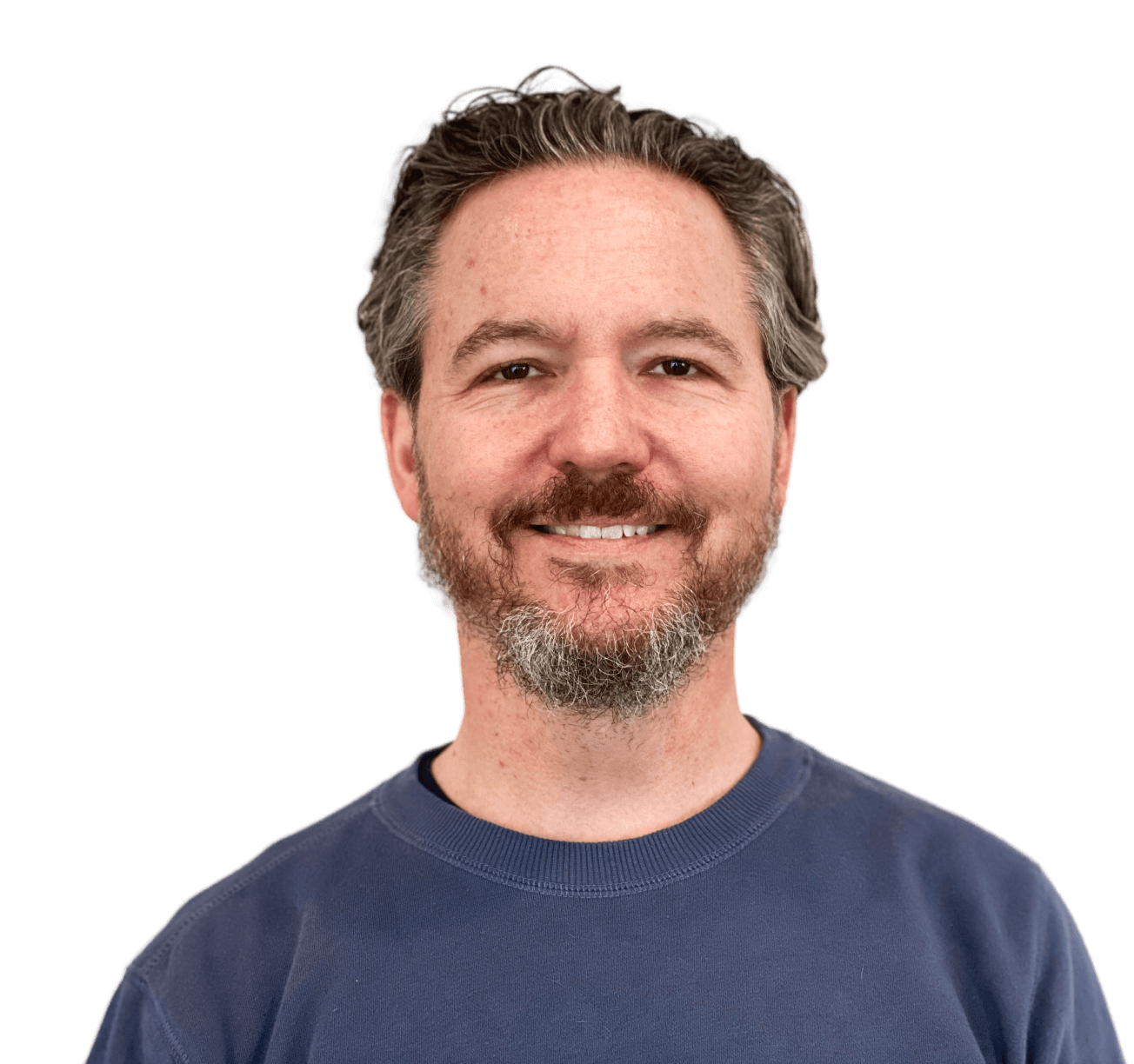 LinkedIn Conversation Ads?
Think sponsored LinkedIn InMail meets Drift chatbot. Which means your prospects can choose their own adventure, all within a single LinkedIn message.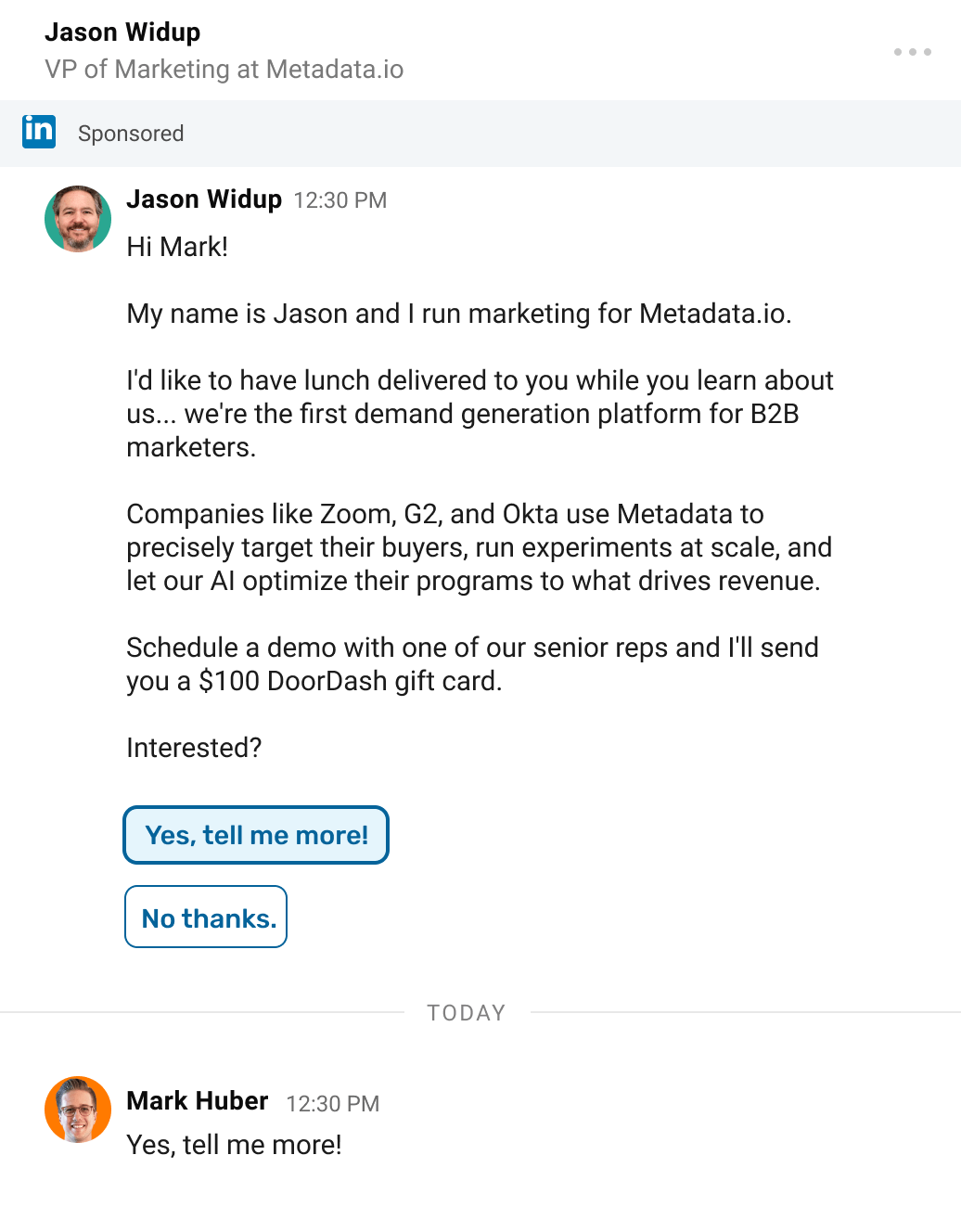 The quick rundown on LinkedIn Conversation Ads
What you need to know about running LinkedIn Conversation Ads with Metadata.
You can use them for content, webinar, and demo request campaigns.
You can send them using your custom MetaMatch audiences.
You can deliver them at a low cost per send (< $1.00 in most cases), with very high open rates.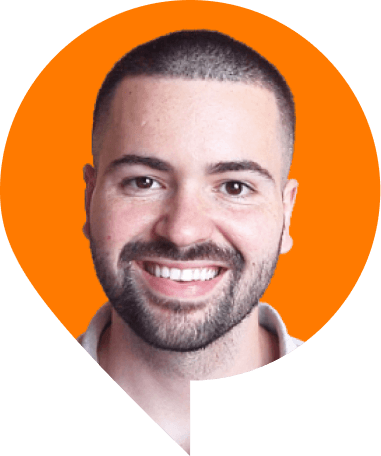 Head of Performance Marketing, Metadata
"We've generated 300+ demo requests and have found the percentage of new leads generated from conversation ads that convert into SQO's to be among our highest converting channels."
How you can launch Conversation Ads with Metadata
We found that above 90% of users would get the best results with a sharply-attenuated feature set — just three ad flows and three offers would cover nearly all the ground you needed and be a lot simpler to use than the LinkedIn interface.
So for the initial release, you can run conversation ads in Metadata for content download, event registration and demo request campaigns.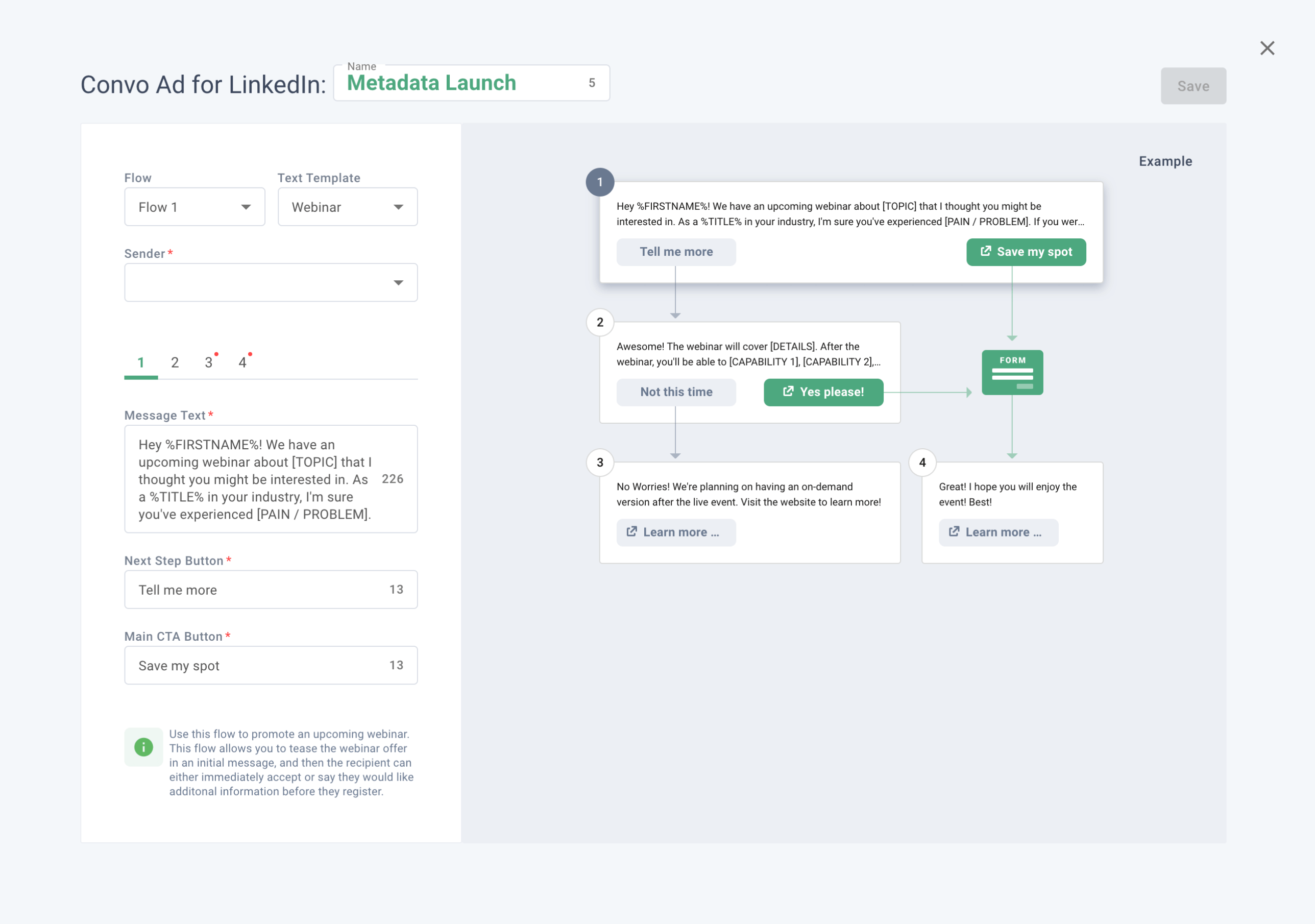 We had a feeling you might ask these questions too
How are Conversation Ads different from Message Ads?
With Message Ads, you can only send a single message, from a specific employee within a company, with a single CTA button. Conversation Ads are different in a few areas: Multiple CTA Actions – When a user sees the message, they get multiple responses to choose from. Additional Messages – Instead of just a single message, a new message is sent to the user based on the response button they select.
How well do Conversation Ads convert?
In our and our customer's experience, very well. We regularly see a >60% open rate on the messages, a 10-15% click-to-open rate, and a $100-$150 CPL for a low-funnel offer. Higher-funnel offers will have a higher click-to-open rate and lower CPLs.
What's the minimum audience size needed to run Conversation Ads?
We've run conversation ads successfully with audiences sizes as low as 8,000; however, we recommend using audiences larger than 20k in order to get consistent delivery at a fast-enough pace.
How much do I need to spend to find success with Conversation Ads?
It depends on several factors, including your audience size, offer, and competition for your audience by other marketers using conversation ads. In our experience, you should see some initial results after $500-$1000 in spend.
Which offers work best with LinkedIn Conversation Ads?
Like any good marketing campaign, it really depends on your audience. Good Conversation Ads include multiple offers so you can meet your audience where they are. The colder your audience is, the lower intent your assets should be. Like content downloads or webinar registrations.
Do I need Metadata to run Conversation Ads?
No, you don't need Metadata to run Conversation Ads. You can run them directly in LinkedIn too. But by running them with Metadata, you can use our MetaMatch audiences, and can launch the ads from the same platform you're using for the rest of your paid campaigns. Which means you get the same full-funnel reporting. And one less tool for you to log into.