Account-Based Marketing (ABM) represents a new model for B2B lead generation. Even though it's three unwieldy words, the solution to Account-Based Marketing is pretty simple: Account-Based Marketing brings specific, individualized content and highly relevant messaging to targeted customer accounts. The three core principles of ABM are illustrated below. But let's focus on the first principle: Identify. And let's couple it with Buyer Intent. Here's what happens when you Identify Buyer Intent:

1. You learn who's talking about your solution, technology, or competitors.
When you focus on the right audience, you gain market knowledge – and get more satisfied with your results.
Let's get literal with an analogy (warning: you may get hungry). The world of advertising is cookie-based. Cookie-based ads are like the quick-hit of a sugar high. They make you feel good temporarily but you end up regretting your decision. Even though advertisers who use cookies can tailor the online experience, the information is often superficial.  
So let's bring on the main course: Breadcrumbs!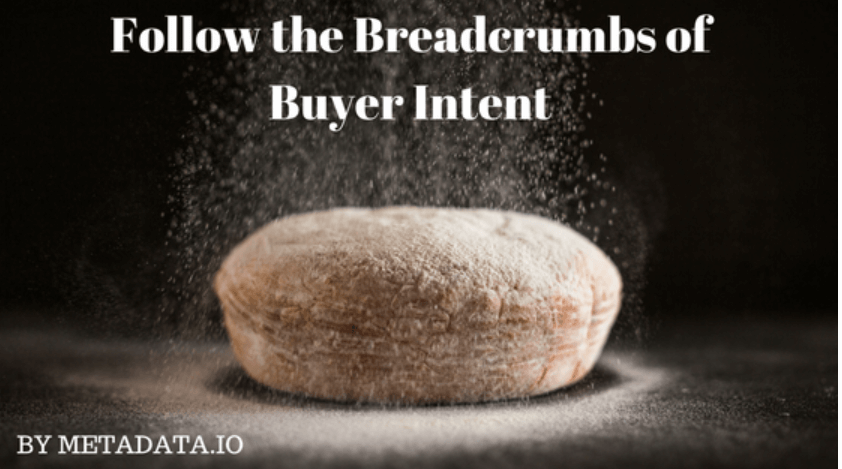 2. Behavioral information is left all over the Internet.  
As a modern marketer, you'll need to know how to follow the breadcrumbs. While your traditional marketing practices have a long sales cycle (and a sugar hangover), account-based targeting has a short sales cycle (and no hangover).  
You already know how to map out buyer persona and track your customer journeys. But did you know that a shortcut exists to show you who's interested? The best part is that the solution is more satisfying than the sugar in cookies. Account-based targeting allows you to reach your prospective buyer at the moment of need. It's like when the waiter brings you a big loaf of bread right when you sit down at a restaurant. It's no secret that you're hungry. But seeing the warm bread get delivered to your table makes you feel like he gets it (even if he's only doing his job).
A 2017 Gartner study predicts that 85 percent of customers will manage their brand interactions without speaking to a single human by 2020. When you track your customer's behaviors to predict what they want to buy, everyone ends up satisfied (and you don't even need to speak!) The bonus is that time is never wasted on prospective accounts outside of the target criteria list.
3. You craft thought leadership posts that make an impact.
Your customers are searching for an independent voice. They cringe when they read generic advice and tips that every other marketer says. If you're offering vanilla advice in your articles, your customers will get vanilla results. When you're a true leader who can speak the language of your customers, everyone wins.
Thought leadership articles are no longer a luxury. Here's why: According to a LinkedIn report, marketers are massively underestimating the impact that thought leadership could have on buyer's confidence in their company.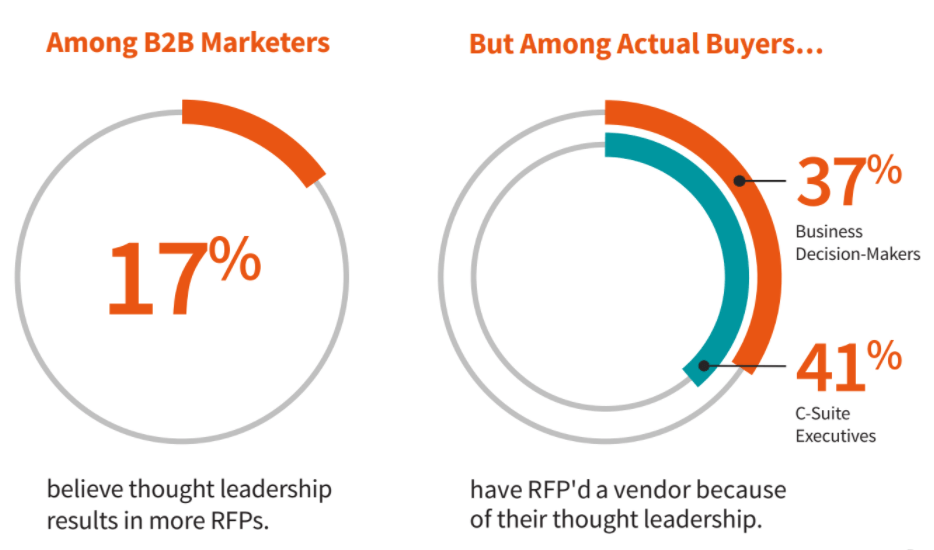 Leaving a content "breadcrumb" with your unique voice will bring in leads and increase profits. Precision targeting using buyer intent has never been easier. Take the guesswork out of your content marketing efforts. Follow the breadcrumbs of your buyers by getting started with Account-Based Marketing today.