I actually wrote this article twice.
The first version included the common reasons why any B2B marketer would want to join Metadata:
Learning new skills
Getting to know really talented marketers
Enhancing a product that actually works and eases pain for B2B Marketing.
However, I felt that something was missing.
I wasn't telling a good story, in fact, I wasn't telling a story at all.
I had this epiphany after re-reading one of my favorite books: Hello, Fears By Michelle Poler, a fellow Venezuelan who faced 100 fears in 100 days and journaled every part of it.
One of my favorite takeaways from this book is how comfort keeps us from innovating and convinces us to stay in positions that can no longer nourish our growth.
The truth is, I was really comfortable at my previous job.
Managerial position, great company, an amazing team, not to mention that most of the communication was in Spanish, my native language.
Nevertheless, I felt that to achieve the success I envisioned for myself, I needed to open new and unknown doors, even if that implied crushing my comfort zone.
Thanks, Michelle.
"People of accomplishment rarely sit back and let things happen to them. They went out and happened to things."

LEONARDO DA VINCI
I decided it was time to look for opportunities that could really help me get closer to my long-term goals.
Like becoming a B2B marketing master. And eventually, the CMO of a US-based SaaS company.
Achieving a good work-life balance, getting married, traveling, having a couple of kids. And being able to help my family and friends who are still in Venezuela.
There were lots of companies looking for B2B marketers but few that interested me enough to apply or that matched my experience.
Until I found this position at Metadata that really caught my eye.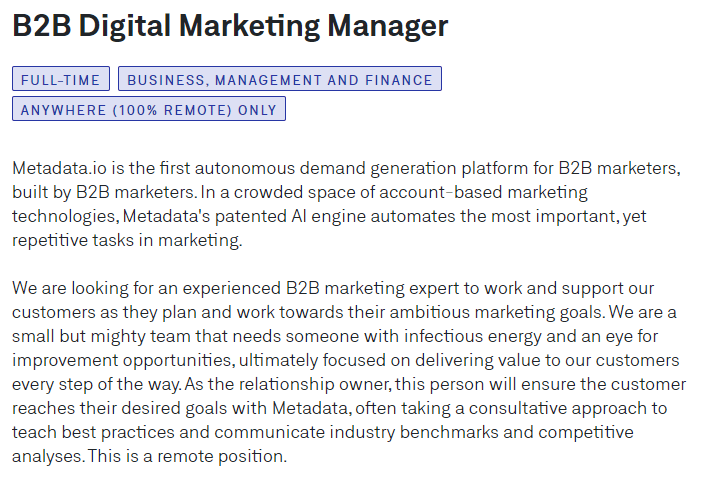 Nevertheless, there was something else in the job description that truly convinced me.

This was it. I didn't necessarily have all of the above. At least not ALL the time.
But I was sure that I wanted to become this person.
More than that, I wanted to work for a company that valued these attitudes.
I had two options:
Send my resumé and wait for someone to contact me for an interview (the vacancy had +200 applicants at the time)
Send my resumé and work hard to obtain an interview
As you may have guessed, I went for the second option.
I wrote a DM on LinkedIn to Gil Allouche, CEO of Metadata, saying that I would love to talk to him since the position really interested me.
He asked what were my top 3 skills so I made an effort to describe them very well.
After a couple of days, and lots of anxiety, I received a DM from Gil:
Thanks, Ana. Not sure it's a good fit but let's talk.
What would you've answered?
I again had two options:
Quit trying too hard since I was probably not a good fit and stay at my current job
Keep fighting for the position I've been wanting for a while
I had nothing to lose and everything to win, so I wrote him an email scheduling an interview.
The meeting day arrived and the first thing I said was: "Hi Gil, how are you feeling today from 1 to 10?"
He was surprised. This is a question Gil usually asks his teams.
I knew this because I literally stalked him. I watched his interviews and did tons of research on Metadata before our call.
He told me he was feeling a 7/10, which made everything easier.
The interview became a fun conversation where we spoke about my journey as a B2B marketer, his views for Metadata, how he practiced and valued transparency and hard work, Metadata's wins and failures (resilience as its best!), and how we could provide value to each other.
I jumped out of the meeting with a smile on my face. I believe positive leadership is a must-have for successful organizations, and Metadata had that.
Long story short, I went through a couple of more interview rounds, where I met amazing people from the team, I read lots of blog posts on what Metadata was all about, watched this B2B webinar at least three times (if you haven't watched it, go now!) and finally received an offer.
I was really excited. I made it to Metadata!
When you have the courage to ask for the things you want, you can actually get them. When you believe in yourself so much, you make others believe in you as well.

MICHELLE POLER
On board! Now what?
I will give my 110% to help Metadata's team and customers achieve success, however it looks like for each of them.
By being the most proactive, resourceful, efficient, and creative B2B Marketing/Customer Success Manager that I can ever be.
I will embrace this amazing product as my own to help customers make the most of it.
I will also continue being resilient amid failure and mistakes.
Mostly, I will have fun.
B2B Marketing Manager / Customer Success