This is the eighth post in our new content series, No Fluffs Given. We're tired of the fluffy content in our LinkedIn feeds, with no real substance or actionable takeaways. So we're teaming up with some of the best B2B marketers we know. People who have ACTUALLY done this stuff before. And giving you new, actionable tactics to implement today.
Marketers aren't just competing with other vendors' products – they're competing for their buyers' attention.
And in the attention economy, content isn't just king. It's currency.
When done correctly, you can create a memorable brand that your audience loves and generate revenue that fuels company growth.
But the truth is that most marketing teams have solid content marketing. They don't have a great content strategy.
As a result, their content efforts are disjointed and ineffective. This prevents them from building a brand that separates them from the sea of sameness, one that creates loyal followers.
Having an effective content strategy is a superpower for marketing teams.
It can put you in the forefront of your buyer's mind… and keep you there.
It can build brand loyalty than fends off competitors, and keeps clients coming back for more.
And it can become a heavy contributor to your qualified pipeline gen.
I will walk you through how to create a cohesive and effective content strategy by breaking down how we created one at Gong.
But first… the fundamentals.
The anatomy of a cohesive content strategy
There are three core pillars in an effective, cohesive, and memorable brand strategy:
Clear, unique point of view (POV)
Clear target audience
Defined brand tone
These critical elements are your baseline before choosing your topics, media, or distribution channels or putting anything out into the world.
Let's look at each one:
Clear, unique point of view (POV)
Your POV is how you see the world and envision what it could be.
In terms of marketing, this is typically tied to the problem your company solves. Your POV is that a given problem exists, and you have the right perspective (and product) to solve it.
Most importantly, your perspective has to be unique. Being different is the key to being memorable.
Gong's POV is that sales leaders don't have full visibility into their business. But with revenue intelligence, our category, they can make business decisions based on reality instead of perception or gut feelings. As we say internally, it's "opinions vs. reality."
That's why the core of our content strategy is sales research.
Because for a long time, the sales content landscape was exclusively made up of individuals sharing "best practices" that are actually based solely on their individual experience.
By introducing real sales research – using our proprietary database to analyze millions of sales interactions – we provided something our audience had never seen before. And equally importantly, this approach aligned with our POV, which is that we value data over opinions.
Your content strategy must be an extension of our company's mission. That's cohesion.
Clear target audience
To build a brand, you have to know who you want to attract. That means having a clearly defined target audience. This might seem obvious, but that doesn't prevent some people from skipping it or thinking it's clearer than it is.
It's most effective to pick ONE specific audience and win them over.
Gong's audience started as B2B sales professionals in the software/internet vertical, and our buyer is a VP Sales.
We created top-down and bottom-up content because (1) there are significantly more sales reps than leaders, and (2) reps have a heavy influence on the tech stack that their leadership team decides to purchase. We knew we needed to win over both for long-term brand building.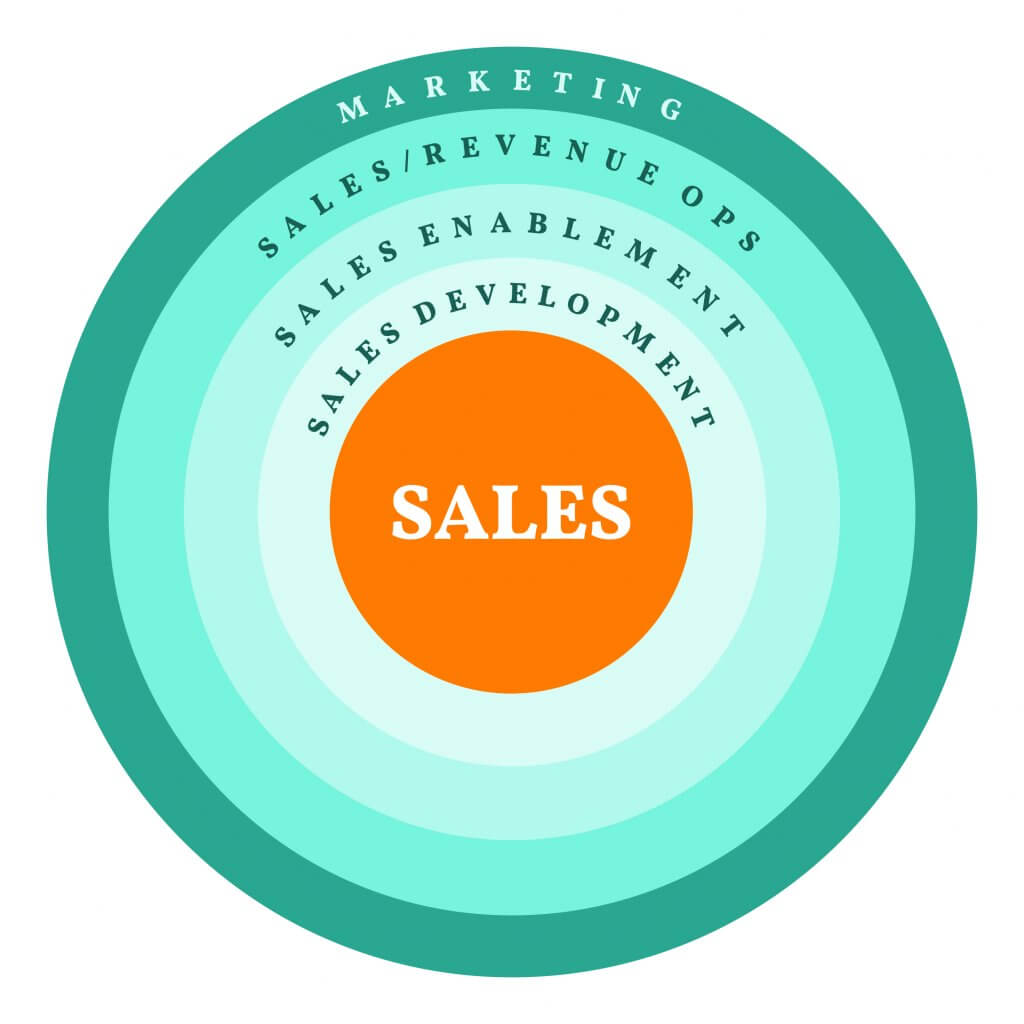 And speaking of brand… ours is unique. Here's how we keep it cohesive (there's that word again).
Defined brand tone
Your brand tone is how you present yourself to the world. It's a way of speaking that becomes familiar to your audience. It helps to tie all your content outlets together. So how do you define your brand's tone? You get clear on who you are as a company.
Our tone choice is very specific. We aim to be a reflection of exactly who salespeople are today: casual, humorous (but not silly), professional conversationalists. We knew this would stand out from other brands in the sales technology space. We chose that path on purpose because, as our CMO, Udi Ledergor says, "different is better than better."
Choose a brand that suits your company's mission and personality.
And remember, while most marketers think of content as either brand or demand gen, you can design your content strategy to do both. Be intentional and strategic about how you execute your content to ensure that it stays on brand while hitting your demand gen targets.
Those are the basics.
Now let's break down the layers of our content strategy at Gong — the what, why, and how of it — so you can apply these strategies and tactics to your own content engine.
Phase 1: Build a brand
This slide haunts me: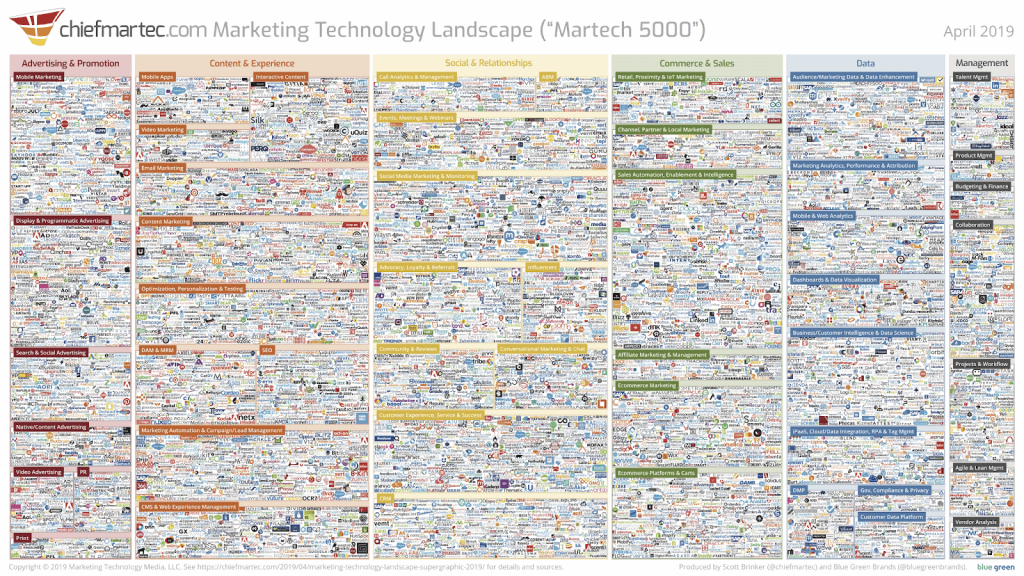 And even if you think, "Yea, but I'm only targeting PR professionals."
Without a standout brand, you become "just another vendor." And that means you need to find a way to break out of the mold.
As a marketer, you differentiate yourself by creating a brand, not necessarily by having the best product (though yours may, in fact, be top-shelf). Part of differentiating yourself is building an audience.
That's partly because the buzz is worth more than thousands in advertising budget. But more importantly, everything's easier once you have an audience. Getting people to come to your events, asking them to swap their email address for content, or subscribe to your podcast; all easier once you've earned their trust.
Great content has a gravitational pull. It brings the right people toward you. It also pulls like-minded people together around you. And by default puts you in the center of attention and conversation. That's how you dominate a market and box out competitors.
The more people you pull into your brand's sphere, the more gravitational pull you create, and the easier and easier it becomes to grow your reach. Soon followers become loyal fans, and those fans turn into paying clients.
How we did it at Gong
Our decision to build a powerhouse of an audience early on was intentional.
Gong Labs, our data-backed research blog that uses proprietary data, was our first content initiative. It was specifically created to counter sales content that was all about one person's experience/perspective.
By sharing data-backed insights mixed with actionable tips, we grabbed attention and helped sellers become more effective in their roles.
We chose to publish new articles on LinkedIn first, before the website, because we knew that was where sales pros spent their time.
And we weren't interested in providing the same, played-out content. We took a bold stance and backed it up by data. And our audience loved it: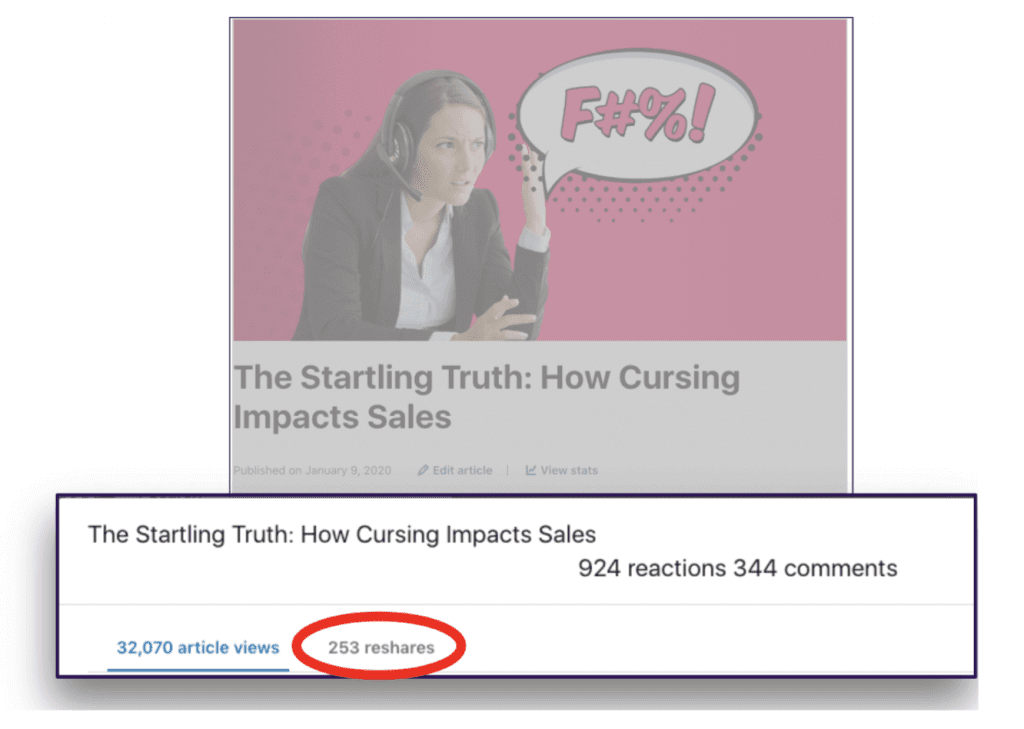 That sales research blog series, mixed with a consistent flow of brand content on our company's LinkedIn page, fueled our growth from 12k to 85k+ followers in 24 months.

It's worth mentioning that we did some demand gen campaigns, from gated upgrade assets in blogs to webinars, but our primary goal was brand building.
Performance marketing became the new strategic goal once we had brand momentum and a scaling sales team to support it.
Phase 2: Scale demand gen
No one needs to be sold on the value of creating pipeline. It keeps companies alive. But few content marketing teams know how to do it effectively.
Content marketing can generate millions in qualified pipeline and thousands in revenue. It can warm qualified buyers until they come inbound, ready to buy, and create brand awareness that makes your outbound sales motion easier.
The problem is that most marketing teams skip brand building and go straight to demand gen. When it comes to their campaigns, they assume "if we build it, they will come."
But motivating sophisticated buyers to swap their email addresses for a gated e-book is a lot harder when they've never heard of your company. That's because there's an information transaction, and every transaction requires trust.
To buyers, an unknown brand is a stranger. And we don't trust strangers, especially with our personal information and the unspoken agreement that I'm likely signing up for a call from an SDR.
This results in high costs per lead, low conversion rates, and frustrated CMOs.
But if they're familiar with you, like you, and trust you, downloading your content becomes a no-brainer – and they'll share with their peers. That's how you rapidly scale your pipeline: by turning your followers into prospects and prospects into paying clients.
How we did it at Gong
At Gong, building a loyal audience meant a large LinkedIn following and an engaged email list.
We accomplished both, and in the process, had learned that our audience LOVED data-backed insights.
Now we needed to scale those channels to feed our rapidly growing sales teams.
We chose to host a webinar every ~8 weeks, along with a more frequent cadence of email campaigns.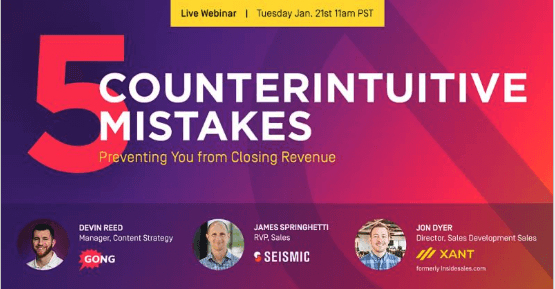 We chose those routes because they were the perfect way to differentiate ourselves through sales research.
Later, we used our brand and our growing following to launch a new category.
Phase 3: Category creation
Category creation is a long-term strategic goal where a company builds and leads a new market.
It's tough to do, takes a long time, and is really hard to measure until you end up in Gartner's Magic Quadrant.
But if you pull it off (and fortunately, we did at Gong), it's a marketing influence on steroids. Because instead of trying to play and win in someone else's game by joining their category, you build a brand new one while positioning yourself as its ruler.
(If you want in-depth info on creating a category, check out Play Bigger. It's my favorite book on the topic and a great read.)
Building a category requires a content strategy that educates people on the problem you solve and how you solve it.
Fail at this, and you'll build a throne only to watch your competitor snatch the crown away before you take a seat.
One of the most effective ways to do this is to create a content channel that interacts with your ecosystem: the buyers, thought leaders, and partners that make up your market.
How we did it at Gong
Part of launching a category means launching new content to support it.
At Gong, our big move was our first industry event, #celebrate: The Revenue Intelligence Summit. It served as a lightning-strike event in 2019, where we announced the launch of the Revenue Intelligence category. The event was a celebration of revenue professionals (our target audience), and was full of thought leadership and entertainment that wowed prospects and validated clients.
Since the pandemic, this annual in-person event has become a quarterly digital event that continues to build our brand, generate pipeline, and evangelize Revenue Intelligence and our leadership position in it.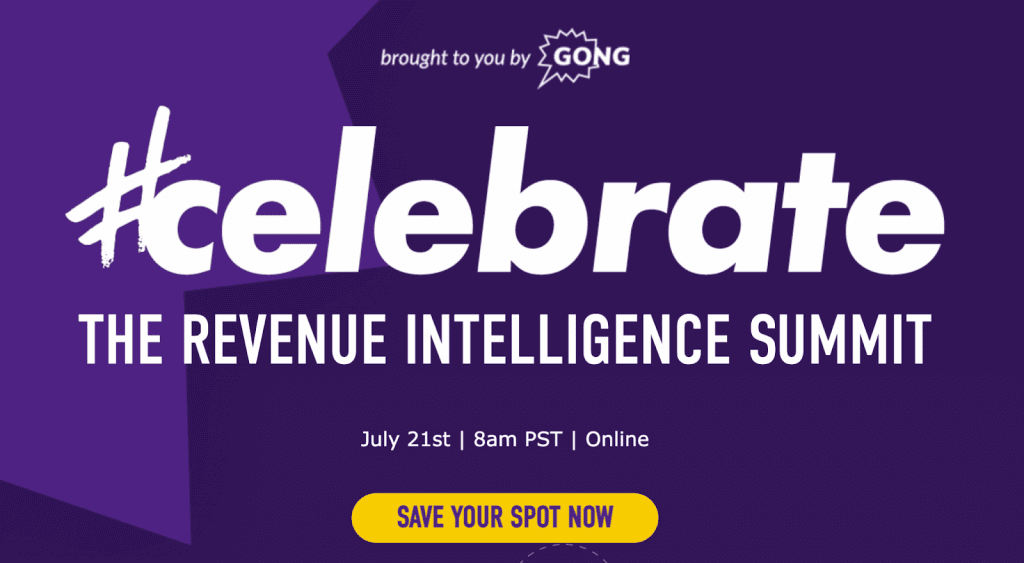 From a content perspective, we wanted to launch an evangelical program that resonated with senior sales executives.
(That's a fancy way to say we wanted our ideal buyers to know about our category.)
As always, we started with our audience: What did they like? What did they hate? And where/how do they already consume content?
Our research surfaced a few key things:
They almost never subscribe to marketing lists
They often consume content on the go and in short chunks
They want to learn actionable thought leadership from their peers
The outcome?
An interview-style podcast where we talk to the world's most successful revenue executives. The goal is to provide helpful content that drives awareness and publish conversations around revenue intelligence with high-caliber leaders.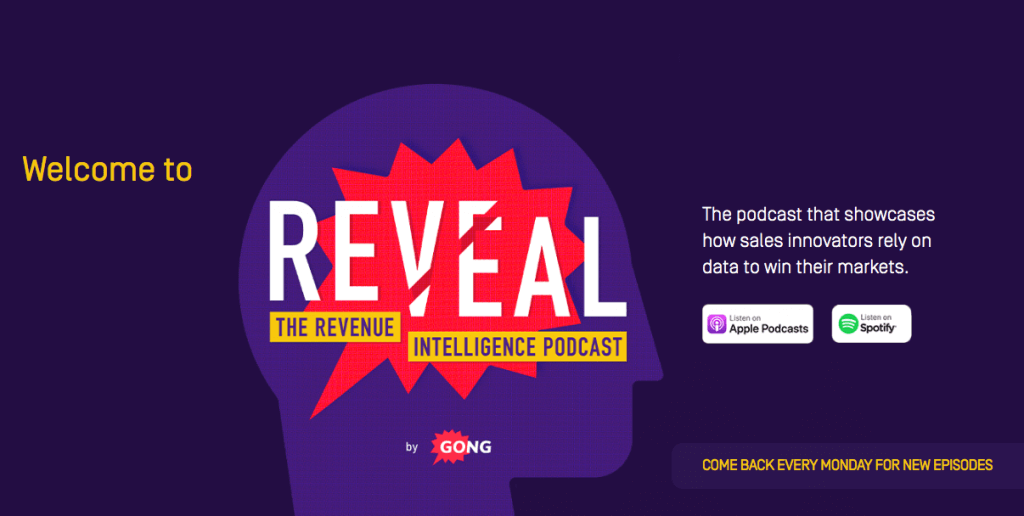 We even used the sessions and side interviews from #celebrate to create the first few episodes.
18 months later, we crossed 100K downloads and landed a $140k+ deal by converting an interviewee into a client.
This is how we evolved our content strategy to include our big category moves. While our other content also reflects our company's POV, this is the only content that exclusively focuses on our buyer persona and Revenue Intelligence.
Advice for getting started…
When building your content strategy, start with ONE specific goal. The best way to do that is to align your content strategy with the strategic goals your CEO presents to kick off the year. It might be generating revenue in a new vertical or becoming the go-to thought leader in a new space.
That's what makes content strategy so fun and valuable – there's no single way to do it "right." So long as you're intentional and consistent, you'll be in good shape. By picking and accomplishing one goal at a time, you'll position yourself to add a new layer, and that's how you build a world-class content engine.
If you want more strategy and tactics on creating content that breaks through the noise, join my newsletter, the Content Strategy Reeder. It's delivered on Saturdays, completely free, and takes less than 5 minutes to read.
Meet Devin Reed
Head of Content Strategy, Gong
Devin Reed is a SaaS sales professional turned marketer. He was the second sales hire at Gong in 2017 and is now the Head of Content Strategy, where he's responsible for sales research, content marketing, social media. He's also an advisor to B2B marketing teams, helping with brand building and content strategy.
Connect with Devin on LinkedIn here.