This is the second post in our new content series, No Fluffs Given. We're tired of the fluffy content in our LinkedIn feeds, with no real substance or actionable takeaways. So we're teaming up with some of the best B2B marketers we know. People who have ACTUALLY done this stuff before. And giving you new, actionable tactics to implement today.
Why aren't more B2B marketers advertising on Facebook?
It has 2.41 billion monthly active users

It's the world's third-most visited website

71% of American adults use it
Yet, according to Social Media Examiner, only 65% of B2B marketers use Facebook ads. Why so few?
Well, the reason for many just comes down to data. But there is a way.
This past year, we made Facebook a priority, and it's been one of our best-performing channels.
We've been able to cut our costs by 50% and drove inbound requests from companies like IBM, Workday, Cvent, Infor, Salesforce, and more.
So what did we do differently to achieve these results?
Here are the four steps we took to get there.
Step #1: Reach the right people on Facebook
Very few people have accurate career data, and they most likely signed up with a personal email.
Meaning Facebook's native advertising match rates are horrible, and targeting with career data is usually way off, leading to tons of wasted spend and bad leads.
You can target Facebook users with three categories native to the ad platform:
Demographics – like age, gender, and work information like job title and industry
Behaviors -like prior purchases and device usage
Interests – like entertainment, family & relationships, and hobbies & activities
These categories pose several problems. They're incredibly high level.
Using Facebook's demographics, the closest I can get to targeting people in B2B SaaS is "Business & Financial Operations."
So we set out to find a tool that would help us work around this and increase our match rates. So we turned to Metadata.
Now we can target the right audience on just about every channel (including Facebook).
Our previous match rates hovered around 5% on Facebook. We saw an average match rate of 40-50% with Metadata.
The more data attributes you can add, the better your match rates will be for custom audiences.
Here are three other tools to look into for increasing your match rates through better data:
Step 2: Only target high-value leads
We took it to the next level here.
Now that we can target the right people on Facebook – how do we try and predict who the highest value leads are for us?
Facebook automatically optimizes ads for "website conversions," but I would much rather have it optimized for the highest quality, which means the likelihood to convert into a sale.
How would it possibly know this?
We were already using a lead scoring model that could predict the likelihood to purchase in Madkudu.
Here's how it worked:
We fed their algorithm with all of our data from Salesforce for 12 months: lead demographics, opportunity information, customer information, average ARR, time-to-close, etc.
The model looked at thousands of data points and figured out the most common traits in those that converted into a paying customer
It also looked at common traits from leads that went nowhere
It built out a model that scored every leads likelihood to buy off of that
As a skeptical marketer, the first thing we did was turn on the model and tell no one to prevent it from becoming a self-fulfilling prophecy.
We wanted to see if the model in the real world could accurately predict the likelihood of a lead closing.
To my pleasant surprise, we found it highly accurate and began using the score in a ton of different ways.
There are many lead scoring providers out there and even many native to marketing automation platforms you can use.
With Madkudu's lead scoring platform, we can send predicted values of each lead, based on our model, back to Facebook so it can bid only on the highest-value leads.
It essentially trains Facebook's AI on what to look for in potential leads. You can learn about "Madspend" in more detail here.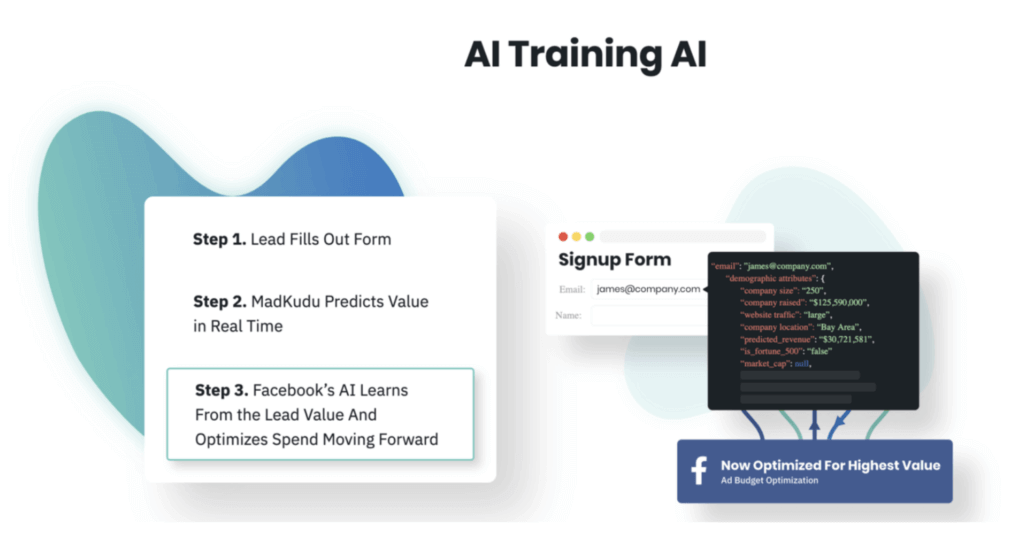 Step 3: Only target people who are actively in-market
The other way we saw significant gains in our ad campaigns was by actually targeting folks who are actively in-market.
One of the primary audience types we used with Metadata was G2 Buyer Intent Data. I think pretty highly of G2 – having led the global growth team there for over two years.
G2 has over 7 million folks a month on its site actively researching tools in the market. G2 Buyer Intent allows you to see the companies researching your product, category, and competitors on G2.
In SaaS, most people are locked into a one or two-year contract with their current provider. So unless you are chasing someone in a new market, even the most dialed-in demographic targeting will still result in a ton of wasted ad spend.
Using intent data allowed our ad spend to drive a much higher likelihood of conversion.
Step 4: Use real people in your ad creative
I met another CMO, and he mentioned that while he worked at Hubspot, they tested thousands of images in ads and found that one worked much better than any others.
The image? A picture of a real person at their desk looking at the camera.
We decided to test this theory and replaced our fancy designed banners with simple shots of people at their desks.
Our original ads looked like this:

So we tested these ads instead:

It might seem like a funny tip, but the impact it had was real – use real people. It catches people's attention.
They can spot the pretty ads a mile away. Plus, most people don't like seeing ads in the first place.
We saw almost a 20% decrease in our cost just from it alone.
It also created a fun dynamic in the office to see which marketer's ad was performing the best. We kept about five versions of them running at all times.
The final results:
Our CPL on Facebook decreased by 50%
Conversions of these leads into sales opportunities doubled – rivaling our organic demo requests
We opened up a new channel that allows us to scale efficiently
Facebook can work for B2B. It just takes a little work.
While it may seem like we threw a lot of "tech" at the problem, the reality is most companies in B2B already have a lot of this tech in place.
From lead scoring to intent data to a tool like Metadata.
And if you don't have any of that… well, that's an entirely different problem to solve.
Meet Adam Goyette
VP of Marketing @ Help Scout
Adam is currently leading Marketing at Help Scout. He previously led all Growth Marketing globally at G2 – named one of the Fastest-Growing Private Companies in America by Inc 500 and Deloitte. He's extremely passionate about building amazing, results-oriented teams focused on developing digital, social, and content marketing strategies that drive customer engagement, lead generation, and revenue growth. Connect with Adam on LinkedIn here.