With Marketing budgets being scrutinized now more than ever, it's even more important for marketers to have an accurate and consistent way to measure the performance of their campaigns. And with more and more CMOs asking for the *actual*ROI of marketing activities – we have to go deeper than basic engagement metrics.
Let's take a closer look at how these two campaigns played out. This is a real-world test we did at Metadata. The campaign on the left had a headline I LOVED! "Leave the testing to the machines". While the one on the right was a little more direct and literal. Both with similar creative treatment and headlines. Which do you think would win?
If we only look at top of funnel vanity metrics like Cost Per Click, # of Leads, and Cost Per Lead, we would optimize towards the campaign on the left. The most people saw the campaign, it delivered the most leads, at both the lowest CPC and lowest CPL! Sweet, we have a winner!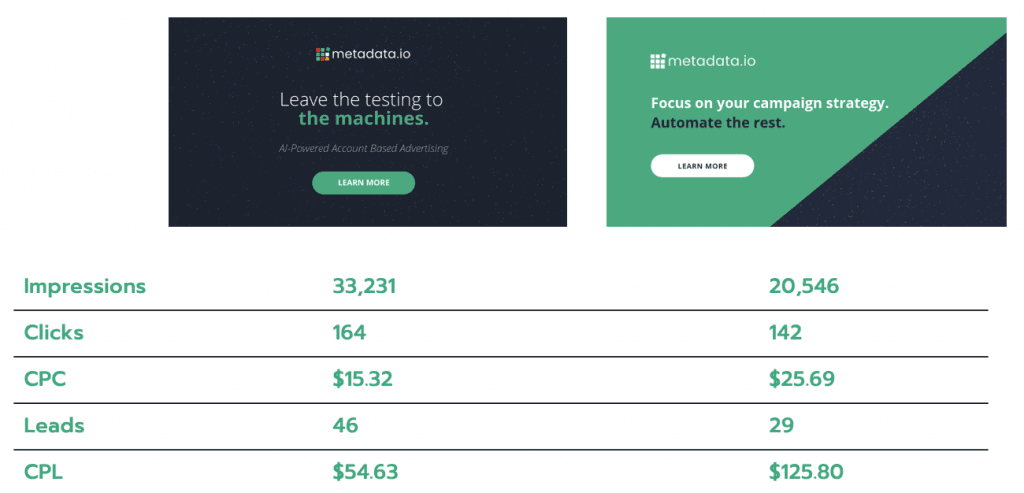 However, when we focus on the lower funnel metrics like MQLs, Pipeline, and Closed/Won business, the story changes considerably. The campaign on the right delivered more Pipeline, and was involved in double the closed/won business.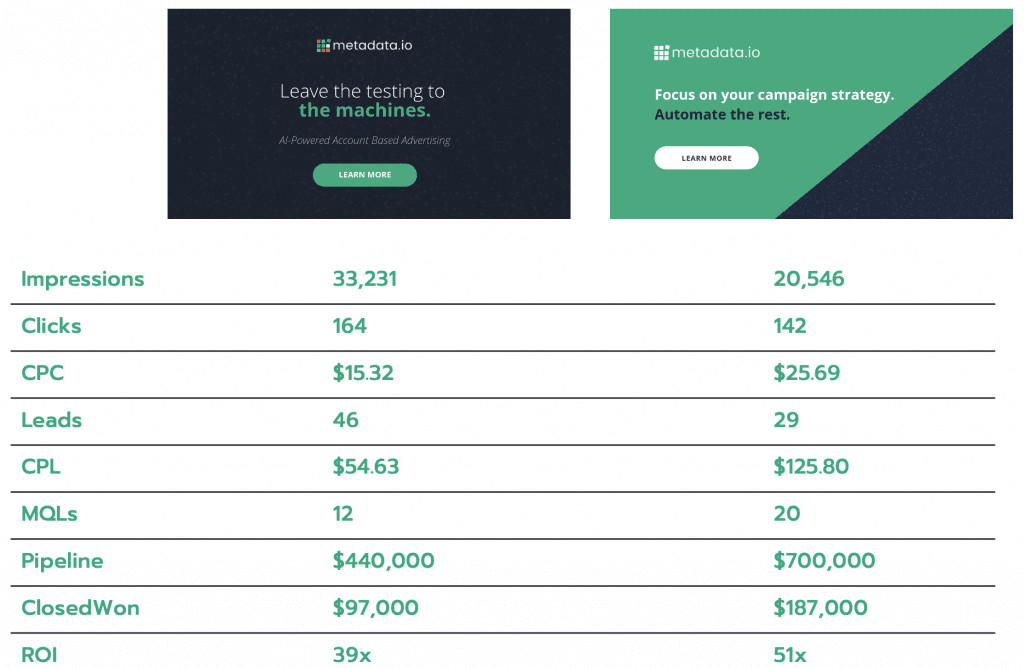 And while both campaigns showed positive ROI, since they're both serving the same goal of brand awareness, we turned off the lower-performing of the two. Unfortunately for me, the headline I loved had to be turned off…
Obviously, this is a very simple view of campaign performance. We're only looking at the creative. Behind these, we also tested different audiences, different headlines, as well as different ways to deliver the offer (i.e. via a LeadGen Form or ungated website visit). Ever wondered what messaging resonates with each persona? We can experiment with that.
Here are some additional tips to consider as you're deciding how to gauge campaign performance:
Make sure you have an organized and consistent approach to UTM tagging. This is the foundation of being able to track the metrics you see above.
Don't over-engineer a complex attribution model to help with this. A simple view of "triggered" or "influenced" will suffice. I recently wrote a blog on that topic as well, HERE.
Try lots and lots of things, with small budgets each. "What works" is changing faster today than it ever has. The campaign that failed three weeks ago may work today. The evergreen campaign that's worked for 2 years may stop working next week.
Good luck out there!