What's better than networking with marketing thought-leaders, while watching the Warriors at the Oracle Arena? Maybe watching the Warriors actually win, but nevertheless, last Thursday was a great night for B2B marketers in SF. We were invited by G2Crowd, a business solutions review platform, to join other leaders in marketing, for a night of basketball and networking. From providing insightful reviews of business tools, to hosting events like this, G2Crowd is constantly connecting and driving the B2B space here in The Bay.
Networking events like this are a great way to build awareness and interest in your company, and connect with potential customers, partners and even investors. However, instead of throwing around business cards or pitching every individual that walked into the suite, we took a different approach… geofenced advertising.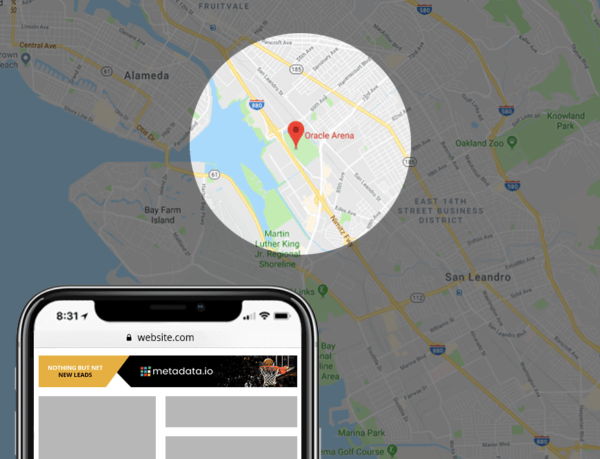 Geofenced advertising is a simple concept: feed ads to users in a specific location. We used this marketing strategy in two ways in order to target the network attending the game. Starting on Wednesday, we launched ads geofenced to the offices of companies that planned on attending the game. Then, as Steph Curry stepped onto the court and crowds were filling the stands, we ran our ads geofenced to the Oracle Arena. We aimed to reach all potential prospects attending the game, to differentiate Metadata among the numerous other companies there.
As all marketers know, the target audience isn't the only area you should focus your attention on when launching a campaign. The ad creative and relevancy to the audience you're targeting can determine the success and engagement metrics of your campaign. Given that our audience was attendees of the Warriors game, it's no surprise we decided to integrate basketball into our ad creative. To combine both concepts, basketball and our AI-powered ABM software, we created the concept "Nothing But Net New Leads."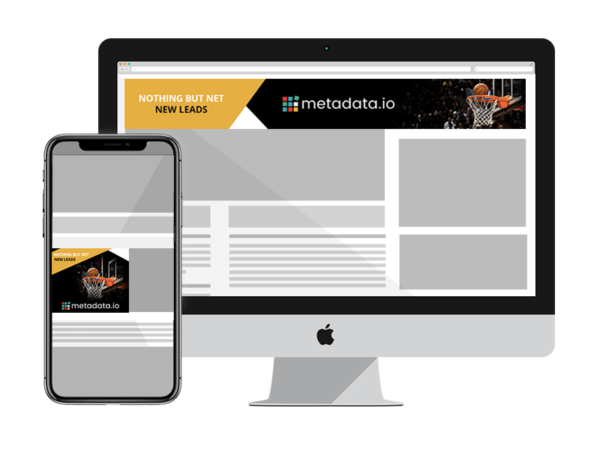 The moment you've been waiting for… performance metrics. We spent $142 and received 3,718 impressions in total. Our click-through-rate for ads geofenced to company offices, prior to the game, was .4%. During the game we reached 1.5%, which is 67% higher than industry benchmarks for geofenced mobile campaigns. The takeaway: it's important to spend time building a quality creative that addresses the needs and interests of your client, to maximize audience receptivity in your campaign… otherwise, what are you bidding for?
In terms of bidding, we started the game at $50 and ended with an average bid of $234. Due to the volume of targeted ads and competitive advertising nature of these events, we lost 55% of our bids. This showed us how expensive targeting audiences can be; advertisers pay a high premium for these types of events with heavy traffic. It's important to refrain from bidding aggressively in these situations, otherwise you'll find your actual CPL is much higher than you expected, due to other competitive bidders.
Golden State might have lost the game, but the Metadata team looks at Thursday as a win. It's this type of creative, strategic marketing to reach our specific ideal customer profile that sets companies apart from competition, which is something we pride ourselves in at Metadata. A high CTR might represent successful campaign performance, but the overall learning experience was a much bigger win for our team. Check back with us regularly to see what else we're working on and how we're continuing to learn and improve.
Learn more about how to leverage strategic digital marketing ads to scale your company's demand generation. Request a demo today!