If you work in B2B Marketing or Sales, you know how long and convoluted the B2B purchase cycle can be for prospective customers. It's understandable though. With million dollar budgets at stake, it's not unusual for buyers to spend months anonymously window-shopping for the perfect solution.
To get some clarity on these long-winding purchase trends, Demand Gen Report conducted a survey on B2B buyers. For the past 7 years they've polled C-level Execs, VPs, and Directors. DGR asked them about their purchasing behavior around software, IT hardware, and advertising.
The result is a meaty report giving you the latest glimpse into the mind of B2B buyers.  
Below I've highlighted some of the more important takeaways.
Price Not The Most Important Purchase Factor
B2B buyers are looking beyond just the purchase price.
Businesses are demanding more clarity on the ROI of B2B purchases. According to the survey:
"78% of buyers agreed that they 'spend more time researching purchases'"

"75% agreed that they 'use more sources to research and evaluate purchases'"

"89% of respondents stated that winning vendors 'provided content that made it easier to show ROI and/or build a business case for the purchase.'"
In a similar question, 80% of respondents said "ease of implementation" was very important. This is contrasted with "pricing," which only 75% judged as very important.
Another curious point is that B2B purchasers don't believe an understanding of their business is the most crucial factor in choosing a vendor. This differs from what I would've previously thought.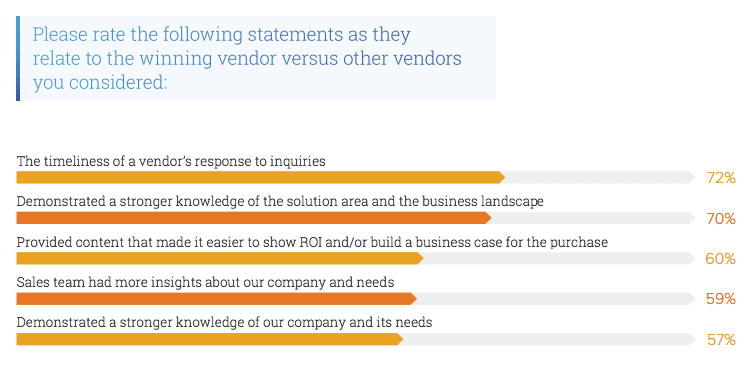 My Takeaways: Don't sweat the price tag when talking to prospective customers. If you can make communication with a prospect quick, your product implementation elegant, and a clear path to ROI understandable, customer revenue will easily follow. Sales shouldn't obsess over sticker-shock.
A Strong Web Presence
If you run online advertising and measure your efforts by a strict direct-response CPL model, you may be shooting yourself in the foot.  
According to the survey 61% of businesses looking to make a B2B purchase start with a broad web search.
More than half, 55% of B2B buyers, take 1-6 months in stealth mode evaluating different solutions. They aren't divulging any personal contact details through forms nor reaching out to Salespeople. They are ghosts.
More specifically survey showed:
"63% of respondents said they noticed ads from the solution provider they chose during the research phase."

"75% said it was very important that the site presented relevant content that spoke directly to their company"

"93% of respondents valued vendors that 'demonstrated experience with/ knowledge of our industry.'"

"91% of B2B buyers said that easy access to content without long registration forms was important, while 94% said they preferred vendors that 'provided informational content that was easy to consume.'"
My Takeaways: Spend time on SEO and customer case studies on your website. Don't be afraid to invest in awareness: display, retargeting, and social ads, even if your campaigns don't meet direct-response CPL expectations. Your prospective customers could still be in the research stage for months. Those extra impressions can help.
Lastly, when you do gate content (trade prospect contact info for ebooks, white-papers, etc.)  don't ask for too many personal details. That extra friction in the research phase could hinder your chances of turning your lead into a Sales Qualified Lead.
Conclusion
There was lot more to this study. So I recommend you download the complete survey if you want to get into the mindset of current B2B buying patterns.
After you download the survey, be sure to catch Demand Gen Report's follow-up webinar July 27, 2017.  They'll be live, so feel free to throw your toughest survey questions at them.  And if you do, let them know Metadata sent you!