I was a young mom of an almost 3-month-old infant. Despite the sleepless nights, the constant diaper changes, and breastfeeding, I was thrilled when, in November 2017, I landed myself a new opportunity: VP of Engineering at Metadata.
I remember the conversation I had with my husband when I learned that I got the job: "Do you think I can do this? I don't know what I am getting myself into." With my previous technical manager job, I felt that I stood a good chance: I knew how to manage an offshore team of 5, break a monolith system into microservices, and deliver projects on a quick turnaround. Little did I know, Metadata would challenge me in ways I could never have guessed.
My first week, everyone at Metadata had their business cards printed. Holding my card in hand, I read my new title: Emily Hoang, VP of Engineering. I felt a sudden flash of fear that I was unqualified for such a position, and worried that my new coworkers would see through my facade. I thought back to the times my male classmates, colleagues, and school counselor told me that I would not be able to succeed as an engineer, let alone as a leader, because engineering was and still is not a field for women.
The challenge arises
The Metadata platform was built by 3 different engineering teams: an Isareli team, a Ukrainian one, and the current global distributed team. When I first started, I was assigned to lead the Ukrainian team, which consisted of 10 members and an on-site manager. I was the product manager, the production support, the semi-coder, and the engineering manager; the go-to person when the system broke, since, due to the time difference, I was the only one on the whole team available to help.
I didn't know how to balance my work and my family. I was asked to stay until 8 or 9pm 2-3 times a week. Being a new mom, I felt completely guilty for not spending enough time with my kid. It seemed that the most I could do was to rush home each day to make it on time for the baby's bedtime. After he fell asleep, I ate dinner, worked a bit more, slept and woke up again at 5 am for scrum. I was completely burnt-out and there were long nights when I only wanted a way out. But I refused to admit defeat. The support and encouragement from my friends and family kept me going. I wanted to be a role model for my child and to prove that women can conquer both the workplace and the home.
Come October 2019, I lost the entire Ukrainian team in a blink of an eye. While they were mainly let go due to financial constraints, as the team leader I couldn't help but feel responsible. Suddenly, I was the only engineer, the one and only commander on the battlefield, with no support in sight. My feelings of loneliness and fears of inadequacy felt heavier than ever. I remember sitting in a conference room in the dark, crying to my husband on the phone. When I left, I accidentally set off the building alarm since I was the last one out, and nobody realized I was still there.
Building a new team
In July 2018, Olena Dopiro was appointed VP of Product. I believe that this was one of the best decisions Metadata ever made. Olena is not only smart, hardworking and driven but also has a keen sense for helping people see their strength. Having another woman in leadership helped me strengthen my self-confidence tremendously. On many occasions of having to deliver complicated features on a tight deadline, Olena always trusted my instinct to provide creative solutions as well as lead the team toward success. With her help, I started recruiting new engineers. Little by little, we began rebuilding the team: we grew from 2 to 12 members in a year.
With the support of new team members, I once again found myself a leader. This time though, something felt different: because Olena and I had chosen engineers who were as inspired by the product as I was, they were eager to learn from me, and excited to collaborate. I no longer had to face challenges alone–now I had a "work" family who would stand besides me, trusting and supporting each other.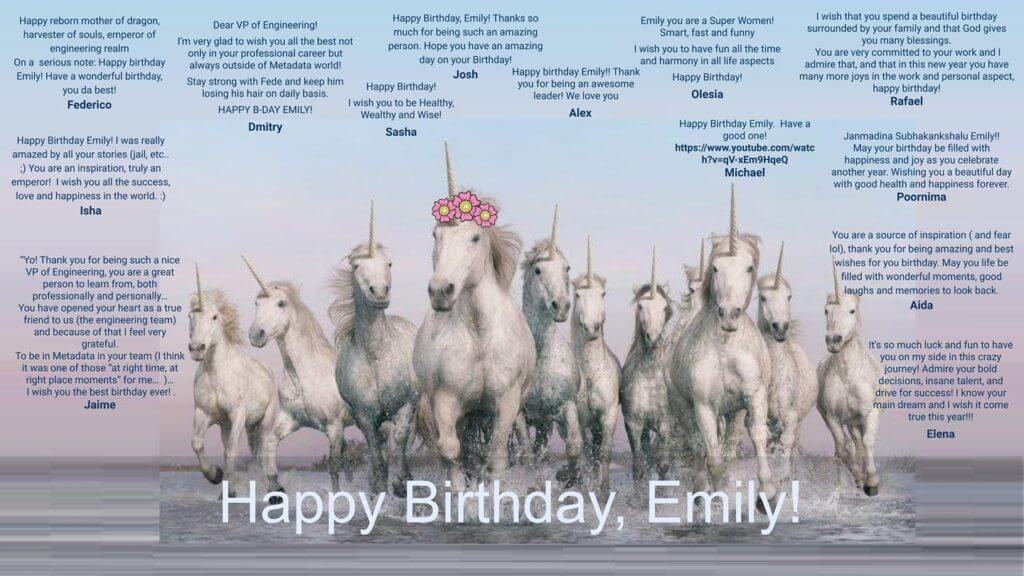 In the span of one year, we successfully migrated to 3 cloud platforms, increased security, completely reskinned the user-interface, and transitioned to microservices infrastructure. I took the team's success and failures as my own. I grew from a self-doubting engineer into a fierce leader who could make critical decisions instantly, and I learned to take ownership of our failures to push us towards improvement.
Gil Allouche, our CEO, said that he no longer had to worry about the engineering team as he had previous years, and that he trusted that the engine of the company was finally in good hands. I thought of how far I had come in my brief three years here: looking around at what we had built, I realized that I had proven wrong those who doubted me.
Leading At Metadata Today
I have made countless mistakes in my time here at Metadata. But without Metadata, I would not be the person I am today. I feel both humbled by and fiercely proud of all the battlefield scars I have earned while here. I love the team and the product we built. All of my success will not be possible without the support of my family, especially my husband and the toddler who would not stop singing his "Twinkle twinkle little stars."
There you have it. The confessions of a 5'2, female, broken-English, self-conscious Engineering leader. I am proud of my accomplishments as a leader, a team player and a multitask partner and mother at home. While I still have so much to learn and improve upon, I know for a fact that it doesn't matter what difficulties are thrown at me: I can meet any challenge, and I don't need to do it alone. I am not weak; I am resilient.
Emily Hoang, VP Engingeering