The capes weren't visible at Marketo's Marketing Nation Summit 2018, but we did talk with hundreds of marketing 'superheroes' focused on taking digital marketing to new heights.  The curious, conscientious, creative and committed attendees we spoke with had thoughtful questions about several big issues.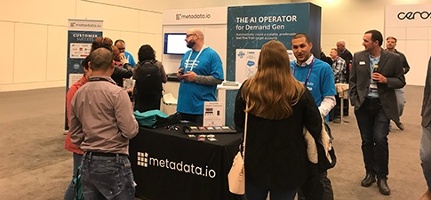 As one of the event sponsors, we wanted to share what we heard and offer our perspective.
GDPR – New Superhero or Potential Nemesis?
With the enactment of the General Data Protection Regulations (GDPR) on May 25th just a few weeks away, both speakers and attendees broadly discussed the the unknown impact on marketer's ability to, well, 'market' to businesses and consumers in the European Union
One big concern:
Our take:
We, as marketers, can rise to this challenge. We know there's fatigue and mistrust about less-than-ethical marketing efforts. Throw your cape on, partner with your IT and legal teams, and put solutions in place to prevent misuse or oversharing of customer data. Your efforts will be valued and appreciated by your audience, giving GDPR superhero status. We've developed several guidelines to help you lead your organization through the GDPR process.
Will Artificial Intelligence be a new Marketing Superpower?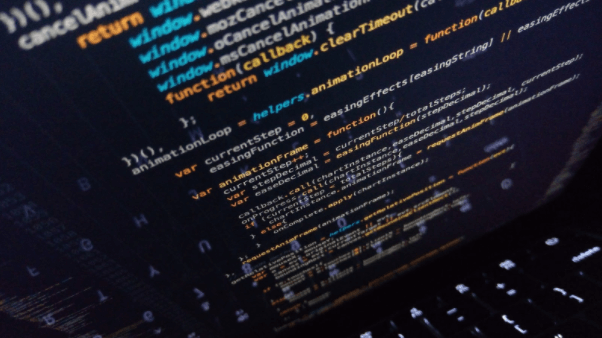 Right now, based on the feedback we heard from #MKTGNation attendees, Artificial Intelligence (AI) still seems to be more of fuzzy concept than a tangible marketing tool. The confusion centers in the reality that AI covers many aspects of daily life – from using Alexa to order your coffee to typing 'kryptonite' into Google for more information.
Businesses have been applying AI and machine learning to business intelligence, enterprise operations and marketing for some time, in all sorts of interesting ways. But within marketing, AI is now becoming useful for automating, optimizing and measuring some of the complex and repetitive tasks marketers face, letting you focus on strategic and creative efforts. Using AI appropriately can propel marketing efforts forward at warp speed – or at least on a faster trajectory to success.
A key question we heard:
Our response:
We'll be providing you with greater detail in a subsequent post, but companies evaluating AI-based solutions should ask vendors for clear responses to the following questions:

How does your solution make use of AI and machine learning – solely for predictive modeling of your customer data, for marketing campaign experimentation and execution, or both?

Does the AI solution require implementation of a new component on your marketing stack, or does it leverage your existing marketing stack?

Can you describe the technological approach used? (You're not asking for trade secrets or algorithms here – just an overview of how data is encoded, decoded and used.)

Who are your current customers that we can talk with about how they're using your product?What success metrics are they tracking and how soon have they reached positive ROI?

Can you provide a stand-alone demonstration? With our data?
Account Based Marketing (ABM) – A 'strange new world'
Awareness of account based marketing was high among attendees, but exploration and implementation of ABM programs seemed low. Despite being part of the B2B marketer's toolbox for some time now, ABM remains a strange, unexplored world for many marketers.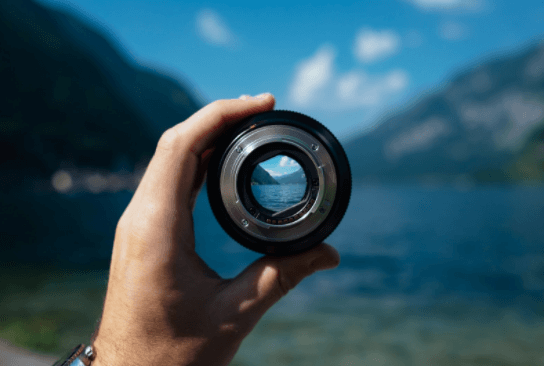 A strong ABM program works takes advantage of and unifies your existing marketing stack – the collection of technology and services you use to implement, measure and improve your marketing efforts towards target accounts. An ABM program brings precision to the 'A-Zs' of how you reach and engage with customers, provide solutions to their problems, and close deals.
Importantly, an ABM program helps you allocate your marketing dollars to the end users, influencers, or decision makers who will bring revenue to your company. With metadata.io's AI-driven demand generation solution, you can react faster to market forces and customer demands.
The Question of the Show: Is A/B Testing Dead?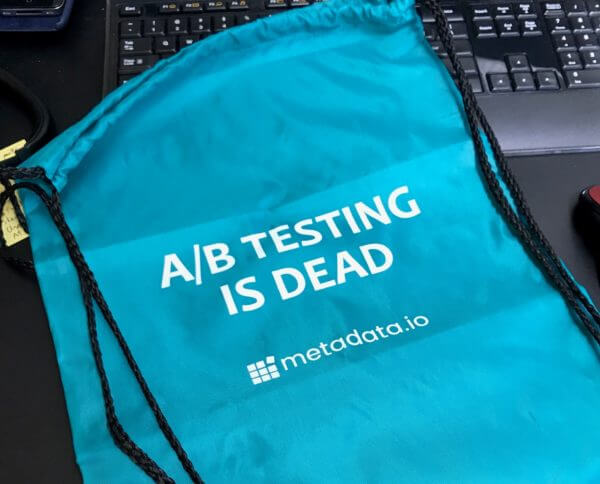 At the Marketo Marketing Nation Summit this year, our slogan was 'A/B Testing is Dead," and many attendees had a visceral reaction to it. You can imagine why – many of the event attendees spend hours if not days per week on A/B testing different elements of their emails, landing pages and digital ads. For some, A/B testing is the bane of their existence. For others, it's their raison d'être. But as we explained to our booth visitors (and anyone else who was willing to listen), when it comes to generating the best business results from your marketing efforts, A/B testing is yesterday's news, now supplanted by multivariate testing.
So, is A/B testing truly dead? Yes and no. The concept of testing variables in your marketing campaigns is not dead at all – it's evolving and expanding. The point of our slogan is, A/B testing is too slow and manual labor-intensive to meet the demands of modern B2B marketers. A/B testing isn't enough – B2B marketers need "A through Z" testing and beyond, multivariate testing that encompasses everything they're doing to reach customers, so that they can deliver predictable and scalable top-of-funnel leads and return on investment for their business.
The Metadata Superhero Team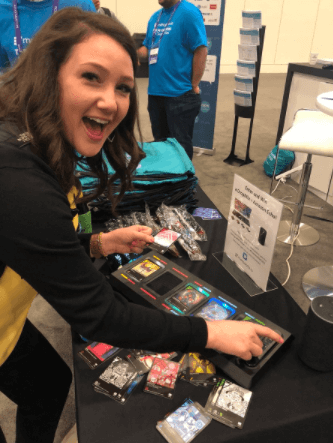 Thanks for stopping by to talk with us at Marketo's Marketing Nation Summit 2018, even if you only came by to channel your inner DJ with the DropMix game we had running in our booth.
The Metadata team of fearless and slightly nerdy marketers is dedicated to delivering superior B2B demand generation and digital marketing programs.
If we didn't get a chance to connect with you and you want to learn more about our solution or just talk about superhero stuff, give us a call (415) 231-2211 or contact us here.
Let us supercharge your knowledge, skills, and expertise with a comprehensive plan for using AI to drive pipeline and revenues in your organization!
Meanwhile, we'll finish off this recap with a look at this quick Metadata demo given by our own Lance Gonzalez at the Marketo Marketing Nation Summit DemoJam in the Marketo Launchpoint Partner Lounge: