How'd you do with your marketing budget this year? If you're anything like me…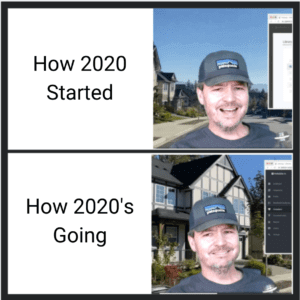 Every single year, planning and forecasting in marketing teams is already a little bit like jumping in a Delorean and going 88 MPH with 1.21 gigawatts of power behind you! Add a dose of worldwide pandemic and your 2020 plan is now nothing better than a bad guess.
As we close in on 2021, marketers are facing a similar challenge. We still have little context to work with. Despite this, there are several things you can do to plan and manage your 2021 budget strategically, hold onto as much budget as possible, and maximize the impact on your organization.
Managing a marketing budget is an incredibly important part of a marketing leader's job – yet, in my experience, it's often wildly mismanaged. And when things get unpredictable, you need to be able to show that you're being a good steward of the company's money or you run the risk of losing massive piles of money.
Fighting the uphill battle
This isn't an excuse – but Marketing departments have always had it hard. When things are going well, no one questions a thing. But when things aren't delivering, marketers are the first in line for scrutiny. Budgeting in marketing is highly volatile – much of our spend is tied to unpredictable volumes and ad auctions and things that aren't just a fixed cost for the entire year. So our costs are already difficult to manage.
Now throw on top of that the fact that the results of our work in marketing are also one of the most difficult to measure. There was a time when marketing was the "fluff" department, but today, they're responsible for driving tangible value and shaping businesses into what they are.
Despite all of this, if you want to keep and grow your budget, there are things you can do to ensure your money is being spent as efficiently as possible and that you have business outcomes to show for it.
Defining budget responsibilities for the marketing leader
Here are some of the responsibilities CMO's and other marketing leaders have in store when looking at their 2021 budget:
Create accurate forecasts- Accurate forecasting is one of the essential keys to building trust and credibility. Managing these projections positions marketing departments as a revenue center that deserves investment to improve profits, not a cost center to be cut. This is akin to accountability – you're telling the team and the CMO what you plan to spend your money on, and what you intend to get in return.
Manage forecast vs. actuals- Once forecasting is approved, get comfortable with the data and check what the actual numbers are on your P&L, then compare those with the numbers in your forecast. It's one thing to say what you're planning to do (forecast) – the proof comes in how close you then manage to that.
Know the basics- It's your responsibility as a marketing leader to understand the basics of business accounting. For example, understanding what the term "amortization" means in business finance, and using that practice to your advantage in planning and execution.
Have a continuous-improvement mindset- This should be a discipline you implement into all marketing decisions. It's a drive to always want something to be better than it is. From a budget-management perspective, this means ensuring that every dollar is scrutinized, you're negotiating for the best deals, etc.
Create transparency within the team- As executives, transparency is key, especially during times of uncertainty. Sharing budgets with your team provides insight into budgeted costs, expected costs, and real expenditure. Trust is at the core of the business, which requires leaders to be honest about the current state and trajectory of their company.
Jason's Top Tips for Strategically Managing Your Marketing Budget
Treat the company's money like it's your own- That is, unless you're frivolous with your personal finances! Scrutinize every dollar. For example, would you buy a car without aggressively negotiating price or terms? Of course not – so don't buy expensive business software without negotiating.
Get creative, use your internal resources- Finance and procurement are your friends – get to know them and understand what's important to them. These folks can really help you out with creative solutions to tough finance problems – but only if they trust that you are being a good steward of the company's resources. Build relationships.
True-up to forecast frequently- Most companies manage their spend at a quarterly level – so in those cases it's more important to hit your quarterly forecast. This means it's ok to go heavy or light early in the quarter as long as you make it up before quarter-end. Don't wait until the last week in the quarter to figure this out – true up monthly at a minimum. But even better if you track spend in near-real-time and true-up weekly.
Understand practices like amortization and how they can help you- It's October and you desperately need to add a new tool that costs $50k/year – but you only have $15k left and the vendor wants upfront payment. If you understand amortization, you know that you can buy that tool for $50k because you'll only need to have $12,500 in your budget to pay for 3 months of a 12-month contract!
Don't spend it just because you have it- There's an old myth that if you don't spend your budget in a given year, you might get a cut the following year. NO! This is all about communication. If you actually do not have a way to spend your forecasted budget EFFECTIVELY, then it's better to find a new home for it than just spend it. Everyone I know in Finance would much rather have a budget owner find a better use for their under-spend than just hitting their forecast.
Definite Ways to Get Your Budget Cut
Avoid these things as each one is an easy way to get your budgets cut:
Inability to tie marketing spend/activities to revenue – you don't know your ROI
Consistently over-spending, or even under-spending against your forecast – you don't learn from experience
Making perceived bad decisions with your budget – you can't read a room
Conclusion:
While not the sexiest part of a marketing leader's job, being an expert at setting and managing a budget can be a differentiator in your career. Showing that you have a good handle on what you need to spend in order to deliver specific results creates trust and credibility with your peers and manager.
Regardless of whether you're just starting out or not, effectively managing a marketing budget for your business doesn't have to feel overwhelming. Get specific about your marketing plan now, and feel more confident about where your money is going for 2021.