Welcome to our newsletter! I'd like to share with you some of our favorite stories and tips from the past month.
HIGHLIGHTS:
Monthly Customer Spotlight: Eightfold.ai
Which Ad Performed Better?
ABM on Facebook
Using Metadata Audiences for Conversational Ads
Customer Spotlight: Eightfold.ai
Eightfold.ai® delivers the Talent Intelligence Platform™, the most effective way for companies to retain top performers, upskill and reskill the workforce, recruit top talent efficiently, and reach diversity goals. Eightfold's deep learning artificial intelligence platform empowers enterprises to turn talent management into a competitive advantage.
Eightfold primarily targets human resources professionals and talent acquisition specialists on Facebook, LinkedIn, and Programmatic. Since being a Metadata customer for over a year provides endless insights and optimizations, Eightfold has zoned in what ad works best for not only lead generation but also MQL and Opportunity conversion.
Below is the ad in reference and its results for the past 6 months: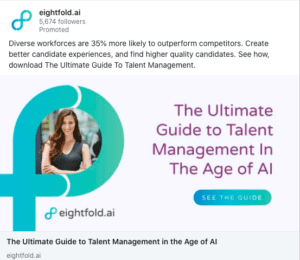 CTR: 0.53%
Leads: 337
CPL: $170.55
MQLs: 216
Lead → MQL Rate: 64%
FCR: 14%
Influenced Opportunities: 114
What made the ad successful?
Broad topic, yet targeted to a specific HR-focused audience

The key to a successful top-funnel ad is finding your key demographic and crafting a message that resonates with most people within that demographic. If you have a very large, uninterested audience, you will waste money on impressions and "fat finger" clicks that never result in leads.

Diversity of audiences

Target account lists, retargeting site visitors, & firmographic profiles
Using multiple, periodically updated audiences ensures you don't run into audience fatigue. There are only so many times you can show ads to the same group of people before you have to admit it's you not them.

Strong use of buzzwords like "Diverse", "AI", & "Ultimate Guide"

Any sort of guide or checklist will perform well, pending the copy and creative is palatable. People want valuable secrets of topical material in digestible chunks. If that's what they want, just give it to them!

Consistent Messaging

If something has a title, stick to it. Don't refer to something as an ebook in the text and then call it a guide in the image, then use whitepaper in the CTA. These may seem trivial semantics but verbal and visual consistency instills confidence in prospects that they're not being tricked into submitting their information. After all, you want the prospect to want your content. Misleading people will only backfire as you try to reach out.
This ad has been Eightfold's longest running and most valuable experiment to date. Over a year ago, the talent intelligence platform began running ad variations for this ebook using a variety of copy and images. Through time, both the Metadata and Eightfold teams understood this ad was a winner not only because it predictably generated leads for months at a time but because those leads converted through the top-of-funnel all the way into Closed Won Opportunities.
Below are a couple examples of ads that underperformed.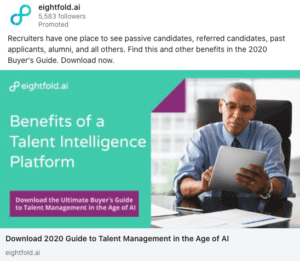 Why this ad didn't work? The text above the image does not address a specific pain point or goal that relates to their audience. It also refers to the asset as the "2020 Buyer's Guide" while the button on the image calls it the "Ultimate Buyer's Guide to Talent Management in the Age of AI". Prospects don't quite understand what exactly is being advertised.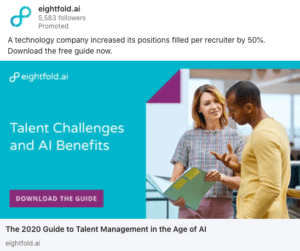 Why didn't this ad work? Minimal use of relevant buzzwords and vague persona referencing. While "AI" always seems to generate some interest, this ad fails to tie it to a specific pain point or goal. Additionally, someone reading this might think it is for a recruiter, which doesn't necessarily coincide with HR professionals, which made up the bulk of the audience.
Interested in learning more about Eighfold.ai? Click here to schedule a demo.
ABM on Facebook
"We've never seen quality leads come from Facebook" is a phrase we often hear when we onboard a new customer. Historically, they are correct. Facebook does not produce high quality leads when you try to build audiences and ad campaigns natively in its platform.
The reason for this is simple: marketers must use Facebook's data when running ads. Oftentimes, this data is completely false or at best out-of-date. Therein lies the dilemma — we know millions of the right people are on Facebook yet B2B companies steer clear of this channel because they don't have the right tools to find their audience. Rather than discover methods of cracking the Facebook code, most B2B marketers choose to ignore it as a lead generation tool and focus strictly on LinkedIn.
As a result, these thousands of B2B companies have made LinkedIn a very expensive and competitive advertising tool all while ignoring the bountiful potential of Facebook. Below are a couple high-level snapshots of Metadata's performance on the two channels: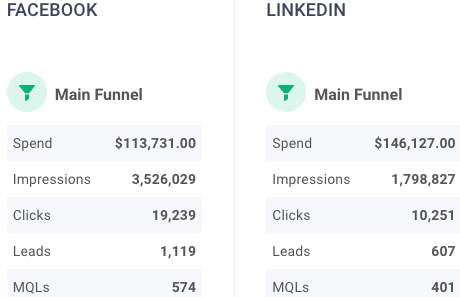 Not only were we able to generate more leads while spending fewer dollars on Facebook, we also delivered three times as many impressions which plays a significant role in driving search traffic as people research topics themselves without necessarily converting on a social ad. This higher volume of leads eventually led to 17 triggered opportunities on Facebook and 13 on LinkedIn. Not too shabby for a channel most kick to the curb.
When exploring new campaigns, keep in mind that success stories from LinkedIn might perform differently on Facebook. Continue to experiment wherever you can and optimize based on CPL, CPMQL, and CPO.
Already ecstatic about your Facebook performance with Metadata? Let your CSM know so you can be featured in Metadata's next Customer Spotlight.
Using Metadata Audiences for Conversational Ads
Conversational Ads are all the rage on LinkedIn right now. As cold calling and email marketing seem to have hit a ceiling in terms of conversion rates, this new tool is giving BDRs and AEs more chances to book meetings with prospects.
You may be asking yourself — how can I take advantage of this new tool using the best demand generation platform in the game? While Metadata does not yet have a direct integration with this new tool, you can use the same audiences that consume your content on a daily basis and enroll them in Conversational Ads. Not only are those people seeing the content on Facebook and LinkedIn, but they're now talking to a representative where they feel most comfortable — online and on their own time.
If you've converted enough leads on a particular asset, you can actually download them from Metadata and create a very specific, already familiar audience. Since moving people down the funnel from lead to opportunity matters to most marketers and sales professionals, consider exploring this new ad strategy as a way of generating pipeline. Once Conversational Ads graduate out of beta within LinkedIn, Metadata plans to build an integration, further consolidating your paid social network.
We would never recommend using a new tool without testing it ourselves. If you'd like to read about how Jason Widup, VP of Marketing at Metadata, delivered a 230% lift in demo conversions with 60% budget….during a pandemic, click here.
Interested in exploring Conversational Ads? Ask your CSM about which audiences and what type of messaging would work best.
And Finally: Which Ad Performed Better?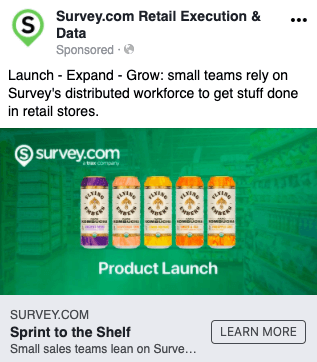 Leads: 7
CPL: $275.59
Form Conversion Rate: 2.01%
MQLs: 2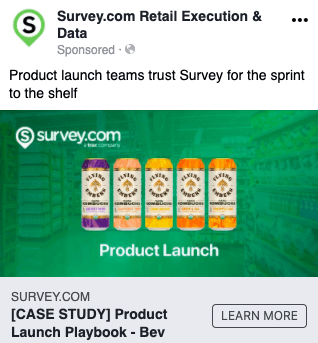 Leads: 16
CPL: $174.73
Form Conversion Rate: 4.48%
MQLs: 5
The key to this ad is the headline declaring exactly what the asset is — [CASE STUDY]. Since many digital audiences are familiar with trading personal information for a case study, we saw Form Conversion Rates jump, reducing the average cost per lead.
Thanks for sticking through to the end; hopefully you've learned some useful tips! If you have any stories you'd like to see featured, email me at kevin.joyce@metadata.io. I hope that you're taking care!
Sincerely,
Kevin Joyce @ metadata.io