Paid social ads can guarantee exposure, drive traffic, and encourage revenue.
Organic social media is often positioned as the be-all and end-all of social media marketing.
However, to really maximize your social media efforts, you need both organic posts and a paid social media strategy.
Why? Because the two work better together.
Read on to learn why paid social ads should be part of your comprehensive social media strategy — especially if you find the sweet spot of the ideal audience, channel, type of ad, and offer.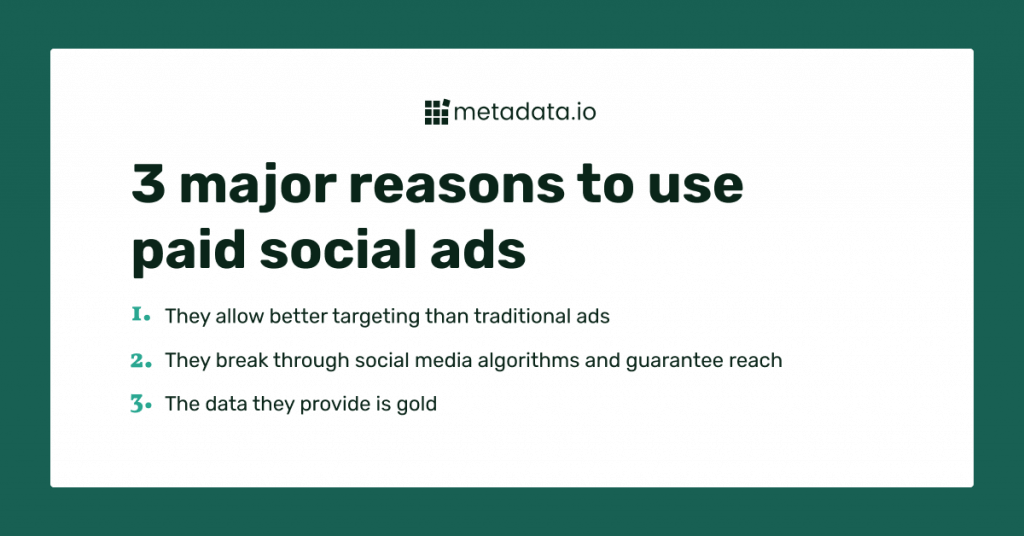 3 major reasons to use paid social ads
Here's a closer look at three of the main reasons to use paid social ads:
1) They allow better targeting than traditional ads
Compared to traditional ads (where you essentially fly blind), paid social media marketing lets you hone in on the specifics of your target audience. You can base your parameters on anything from location and income to historical behavior.
In short, paid social lets you deliver your ads to users who are most likely to click on them.
With organic social algorithms, you never know which ads will reach potential customers and which ones will get buried.
Paid ads guarantee that your campaigns will be seen, which takes the guesswork out of the equation.
Factor in that 26% of social media users say they're inclined to buy brands they see advertised, and the value of making sure they're seeing your brand (instead of your competitor) cannot be overstated.
3) The data they provide is gold
Not only does paid search go into greater depth than native social analytics, but the insights it provides are also invaluable and can help you formulate a solid plan of action.
From which promotions yield the greatest engagement to the demographics of your social media audience, you can use these insights to further refine your organic social strategy.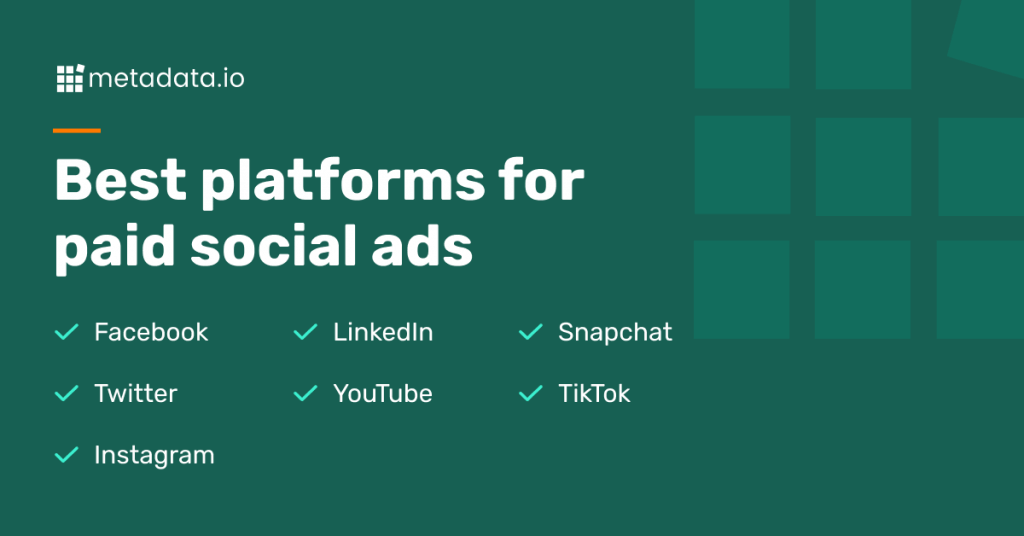 The best platforms for paid social ads
Some social platforms shine in certain areas, while others have different strengths. Additionally, different platforms have different goals, creatives, and ad specs.
Here, we'll break down a few of the most popular social media platforms in terms of their potential usefulness, pros, and cons.
Facebook
Facebook is often perceived as the undisputed champion among social media platforms. As one of the paid social pioneers, Facebook Ads are also a foundational component of many brands' digital marketing strategies.

A lot of B2B companies don't think they can reach their audiences on Facebook, but that's not the case at all. But your customers don't build walls around their professional and personal lives. And you can find them on Facebook.
Best for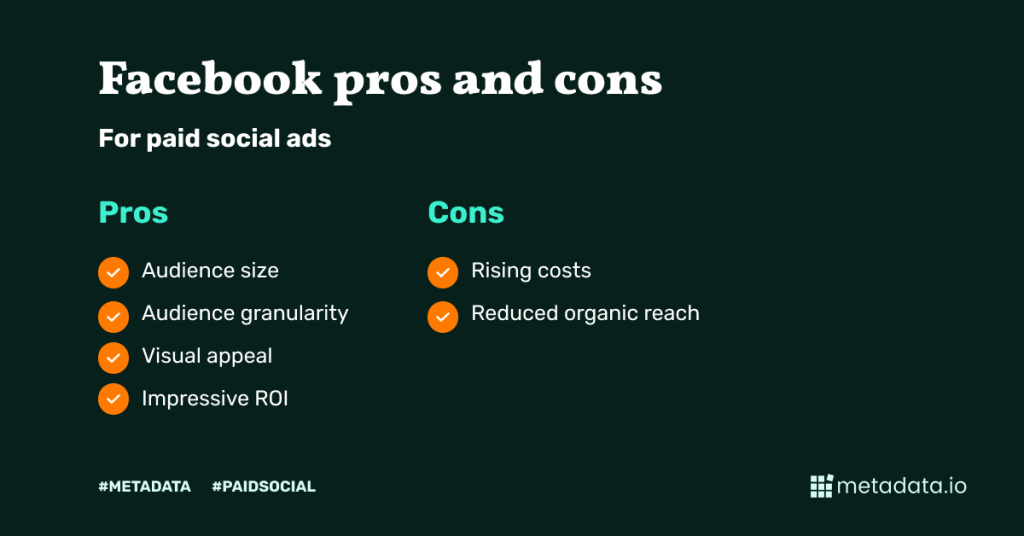 Pros
Audience granularity: While Facebook's audience size is a selling point, its true strength is its granularity, which lets marketers drill down to target precise customers.
Visual appeal: While many PPC ads are visually dry, Facebook ads offer compelling visuals.
Impressive ROI: Facebook ads offer tremendous value with an average CPC of nearly 50% less than LinkedIn.
Cons
Rising costs: Facebook ads may be cost-prohibitive if your marketing budget is limited.
Reduced organic reach: While your target audience will see your ads, declining organic reach means they may not be seen by fresh new consumers.
This micro-blogging site exists to help users connect, communicate, and share their thoughts. Twitter may not be the first social media platform that comes to mind when you think of advertising, its versatility and easy-to-digest format are two big reasons to consider it.
Best for
Media
Culture
Politics
Activism
Finance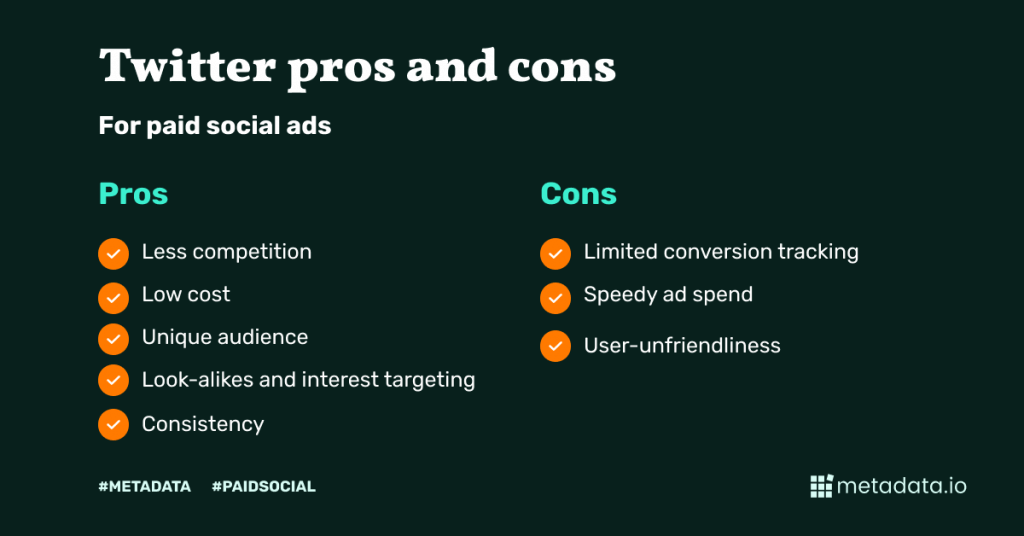 Pros
Less competition: With 465 million users, Twitter is much smaller than Facebook. Many marketers dismiss it in favor of larger platforms, which opens the door for your ads not only to be seen, but to be seen at a lower cost.
Low cost: With a $.38 CPC, no platform rivals Twitter in terms of ROI.
Unique audience: Twitter has different demographics than many other popular platforms. Its users are young, educated, wealthy, and like being in the know. This may also make them more willing to engage than users on other platforms.
Look-alikes and interest targeting: Twitter ads let you define your audience according to keywords and shared interests. It also lets you use "handle targeting" to target followers of brands or accounts similar to yours.
Consistency: While Facebook campaigns can be wildly unpredictable, ad performance on Twitter tends to be remarkably stable.
Cons
Limited conversion tracking: While platforms like Facebook give you instant access to insights, Twitter's metrics are comparatively lacking.
Speedy ad spend: If you start your CPC bidding too high, you may blow through your budget before you start seeing traffic to your landing page.
User-unfriendliness: Not only are Twitter ads notoriously hard to use, but they can also take weeks to set up. Need support? Twitter also falls short in this area. Good luck getting an answer if your campaign is suspended or your account is banned.
Instagram
A highly visual social media platform, Instagram is useful for raising brand awareness. However, as with all social media platforms, it has its ups and downs which we'll dive into below.
Best for
Travel
Beauty
Fashion
Health and fitness
Lifestyle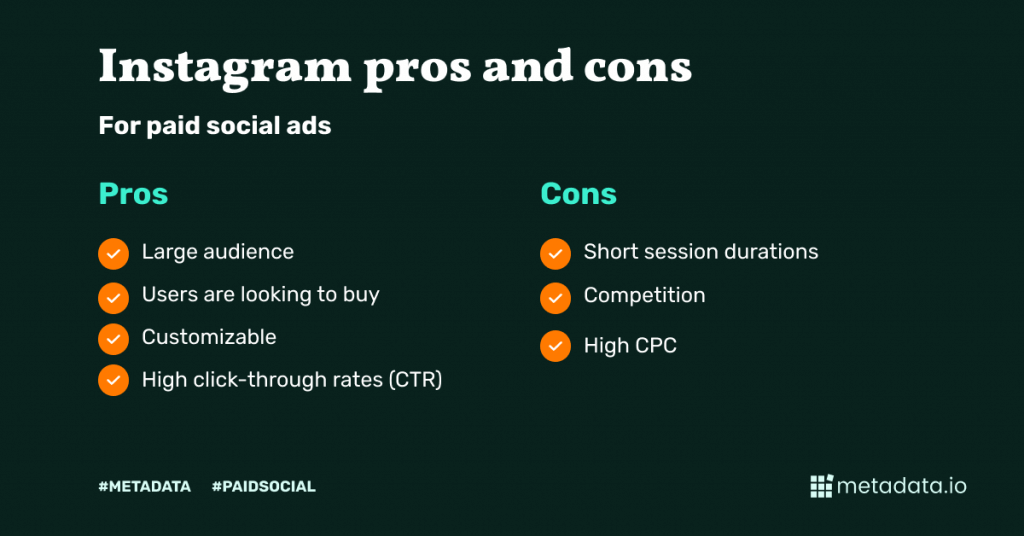 Pros
Large audience: With more than a billion monthly active users, Instagram is a hotspot for creation. It attracts users looking for new ideas and products.
Users are looking to buy: Roughly 50% of Instagram users say they've made purchases after seeing a brand on Instagram. Instagram Shopping makes this platform an even more advantageous pick.
Customizable: Because Instagram Ads is run through Facebook Ads Manager, you get all the benefits of Facebook Ads, including user-friendliness, customizability, and versatility.
High click-through rates (CTR): With a CTR of .88%, Instagram beats both Facebook and LinkedIn.
Cons
Short session durations: Compared to many other platforms, users spend less time daily on Instagram — an average of just 28 minutes a day.
Competition: More and more marketers are utilizing Instagram Ads, which means you may face higher prices and increased ad fatigue.
High CPC: While Instagram may generate lots of clicks, it also has a higher CPC. However, it's important to keep in mind that this varies by industry, and high CPC doesn't necessarily mean higher cost per conversion.
LinkedIn
With hundreds of millions of members in more than 200 countries, LinkedIn holds the top spot for B2B advertisers to reach global professionals. Whether or not it's right for your brand depends on several factors, including your industry and business goals.
Best for
B2B
Tech
Software
Travel
Finance
Academia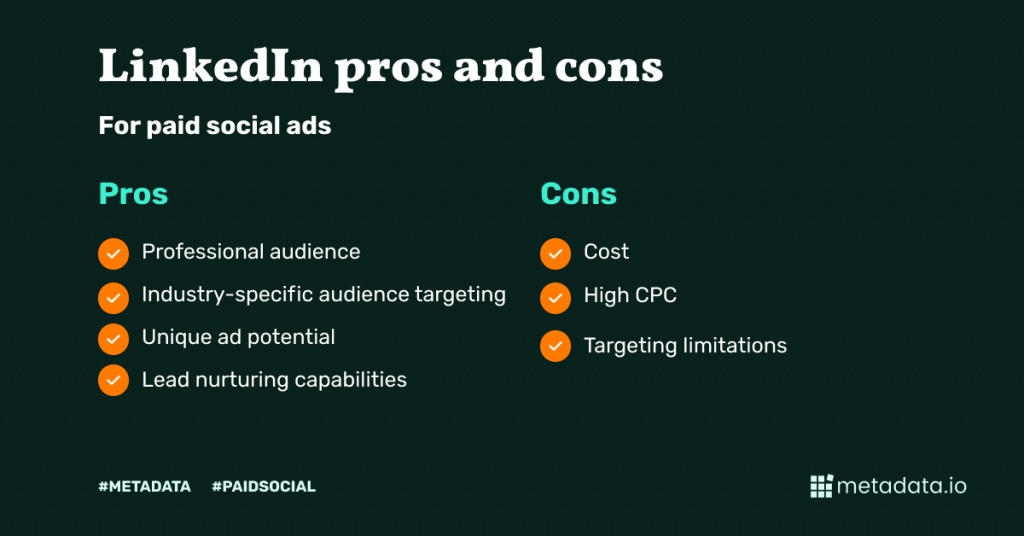 Pros
Professional audience: If your products are for teens, LinkedIn may not be the platform for you. But if your target audience consists of educated and high-earning brand decision-makers, then LinkedIn is hard to beat.
Industry-specific audience targeting: While Facebook may prevail when it comes to interest and behavior-based targeting, it can't compete with LinkedIn for industry-specific variables such as job title and function, seniority, industry, skill, degree, company size, and more.
Unique ad potential: Sure, LinkedIn offers more common ad types like sponsored posts and sidebar ads. However, it also offers other platform-specific opportunities, like Sponsored InMail and lead ads.
Lead nurturing capabilities: LinkedIn's Lead Accelerator feature goes beyond generating awareness and leads to help you better nurture your leads to drive conversions. In fact, one HubSpot study finds that LinkedIn ads drive a 6.1% conversion rate for U.S. brands — compared to just 2.58% for Google search.
Cons
Cost: In order to make the most of LinkedIn, you'll need to take advantage of the many tools it offers. However, you'll need an ample budget to do so.
High CPC: Of all major social media platforms, LinkedIn has the highest CPC. (However, there is a trade-off in the form of higher-quality leads.)
Targeting limitations: There are some limitations regarding who and how to target with LinkedIn ads. For example, LinkedIn's Matched Audiences feature must be launched from an individual profile — not a company profile. This merits the involvement of company leadership. You also can't target by gender, or by specific towns and districts.
YouTube
YouTube is the world's second-largest search engine and its third-most visited website. And video is one of the most engaging types of content you can create.

If you're looking for a huge new audience, you'll want to add YouTubeto your business's content strategy. However, to turn viewers into buyers, you need to engage them by serving up the right ads to the right audience.
Best for
Entertainment
Business
Education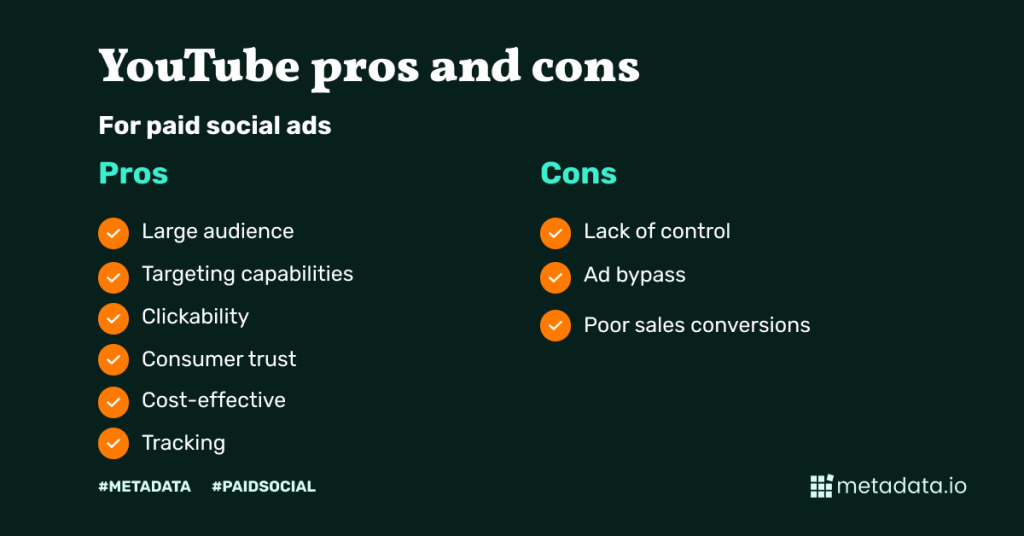 Pros
Large audience: A bigger audience means more eyes. Plus, YouTube videos boast high session durations meaning visitors may spend more time watching your ads.
Targeting capabilities: As with many other paid social options, YouTube's targeting capabilities let you select the demographics of the users who view your ads.
Clickability: Videos are more engaging — and clickable — than text-only ad formats.
Consumer trust: Videos also build familiarity and trust better than images and text.
Cost-effective: You only pay when people watch with YouTube's TrueView ads. Plus, the platform has a relatively low CPC.
Tracking: YouTube Analytics offers valuable insights about your viewers, their activities, and how your ads are performing.
Cons
Lack of control: While you can target your audience, you can't select which videos your ads will accompany. This means there's not only a chance that the videos don't match your advertising, but also that it doesn't align with your branding. Additionally, the videos users see depend on the categories they select. This is another opportunity for a mismatch between you and your target audience.
Ad bypass: While YouTube lays claim to high session durations, it also has an ad bypass option. This means that after an ad is displayed for a set amount of time, users can opt to skip it.
Poor sales conversions: A widely cited 2017 CNBC study finds that 65% of viewers skip online video ads. This is supported by recent data that shows that more internet users than ever are using ad blockers, which often eliminate pre-roll and mid-roll video ads. This correlates to low conversion rates for all-video platforms like YouTube.
TikTok
TikTok may be pretty new to the social media landscape, but if you are marketing to Gen Z and millennials, its potential cannot be overestimated. It's also culturally relevant, which means your brand will be, too — if your ads can reach your target audience.
Best for
Beauty
Fashion
Food
Fitness
Tech and SaaS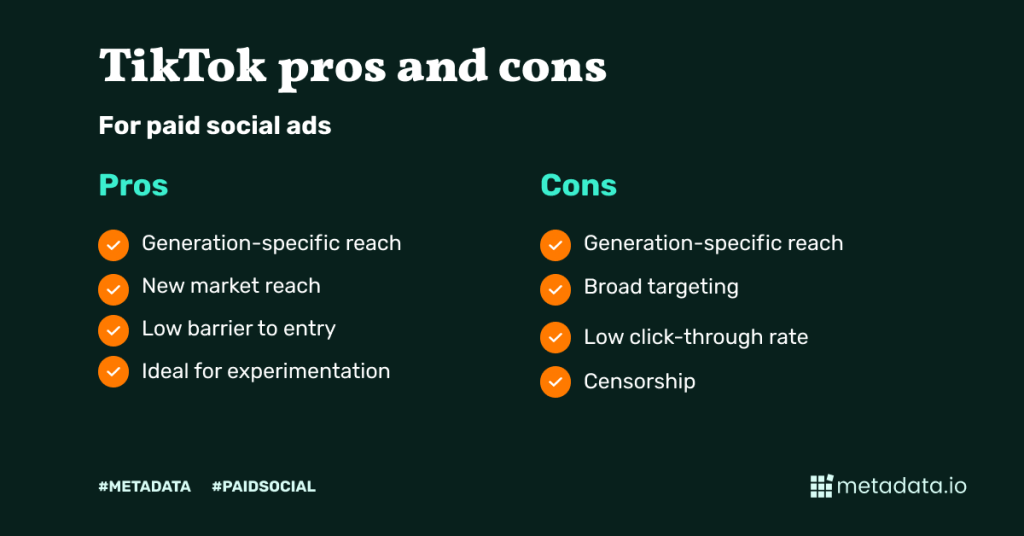 Pros
Generation-specific reach: If your customers are part of a younger demographic, TikTok is the best place to reach them.
New market reach: Because of the geographic diversity of TikTok users, the platform is a great way to expand to untapped markets and new customers.
Low barrier to entry: While TikTok previously only allowed for large brand advertising, its newer self-serve ad platform invites smaller advertisers to experiment with paid social on the platform.
Ideal for experimentation: Speaking of experimenting, TikTok is the perfect place to explore new ways to stand out. With new trends circulating constantly, there are plenty of opportunities for marketers to hop in and take advantage of the latest viral crazes.
Cons
Generation-specific reach: While this is a pro if your target audience is young, it's a con if you're trying to reach the 30+ age group.
Broad targeting: Compared to Facebook and LinkedIn, TikTok falls short when it comes to letting you hone in on your defined target audience.
Low click-through rate: While TikTok can get your brand in front of your target audience, most users don't click through links.
Censorship: TikTok is known for censoring content. Factor in poor customer service, and you could end up losing money on ads that aren't seen.
Snapchat
Like TikTok, this photo-messaging and photo-sharing app is primarily a younger users' domain. With this in mind, it does have distinct pros and cons if you're considering it for your social media ads.
Best for
Brands running local ad campaigns
Brands targeting a young demographic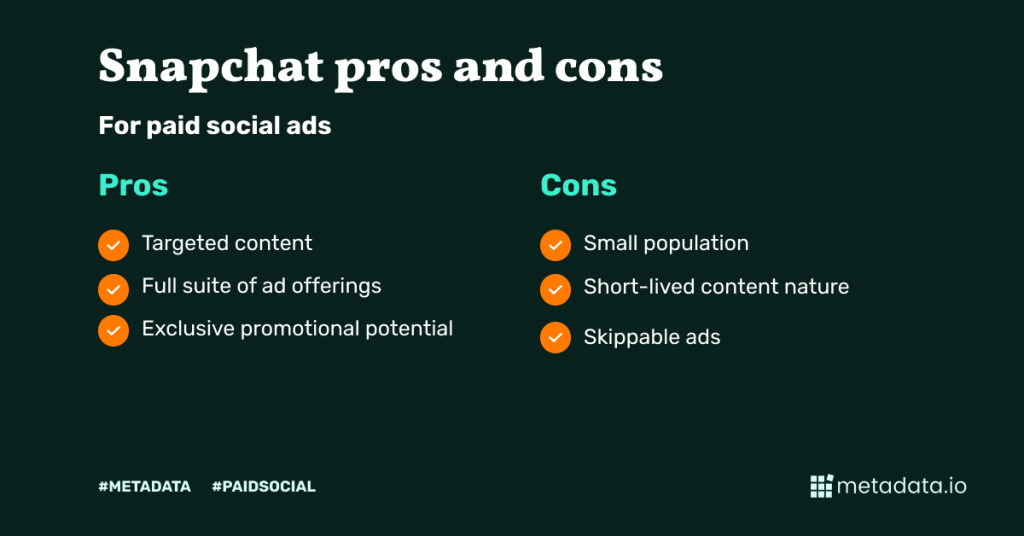 Pros
Targeted content: Physical locations and geotags are primary Snapchat features. As such, this platform is ideal for brands running location-specific ad campaigns.
Full suite of ad offerings: Regardless of your budget, there's a paid ad option that will work for you.
Exclusive promotional potential: Because of Snapchat's impermanence, you can use it to lead to a sense of scarcity that fuels impulse buying. For example, limited-time offerings and flash sales create a sense of urgency.
Cons
Small population: Your reach is inherently limited by this platform's smaller usership.
Short-lived content nature: Your ads will need to really stand out to have staying power since they're only visible for 24 hours.
Skippable ads: Because Snapchat lets users bypass paid ads, your brand could get a lot less exposure than anticipated.
It's not for nothing that 75% of marketers report positive results from social media initiatives. They can help raise brand awareness, drive engagement, and boost conversions.
However, keeping track of which platforms work best for you and which don't deliver your desired results can be a painstaking process. This is where Metadata comes in.
Use our marketing operating system to automate your paid social media marketing campaigns and drive more revenue. Whether you're building a target audience or conducting campaign experiments, Metadata can help automate it. As a result, you'll spend more time on high-value work that moves you toward your business goals.
Reach out today to learn more about how Metadata can help you save time while making the most of your paid social and digital marketing strategy.