There's no way around it – if you want to see whether Facebook or LinkedIn is a better ad campaign platform for your business, you're going to have to dive in and start testing out ad campaigns to see how each platform works for you.  
In marketing, it's never a good idea to put all of your eggs in one basket. You need to implement a variety of marketing methods and platforms to yield ROI. For example, you should use a combination of content marketing, video marketing, PPC, and social media marketing.
And it's highly recommended that you use the top two B2B social media platforms – LinkedIn and Facebook. Remember, it's all about the numbers, so keep a close eye the right metrics.
Now, let's move on to some tips you can use to improve your social ad campaigns on both networks.
Make Use of Carousel Ads On Facebook
One of the pros of using Facebook is that it offers a ton of different ad options. This includes the carousel ad, which is a dynamic ad display that's eye-catching and interactive – a definite win for sparking engagement.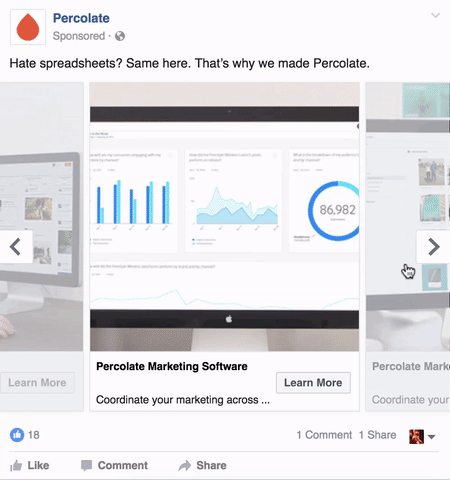 This brand, Percolate, decided to use their advert to educate their audience before they clicked. You can do the same by choosing images and text that will drive forward a message you couldn't say in a single photo.
The idea is to create a storyboard that will attract, incite emotion, and engage your target audience.
Sponsor Your Top-Performing Content on LinkedIn
Boosting your content on social media is a great way to get more traffic back to your blog. Businesses are consumers, and consumers like to be educated.
If you can create content that contains a headline that speaks on the questions or concerns they have, then you've earned yourself a click. Then it's up to your content to do the rest of the converting.
Here's an example of Adobe's sponsored content ad: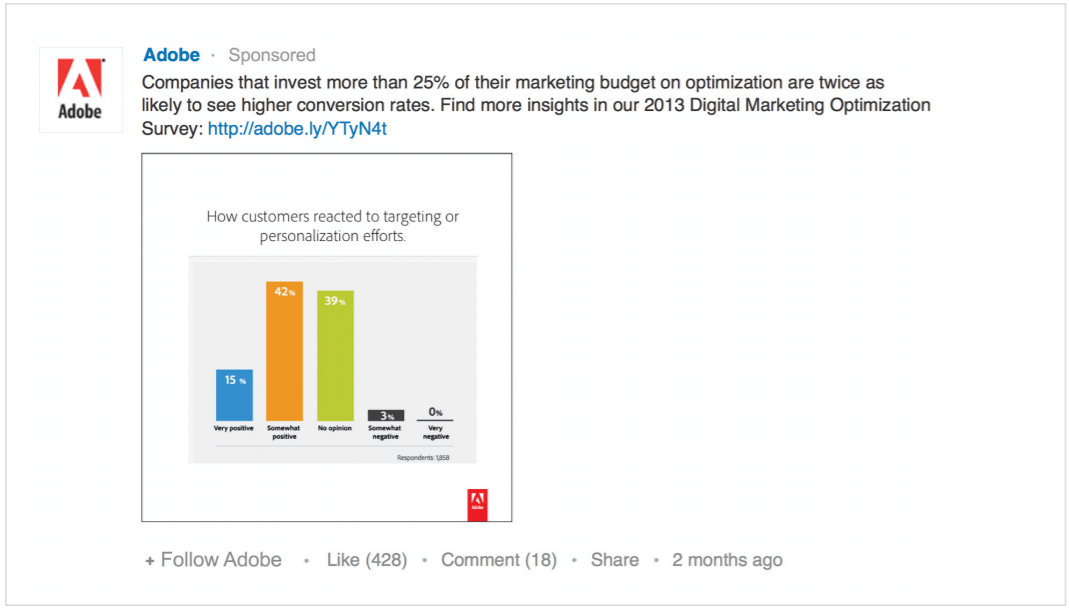 The reason we recommend using your top-performing content is that you already have evidence that your audience likes the topic. All you have to do now is push it out there to attract more leads.
This ad helped boost Adobe's reputation as a thought leader.
Produce Quality Video Content for Facebook Ads
Another form of ad you can use on Facebook is video. This platform already generates 8 billion video views daily so you know these users are video-hungry.
Then there's the fact that 80% of consumer traffic will come from video by 2019. That makes a video ad an ingenious choice.
Here's a great example of one – and pay attention to the amount of engagement.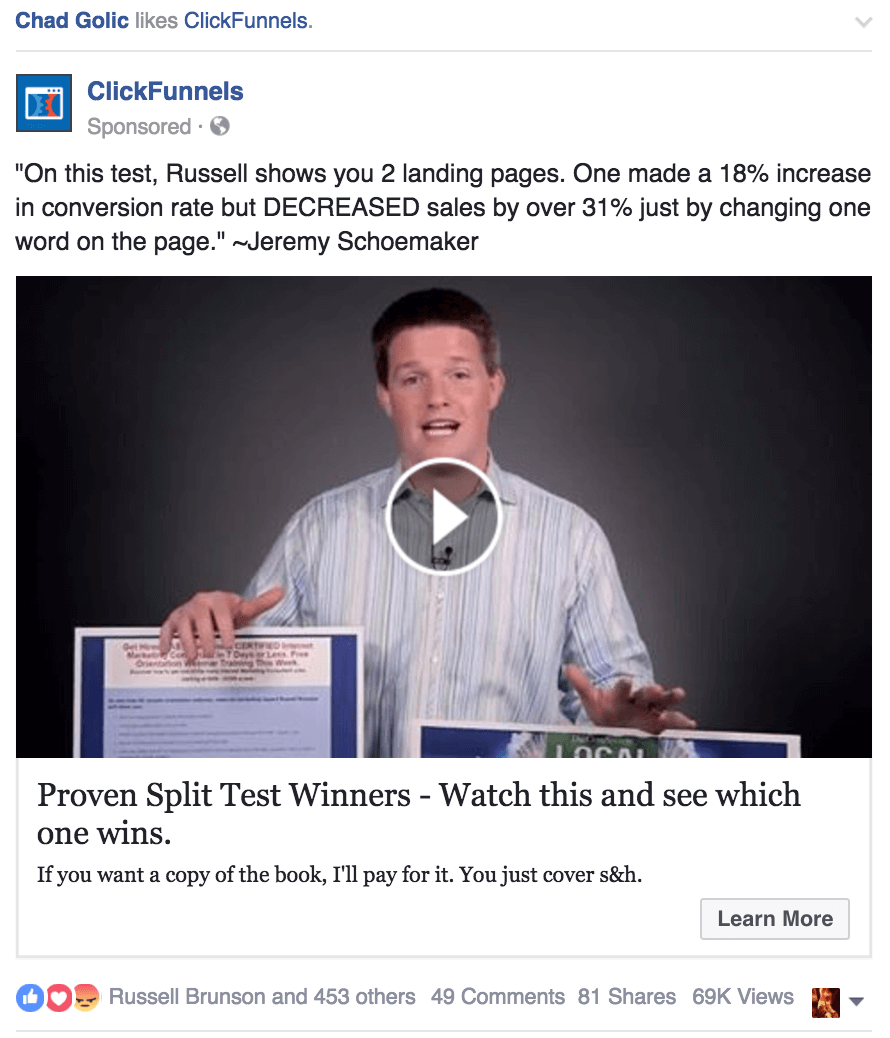 As you can see, it received nearly 70K views, 81 shares, and 49 comments. And there are 450+ reactions. Not bad for one video ad!
Don't Forget About Sponsored InMail On LinkedIn
Here's something LinkedIn has that Facebook doesn't – sponsored Inmail. With your business membership, you get a certain number of InMails you can send monthly.
You can make use of this by crafting appealing ad content for specific businesses within your network (or even outside of it). Here's an example of one made by CBRE: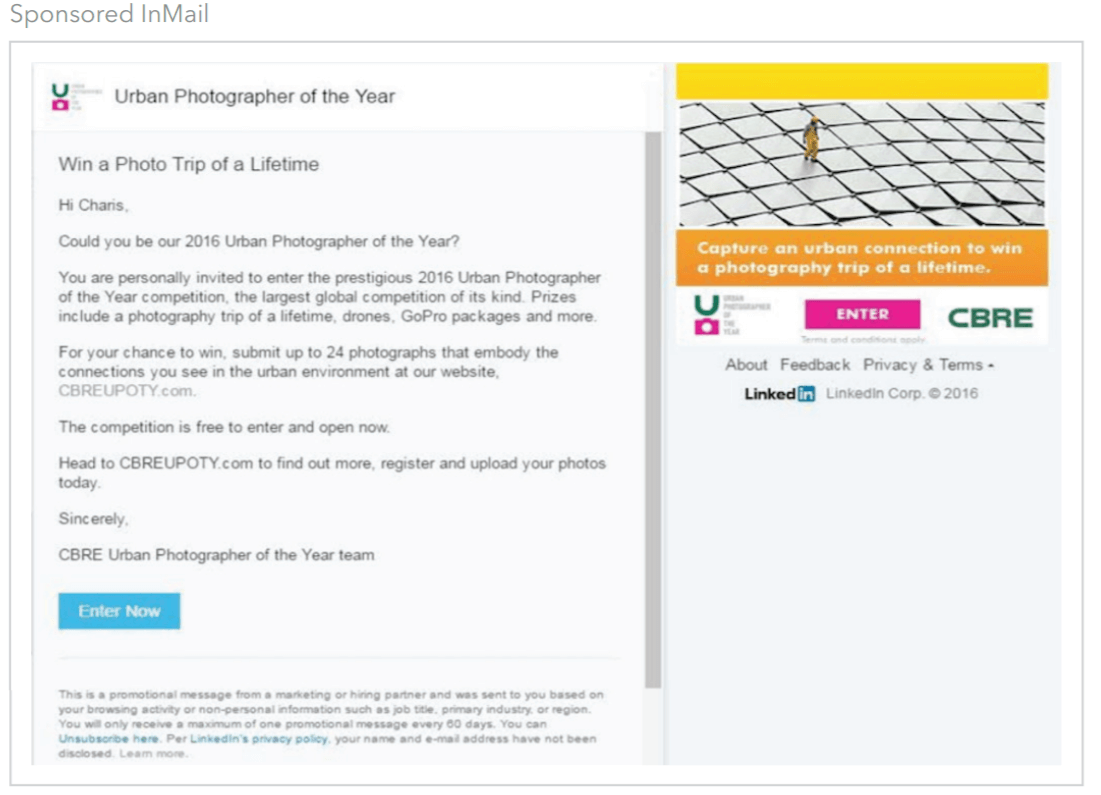 This was part of a campaign aimed at shutterbugs and professional photographers (using LinkedIn's precision targeting filters). It was for its annual photography competition, which yielded great results.
The photo in the InMail was a nice touch, given the market they were targeting.
They received high open and click-through rates, plus landed a number of one-on-one conversations. In the end, they generated 41% more entrants than the previous year.
Start Planning Your LinkedIn & Facebook Ad Campaigns
As you can see, there are a number of creative ways you can publish your ads on LinkedIn and Facebook. And in doing so, you can increase your impressions, CTR, and potentially your conversions.
Continue focusing on buyer personas so you can create highly-targeted campaigns. Make sure to keep an eye on your metrics and make adjustments as needed (unless Facebook is already doing a great job for you).
All you have to do now is test, test, and test some more to see what works for your B2B business!
Want to learn how to rapidly scale your LinkedIn and Facebook ad campaign testing? Contact us today!