On March 17, 2020, LinkedIn introduced Conversation Ads as part of the growth of Message Ads (previously Sponsored InMail).
LinkedIn Conversation Ads create a conversational experience for B2B marketers to "choose your own path." Think Drift chatbot meets LinkedIn InMail.
Essentially, it allows for a more authentic, interactive engagement that results in higher ROI.
And since experimentation of paid campaigns is part of Metadata's core values, we put Conversation Ads to the test ourselves.
In March 2020, our advertising budget got cut from $40,000 a month to $17,000 a month. And our other channels stopped converting. We needed to pivot.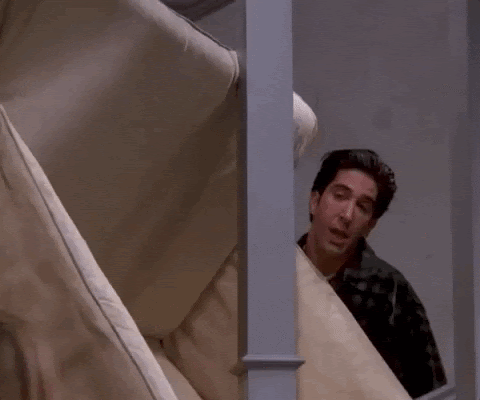 Our VP of Marketing, Jason Widup, started to experiment with LinkedIn Conversation Ads. Our campaign delivered 230% more demos in a month with 60% less budget using $100 DoorDash gift cards to spark engagement.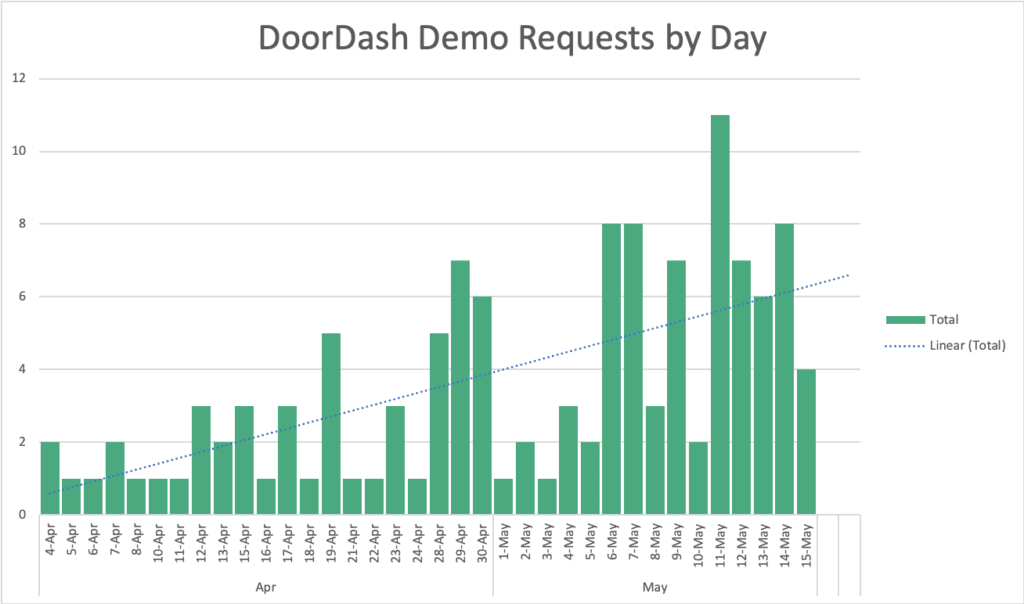 Now, I'm not a marketer.
But anyone can tell by looking at the chart above that LinkedIn Conversation Ads combined with a bit of free food really works.
LinkedIn Conversation Ads gave us leads that went on to become revenue-producing customers.
And they did it at higher rates than our other marketing channels, for a lot less spend.
It's not just Metadata reaping the benefits of LinkedIn Conversation Ads either.
PPC Hero generated case study downloads at a CPA of $15.92 with Conversation Ads.
Samsung saw a 23% uplift in CTR using Conversation Ads.
As we started to learn more about the benefits of LinkedIn Conversation Ads, we had to ask ourselves: How can we serve our customers better with LinkedIn Conversation Ads?
Part of this is on the product side. That's where I come in.
At Metadata, we've been focusing hard on LinkedIn Conversation Ads for our customers. We've started manually managing their accounts for a year now. And, it's working.
Now, after a year of testing and experimenting with our customers, Metadata has a solid advantage to help our customers convert leads into revenue – we're officially rolling out the new LinkedIn Conversation Ads feature on May 17th.
Let me walk you through how we got here.
Ready to get started with LinkedIn Conversation Ads? Book a demo with Metadata.
At Metadata, I get over 600 requests for new features.
Anyone in product knows how this goes. Everyone wants everything, and fast.
We don't have a gigantic product team at Metadata. Everything has to be about prioritization.
You're probably asking yourself: Why would the product team at Metadata prioritize LinkedIn's Conversation Ads over other new features?
Answer: There is proof in the data.
During the experiment I mentioned above using LinkedIn Conversation Ads, it was a big win for us as B2B marketers to capture new product demos.
We couldn't ignore the data.
It didn't stop there. Metadata started receiving product requests from our customers we gained from our own experiment with LinkedIn Conversation Ads.
Surprising, right?
Our customers knew LinkedIn Conversation Ads worked because it already worked on them.
Conversation Ads work because:
You can automate the user journey and save time. By the time people want to talk to us, we already had them sold.
You can compress the user journey and increase revenue. By creating a shorter sales cycle and faster lead volume, you can start to see the dollar signs roll in.
With Conversation Ads, you can get great results.
We struggled because Conversation Ads are difficult to use. You have a lot of options, leading to analysis paralysis with no clear path to value. The UX isn't great.
We knew if our product team could bring value to our customers and limit their options to what we know works, so the path to value was clear, there was a big opportunity here.
Next, we had to figure out how to approach it.
That is literally all the time it took: two months.
This was a big project management challenge. How were we going to replicate this significant, complex feature that LinkedIn had built?
We started with minimum scope.
We use the data from our experiment campaign on LinkedIn.
We found that above 90% of users would get the best results with a sharply-attenuated feature set — just three ad flows and three offers would cover nearly all the ground you needed and be a lot simpler to use than the LinkedIn interface.
We built three ad flows and three offer types:
That's it!
These three ad flows are text templates that allow users to overwrite them with any other text (offer). We wanted to save users time and enabled shortcuts with these templates that our B2B marketers use most frequently.
We knew with a tiny, simple product, we could provide our customers with these user flows proven to work in the past.
We wanted to be the first demand generation platform to make this move to LinkedIn Conversation Ads. That meant we had to build a small, lean feature that we could build upon in the future.
Our product team ran into a few hiccups along the way. LinkedIn has a massive API. Even though we built a small and lean feature, we still had to go through LinkedIn's API to hook it up to their database.
By building the feature this way, our product team reduced development time by at least 10x.
This is just more proof that the MVP/MVF approach works and one more argument against building a giant product before you even test it.
Here's what's next for our LinkedIn Conversations Ads feature
After the official rollout of our new LinkedIn Conversation Ads features at Metadata on May 17th, we will begin building out support for our customers.
We want to help our customers use it in their campaigns by providing a dedicated support team that offers a webinar, training videos, knowledge base entries, and how-to's.
You can expect to see more features added to LinkedIn Conversation Ads that include:
Usage data
Customization options
Reporting
As always, a special thanks to everyone that has participated in our experiments on LinkedIn Conversation Ads.
We appreciate all your thoughts and feedback. It has helped us define our roadmap to better support you. After all, we are in this together!
If you're an existing customer and interested in using this new LinkedIn Conversation Ads feature, reach out to your Customer Success Manager.
If you're not a Metadata customer, click here to book a demo with one of our amazing non-salesy team members.
Cheers to another nifty new feature at Metadata 🥂