When you clicked on this headline, you probably had an expectation about what was behind it. You might think you're familiar with the most efficient ways to increase demos on less budget. But I would bet that I have a couple of surprises in here for you — ideas that you're not thinking about, but should be. I'm going to walk through a series of scenarios and activities that ultimately led to these exact results for our company, Metadata, between March and April of this year.
Our general marketing strategy
Before we discuss what we changed in March and April, I'll put those changes in context by explaining our general marketing strategy right now as a pre Series-A startup. First and foremost, we need to generate awareness. We're new, and still relatively unknown. Our Ideal Customer Profile (ICP) therefore looks a little different right now: we find ourselves targeting an ICP that might be slightly smaller in company size than where we should be in favor of deal velocity and minimal redlines. Once we have more business, and more awareness, that ICP can shift.
We're also maximizing the use of social proof (including but not limited to G2 reviews, case studies, and quotes) — both because we know that nothing works more effectively than word-of-mouth marketing, and because we have great, well-known brands using our platform. To grow our awareness, we currently spend money on inexpensive targeted display via The Tradedesk in order to get quality eyeballs on the site. To those of you currently wondering why I'm not mentioning Google Display: TTD is a better deal. It has access to a much wider range of inventory, including channel and region specific exchanges, and more robust controls for brand safety, page quality, and bid optimization. Plus, its audience-building capabilities are unrivaled. Finally, we're using email sporadically, with a database size of around 60,000.
What was missing
We'd seen some success and return on our general marketing investment. But our strategy wasn't without its weak spots. Like all companies, we encountered obstacles. Like all companies right now, we also encountered a global pandemic this spring, which changed things further.
Here's what happened: Our website had never been optimized to convert leads or demo requests.
In addition, our website messaging was inconsistent and too technical. Then, after the Coronavirus arrived in the U.S., our regular digital spend of about $40,000 a month (and increasing) got cut back to about $17,000/month thanks to tightened budgets. Our demo results were inconsistent month to month. We enjoyed a peak of demo requests in January at 47, but then in March they were back to 37, and in April, 35. Our email results, meanwhile, were on par with industry benchmarks for top and mid-funnel metrics, but didn't convert.
We tried a basic eight-touch nurture with overview videos, organic content — all the usual suspects — and it didn't work. Now, it's worth noting that we didn't spend much time optimizing it. I suspect our emails might not be getting through, and the metrics can't be trusted due to spam filter platforms. Regardless: we needed to pivot.
How we shifted our strategy
As soon as we understood our budget reduction, we went into brainstorming mode. My initial thought was: I need to use free channels to deliver our message, but email isn't working for us right now and our website is not great at attracting and converting organic traffic. So what options do I have? I thought about using my own LinkedIn network, but it's simply not big enough to support our growth needs. (However, I did and do use organic content from me on LinkedIn to organically grow that channel so that it can support our awareness efforts at no cost. Content is still king.)
Instead, we shifted to LinkedIn sponsored messaging — where you can send a single message to a targeted inbox. During our research, we discovered LinkedIn Conversation Ads beta product. It felt like a Drift chat playbook, but targeted specifically to my buyers on LinkedIn. Plus, we could get sends for $0.30 – $.070/per. While that spend could scale quickly, if it worked, it would definitely be worth it.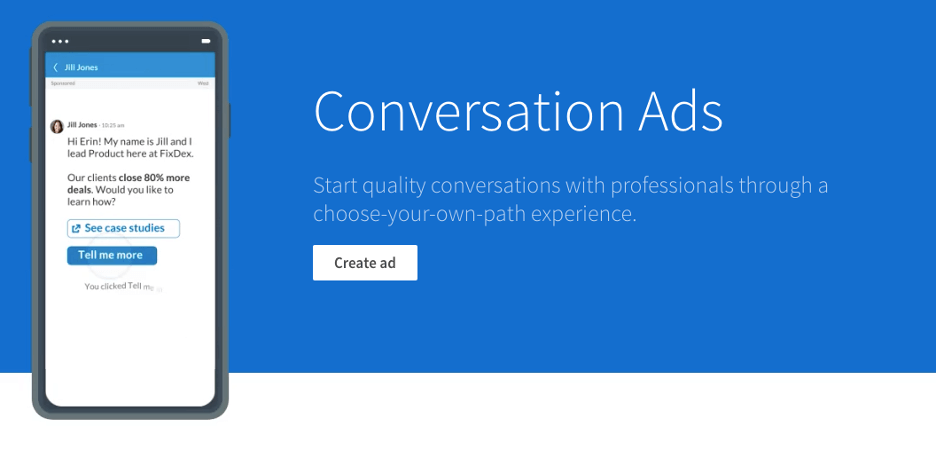 How we executed
I'll save most of the details around our use of Conversation Ads for a future blog post, but here's a glimpse of our approach. We needed an offer and decided that, since everyone was stuck at home in quarantine, we would offer them a $100 DoorDash gift card if they would take a demo meeting with us. Since we'd be shouldering the cost of the LinkedIn campaign and the gift card, we needed to make sure the target audience was tight as a drum. So we created an audience of our primary buyers in very tight industries and company sizes, ending up with an audience size of about 19,000.
If you think back to the start of this blog post, you'll remember that we're still fighting for awareness as a brand. This means the very first message in these conversations was absolutely critical — and you're limited in that message to 500 characters. I leaned on two approaches: the first was, "I'm a marketer like you, with goals." The second was the social proof concept I mentioned previously. Think, "Companies like Sendoso and G2 use our product…" It's my belief that it's because the message comes from a marketer and is targeted at a marketer that it works really well. There's a shared language and point of view from the start.
In addition to the LinkedIn campaign, we pulled back all of our top-of-funnel spend and started to rely more on organic content and our website to drive awareness. We launched a redesigned website with a completely new homepage experience — this was not part of the campaign, but something we were already doing. I also started doing a lot more content myself — videos, LinkedIn Live broadcasts, engaging on social, and broadening my network. These are tactics that won't immediately pay off, but will in the coming months.
The bottom line
Our results were great: in April, we delivered our highest number of demo requests ever (by 230%), and spent 60% less than the prior month. Those demos were high-quality, with positive feedback from sales, and more than enough late-stage pipeline to show positive ROI.
My lesson from all of this? Constraints fuel progress. If I had not been given the constraint of a -60% reduction in our budget, we would have never spent so much time trying to figure out how to continue to meet our goals. We may have just continued to spend money on top-of-funnel and ignored the latent demand that the product had.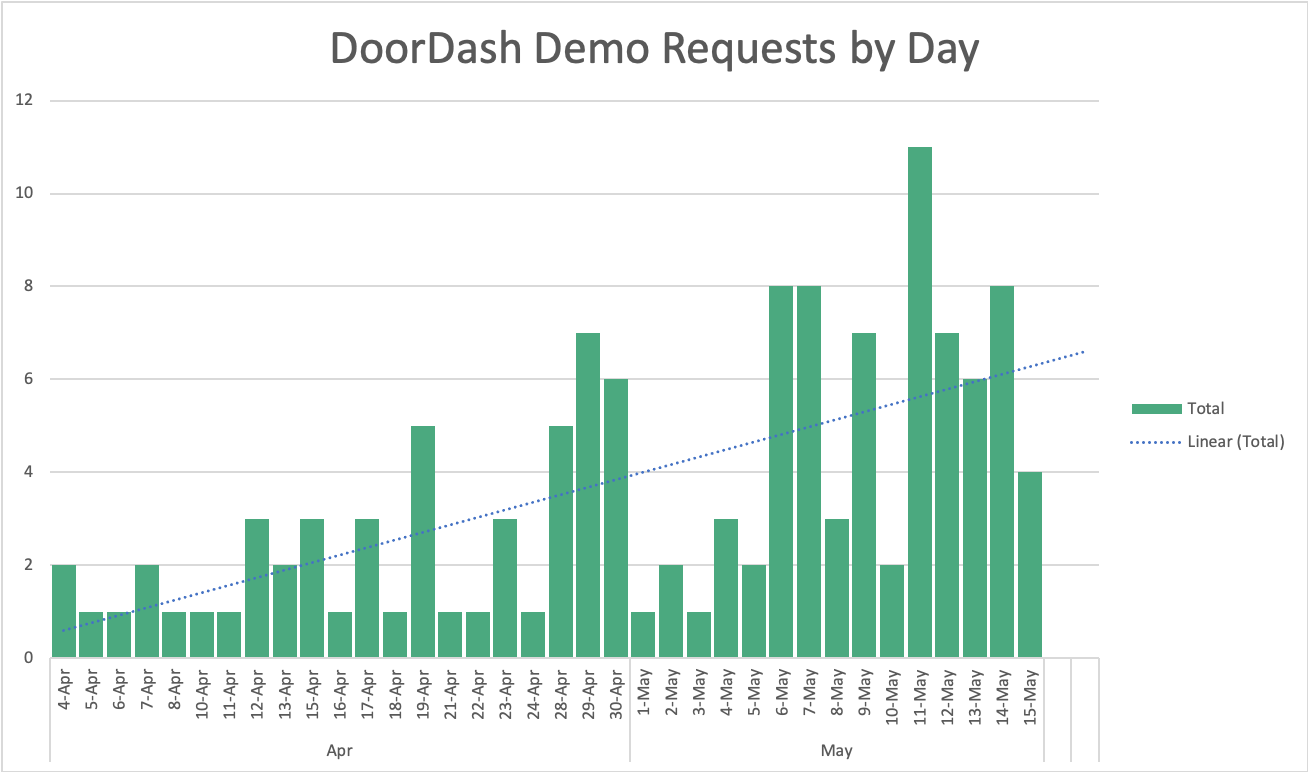 All this said, if we hadn't replaced our top-of-funnel engagement with the free, organic stuff we've been doing, this strategy would not be sustainable. We'll better understand this in a few months as we optimize our content and website to acquire and convert leads. Stay tuned — we'll update you here.