How do you choose the best mediums and platforms to use for your B2B marketing? If there's one thing you learn in business, it's that you never take anything at face value.
It's all about data and metrics.
And what the numbers are telling us is that 55% of B2B buyers search on social media for products and vendors. With more than half your consumers using social networks, it's no surprise 83% of B2B companies are now marketing on platforms like Facebook and LinkedIn.
But which of the two is best for your B2B business? Again, it comes down to the numbers. At face value, it appears that LinkedIn, the professional one, is the optimal selection.
However, if you look closer at Facebook, you'll see it's not just a casual platform. In fact, most of the people using LinkedIn are on Facebook as well.
Truth is, a business owner is always a business owner, whether they're at a networking event or luncheon with friends. This means if they're seeing Facebook ads of a product that could increase the productivity of their business – are they going to ignore it because it's on the "wrong" platform?
Chances are, they won't.
Let's take a closer look at Facebook and LinkedIn ads so you can make a more informed decision.
Targeting Capabilities: The Fall of the Facebook Ad Giant?
As a B2B marketer, it's important to know your target audience. This includes knowing their profession, industry, location, age, and pain points.
This way, you can easily target them in your advertising campaigns.
At one point in time, Facebook was the marketer's best friend. It collected all sorts of data from its users, including psychographics.
However, due to recent changes in its privacy policy, it will no longer give access to data provided by 3rd party data brokers. What this means is that you'll no longer be able to target your ad campaigns based on certain categories. This includes household income, in-market audiences, and many other behavioral targeting parameters that made so many campaigns successful.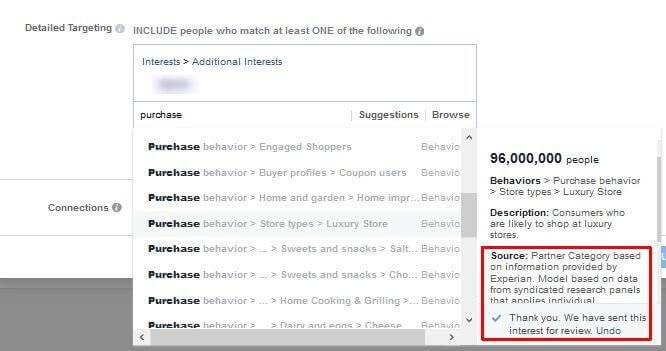 That's about 1,200 targeting criteria stemming from 3rd party data sources – all gone. And, in turn, this gives LinkedIn a fighting chance at competing in the B2B ad marketplace.
LinkedIn is actively keeping track of business-related details, which can be very useful for B2B brands and marketers. In your campaigns, you can target audiences based on company size, job titles, industries, etc.
Both platforms have their pros and cons, but you can't deny the 2 billion active users on Facebook. If you can get creative with your campaigns, you can definitely generate B2B leads. Just make sure to target those with specific companies or job titles – not labeled "self-employed."
A lot of people falsely use this term in their profile.
AI: Which Delivers Ad Intelligence?
Imagine creating an ad campaign that self-optimizes after they go live. Sounds like something out of a science fiction movie, but it's a scientific fact.
And if you guessed that Facebook is the genius behind this AI capability, then you're correct. Once your ad is published, it'll analyze your criteria and make display decisions based on trends in the data of the users seeing and clicking on your ads.
For instance, if one group of people are converting more than others, then it'll optimize so that it continues to show for the high-converting group. All you have to do is give Facebook all the data it needs to make intelligent decisions for your campaign.
So make sure your campaigns are as thorough and accurate as possible.
Unfortunately for LinkedIn, the algorithm it uses isn't as complex. You're able to split test your ads, which can greatly help. But no self-optimization.
On the up side – Microsoft purchased LinkedIn, which means there's plenty of AI intelligence to come.
The Cost Factor: Which Can Deliver Better ROI?
It doesn't matter how many people can see or click on your ads. If they're not converting, then there's no success. So the question is which of the two can deliver better ROI for B2B brands?
At first glance, you'll see that LinkedIn ads are much pricier than Facebook's. In some cases,
LinkedIn ads can cost 6x Facebook ads. But this doesn't mean you should flock to Facebook and ignore LinkedIn.
It's also important to note that as of 2018, Facebook ads are on a steady incline. This is likely to continue as more businesses adopt its platform into their advertising strategy.
Now, when it comes to determining the ROI – every campaign is different. You'll find some campaigns with a higher ROI on LinkedIn because of user intent. If someone clicks on your ad on LinkedIn, chances are, they're very interested in buying it for their business.
But that's not to say B2B brands can't get a great return on investment from Facebook. Those who do win bigger because the ads are cheaper, yielding an even higher ROI.
For instance, the results eConsultancy saw with their Facebook and LinkedIn campaigns are quite telling. On LinkedIn, they received 16 conversions for the cost of $55.33. And on Facebook, they received 20 conversions for $37.33.
The difference in conversions isn't steep, which still shows LinkedIn is a close second.
Look for another blog in the near future where we'll provide some tips for improving your social ads on LinkedIn and Facebook.
Meanwhile, if you want to learn more about how to use artificial intelligence and machine learning to automate your LinkedIn and Facebook ad campaigns, contact us today!