Imagine you've run a successful lead acquisition campaign in Google Adwords. Your quality score looks great. Your cost per click(CPC) is minimal. Your cost per lead is 1/10th of customer lifetime value(LTV). Before you run off and spend that bonus check, you remember, very few leads actually become paying customers.
According to Marketo, 50% of the leads in any system are not yet ready to buy. Most prospects won't be ready to buy when they first visit your site. Yet, according to Oracle, 80% of prospects that do not qualify as a customer today will buy from someone within 24 months.
So, how do you make sure you are that someone. How do you stay top of mind when prospects eventually decide to buy?
The answer:
With lead nurturing and drip email campaigns.
Why Nurture Leads
In To Sell Is Human, Dan Pink explores the fundamental shift in the buyer-seller dynamic. Before the Internet, sellers had all the required information to close a sale. Today, buyers have access to a plethora of information at the tip of their fingers – and most have already made their decision before even meeting the seller.
This illustrates an important point – B2B buyers are not just looking for more information. B2B buyers are looking for someone to trust.
And that's where lead nurturing comes in. Lead nurturing builds a strong relationship with prospects by delivering helpful information at relevant occasions.
Lead nurturing is simply the process of communicating and connecting with the prospects at every stage of the customer lifecycle. Although this communication could come in the form of webinars, sales calls and on-boarding training, the most efficient nurturing is with email campaigns.
Drip Email Campaigns
Drip emails aren't your rain-soaked mail. They're a set of automated emails based on a
schedule, usually triggered by an event (sign-up, download, etc.).
CampaignMonitor estimates that Email marketing delivers up to 3800% ROI. (According to Campaignmonitor.com). Even after 25 years, email is still one of the most powerful marketing tools in a marketer's arsenal.
But just sending out generalized broadcast emails isn't effective. For email campaigns to truly nurture a lead, they need to deliver the most relevant information at the most relevant times. For example, the Zurb Foundation found relevant emails received 18X more ROI than broadcast emails.
The New Prospect
When initiating drip campaigns, timing is everything. The New Prospect is a crucial stage when you'll be sending the first set of messages to your new leads. They were once a visitor browsing your site. Now they've given their email in exchange for a resource. Welcome emails give you the perfect chance to engage prospects while they are still hot and attentive.
The first welcome email can produce an average read rate of 34% . The first email serves three simple purposes:
Delivering your most helpful resources
Introducing your company and who you are
Allowing them to become comfortable with receiving emails from you
AirBnb provides a great example here: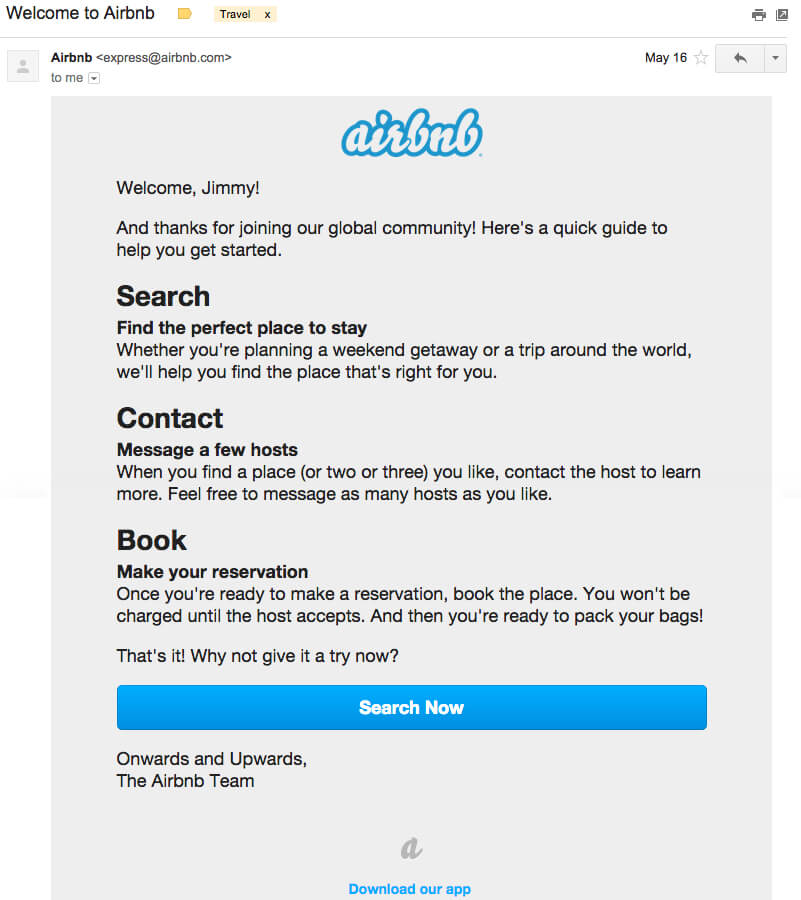 Notice that they feature their top three functions of Search, Contact, and Book to deliver the most value to the prospect.
The Engaged Prospect
Once you deliver a first dose of value to the prospect, continue to engage them. Specific behaviors (such as staying on the pricing page for a long duration) can trigger a new campaign. The drip campaign initiated should be relevant to their behavior.
For example, if they have downloaded a whitepaper, you can ask them to attend a webinar. Or if they are browse a pricing page without buying, you can refer to content that will aid in the selection process.
The mantra here, again, is to send relevant information to the prospect at the relevant times.
The New Customer
Humans have a natural tendency called the Investment Bias. It's a tendency which causes us to invest more into resources we're already invested in. That's why it's 7 times easier to retain a customer than to acquire a new customer.
And the resources we invest are not limited to money. We are more committed to extracting value from a product or service when we invest more attention and effort.
We can apply this principle to help new customers become active customers. When your first close a new prospect, you have an opportunity to offer them training and ensure that they receive the most value out of the product or service.
Using an on-boarding drip campaign we can engage new customers and introduce the best ways to utilize the product.
An example from Zapier helps us understand this better: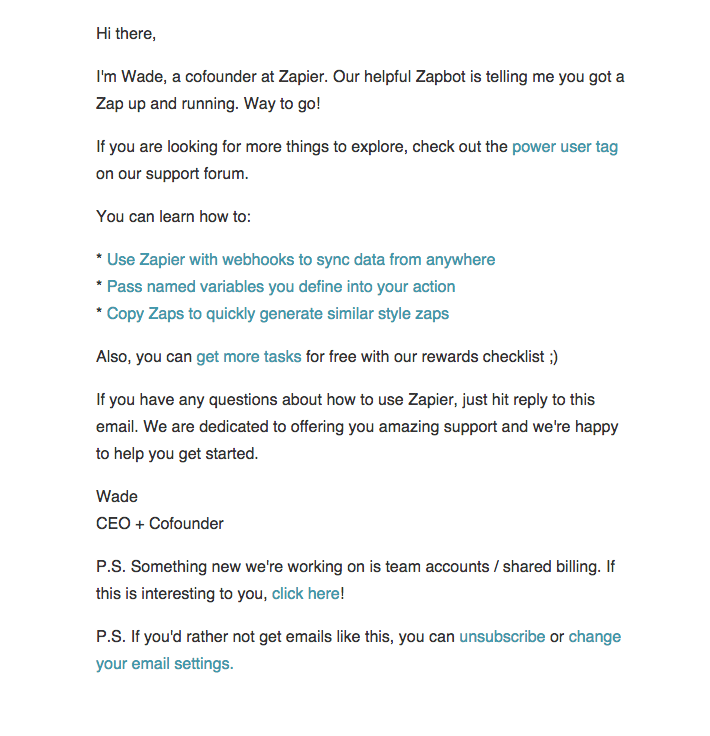 The Customer For Life
One of the toughest challenges for subscription-based businesses is to reduce their churn rate. Even for loyal customers who actively use your product, the renewal process needs to be handled carefully. A renewal campaign is vital as most customers won't remember when they first subscribed.
A simple renewal email will not be enough to retain the best customers.
Instead, plan a renewal campaign to give customers plenty of time for notice and incentivize them to renew.
For example, a simple renewal campaign could consist of three emails:
Renewal Email #1: Send 1-month before expiration and offer an immediate benefit for renewing right now (ie. One free month of service) to test out any incentives. This will act as a soft reminder.
Renewal Email #2: Send 2 weeks before expiration and create more urgency with this email. In this email, you want to highlight a quick list of benefits and features they will miss out on if they don't renew.
Renewal Email #3: Send the day before expiration to give them a final notice
Most customers are too busy to stop their lives and renew a subscription from a single email.
They will appreciate the consistent reminders so the renewal does not come as a shock.
Key Takeaways
Customers today are looking for trust. Providing helpful and relevant information for them at relevant times is one of the best ways to cultivate trust
A great way to achieve this is through lead nurturing and email drip campaigns. We can provide the most relevant content and build a strong relationship by matching drip campaigns with the customer lifecycle stage.
The process begins from the moment they visit your website and express interest. And guiding them through the journey will convert them from a prospect to a loyal customer when the drip campaigns are run correctly.
This post was inspired by Myk's article on Lead Nurturing and Lead Scoring