The search marketing secret sauce
Search marketing remains one of the most profitable sources of lead generation and customer acquisition or as it's commonly known in the B2B space: "demand generation" available on the market. And therefore, should absolutely be a part of a comprehensive marketing mix for any company going after B2B clients. The secret sauce in search marketing lies in customer intent. When a customer searches for something specific online, they are intent on buying that very product or service. The first vehicle they turn to for their endeavor is of course Google.
The key answers for you as the marketer to know are:
Where in the funnel the customer is in their purchasing process?
Are you giving the customer the right information for that specific part of their purchasing process so they can make an informed decision? (e.g. offering a CRM comparison guide works for consideration, less for awareness)
Identify your buying persona
Remember, while you may be going after companies, you're still selling to people – You will need to know the answers these four questions in order to understand your target market:
What job title they hold
Who's in the 'buying committee' (i.e. how many other stakeholders are part of the decision process)
What's their seniority level? what skills do they have?
What hours are they online? what website do they like?
Any additional demographic information you can get your hands on
For example, if you're selling to Mary the Marketer, and she has to implement a marketing automation tool, she will likely have to get her IT team involved. Therefore, you will have to write up some technical documentation to make the process easier for Mary's IT team. Which means you are now selling your service to both, Mary the Marketer and Tim the IT guy. This process is what we call "Persona Building."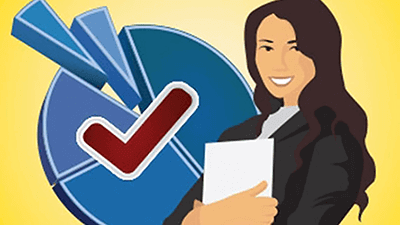 Let's consider this example: You work in the marketing department of a B2B SaaS lead generation company. Mary the Marketer is shopping for a B2B lead generation tool. First, Mary wants to do some research on demand generation tools on the market today, and the differences among them. Mary's research process might start with speaking to some of her peers, either in person, or via a LinkedIn group, or through an online forum. After getting the inside scoop on what tools her peers are using for lead generation methods, Mary the Marketer will decide on her "must have options" vs. her "nice to have options". This is when she is ready to compare prices and companies. Now Mary types "top lead generation companies" into Google sees a bunch of ads for various lead generation companies.
Do SEM Research
Before we dive into Mary's search results, let's discuss SEM research. It is essential to do your homework before setting up any marketing campaigns. In the case of paid search marketing the homework entails understanding the competitive landscape and extensive keyword planning. To do so, you will need to set up an account with a competitive research tool such as SpyFu or SEMRush. These tools show you which keywords the competition is buying, thereby allowing you insight into your keyword planning process. Keyword planning is the most important piece of your account set up. Prior to setting up your search campaign, you will need to map out your campaign, adgroups and keywords. Think of adgroups as mini themes within your campaign. Figure out how many adgroups you can have based on your budget. Keep in mind that you shouldn't add more than 5 keywords per adgroup.
Now that you've developed your macro themes, think about your adgroups – the micro themes. These are usually groups of keywords that represent a particular topic. An example of several themes for our lead generation company would be "online lead gen", "email lead gen", "business lead gen". Once you have your adgroups, use your competitive research and add your keywords into the adgroups. Ensure you have a keyword level tracking mechanism as this will allow you for maximum optimization down the line.
Configure Campaign Settings
A key function of a successful search marketing campaign is the campaign set up itself. Make sure your settings reflect your business. For example, when adjusting the settings for a given campaign, ensure that geo-targeting is set up correctly. Set your country of preference and exclude the countries which you cannot service. If you pride yourself on your lead response time, consider shutting marketing down over the weekend and restarting Monday morning. Think of the campaign level as your macro theme. Location or campaign type are examples of macro themes. Separate search marketing campaigns from display campaigns as performance will be drastically different and it's easier to monitor them when they are clearly separated. For search, choose "search only" and for display choose "display network".
A very common mistake in search marketing is mixing multiple keyword match-types in one adgroup. This is a big no no. Your exact keywords will always be more expensive, and have higher CTR's and conversion rates than your broad keywords. To understand this in depth, you will need to understand the concept of keyword mining. Keyword mining is the process of mining "long tail" keywords from a broad campaign and creating an exact campaign/adgroup with those keywords. Think of the broad campaign as a way to match to hundreds of potentially relevant phrases which can result in profitable new keywords you wouldn't have thought about originally. When you identify the profitable keyword, move it to the exact campaign or adgroup and exclude it from your broad campaign. You can think of the broad campaign as the top of the funnel, weeding out the bad clicks, and the long tail exact terms, as your bottom of the funnel or more qualified clicks.
Capture interest
This is the critical, make it or break it moment for the advertiser.  Remember, your potential customer sees 4 ads simultaneously. Winning the click is the first step in your success toward a purchase.
Let's come back to Mary's decision making process for a minute. Mary has now decided on which lead generation criteria she needs, and which she can bypass. It is the advertiser's job to provide that information to her. If the advertiser knows the competition in the space and has distinct advantages over the competition, it might benefit the advertiser to list the advantages in the ad itself. This will right away tell Mary whether that particular service works for her. If it doesn't, the advertiser just saved themselves an expensive, irrelevant click. If the advantages are of interest, the advertiser brought themselves one step closer to closing a sale. Precise ads at the right time save advertisers from unqualified leads, and save shoppers like Mary hours of research. Everybody wins.
Create the right landing page
Let's pretend for a minute that the ad worked and Mary clicked on it. According to Interactive marketing inc, the advertiser has up to 8 seconds to capture Mary's attention before she abandons the page. That is a lot of pressure on one little landing page. However, if you offer up the right information, you will be in a very good position to win Mary's business. The key to a good landing page is to reinforce the brief description of the benefits offered in the ad, expand on them, and add a few others. Never use industry jargon or complicated technical terms. After all, something about the ad made Mary click on it. Clearly that content was of interest. Do not over explain or give complex examples either. That might deter Mary from performing your desired call to action. Video testimonials are a great way of explaining what problems your product or service solves for the customer.
 Make the sale
Now that Mary converted from your landing page and is finally in one of your lead buckets, nurturing becomes key to getting Mary to buy.
Let's pretend that Mary downloaded a comparison guide from your landing page as part of your call to action. Now it is time to have a member of your sales team give her a call. When your sales rep introduces himself, it is important to discuss the comparison guide with Mary. Jumping straight into a sales pitch will likely turn Mary off. During the discussion it's key to understand what Mary is looking for and how she perceives your company vs. the competition. Pointing out the shortcomings of your software along with the positives will score some points. Mary will be likely to see your sales reps as honest and helpful, which will help them build rapport in the long run. By clearly defining how your solution solves the client's problem, you will win Mary's business.
As you can see, building an effective B2B search marketing campaign isn't only about technical know-how, it's also about providing your potential customer the right information at the right point of their customer journey.