If you really want to leverage demand generation practices in your account-based marketing programs in 2020, you can't stop at engagement.
It's a signal, and it's important, but not the end goal for a marketer.
Engagement alone isn't going to necessarily make your company any money or bring in a set number of new logos. If you stop here, that discussion with your boss on how you made a difference in your marketing efforts just got that much harder.
So how can we look at B2B differently today?
We've been trying to squeeze everything we do into a single measurement framework.
It's always been a singular funnel and traditional ABM.
But is it really a linear path? Did we expect it to be so linear? Why do we assume that it will all follow a waterfall that leads to a conversion?
In a traditional approach to ABM, marketers may execute campaigns – such as buying and joining B2B targeting data, onboarding audiences, testing creative, content and channels, and enriching leads – but have no clear way of optimizing target account engagement across channels to drive demand and pipeline, and no clear insights into the impact on revenue and ROI from each program.
We know today's model isn't perfect. Traditional ABM doesn't always turn into qualified hand-raisers or opportunities.
We've been doing this for the longest time, i.e. taking a possible name and adding it in a database, creating campaigns to nurture the email address, and repeat. It's more than collecting email addresses – counting everyone as a lead isn't the right definition of a lead.
This system is broken.
We let the traditional ABM vendors define ABM for us based on what their platforms were good at: engagement. It was an "ok" approach for its time, but it's not how marketing works today.
It's not adapting to the change in front of us today. People are changing the way they want to engage with us and what's expected in those relationships. How we consume content is rapidly changing. To be a lead, there needs to be some type of intent.
Defining the double funnel
TOPO recently defined the Double Funnel. It ensures that the entire GTM organization has regular visibility into the performance of all go-to-market approaches all the way through the process to closed-won accounts and their impact on revenue.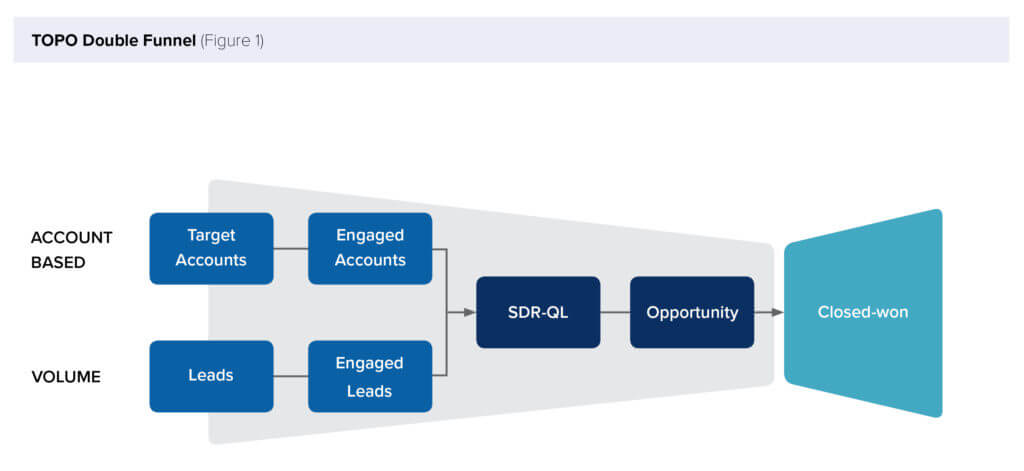 To simplify this a bit, you can think of the account-based funnel as your traditional ABM motion where you define a small set of target accounts, plan and manage campaigns around those accounts, etc. You can think of the volume funnel as all of the demand generation activities you're doing to try and capture the additional latent demand that exists for your product outside of the handful of target accounts you've identified for your ABM program.
Given these differences, the tactics you use, and how you measure performance should be different. For example, you wouldn't measure your demand generation funnel on # of target accounts engaged.
Both of these funnels should ultimately be measured against the revenue they deliver; however, that's not happening enough with ABM programs as it should. They often stop at account engagement.
What your program should look like in 2020
You have to deploy programs and tools that actually allow you to tie and optimize your marketing efforts to the pipeline and revenue that they generate so that you can determine the ROI of your efforts. You need different methods to deliver and measure the two sides of your funnel: the account engagement/influence side as well as the demand generation side.
If you're only doing account engagement and influence, and don't have a clear way of showing how that approach leads to revenue, it's time to rethink your strategy and include a new focus on demand generation.
Your strategy shouldn't rely on one platform, it should look something like this:
Truly understand the uniqueness of your sales and marketing motion
–  Some companies may need 3 stages, some may need 7
–  Which aspects of your marketing and selling activities are unique to you or your industry?
Identify technologies and processes that can best address the uniqueness
–  This often isn't a one-sized-fits-all end-to-end platform – but rather niche solutions placed in areas where you need better-than-average performance
Determine the goals for the program and how you'll measure
–  If you find yourself measuring everything the same way, something is wrong
–  Each program should have a specific outcome and be measured based on that
Spend time identifying and prioritizing your target accounts list
–  This is way more than just industry, size, job title targeting – you need to use additional intelligence and create a small set of account that you have a great chance of winning
Ensure you have programs and tactics for both sides of this funnel ABM and Demand
–  What plays will you run against the target account list?
–  What campaigns, content, and offers will you have available for everyone else?
Establish a foundation in testing and experimentation
–  If you find yourself launching a campaign with only one iteration, you're leaving money on the table.
–  It's much more efficient to optimize an existing campaign vs. build an entirely new one.
Focus on ultimate revenue impact
–  Generates hundreds of tests and optimize to what ultimately drives revenue and not just clicks/leads
–  Pinpoint the best performing combinations of creatives, audiences, and offers and redirect your investments.
When executed correctly, this engagement plus demand generation approach can blow traditional ABM approaches out of the water. For example, say a marketer is running an ABM campaign using two different ad creatives and wants to optimize. The marketer would likely judge the performance of the campaign based on a traditional ABM-engagement standpoint, such as cost-per-click and cost-per-lead, and optimize accordingly. However, digging deeper into demand generation KPIs for the same campaign might reveal that the ad with a higher CPC or CPL actually generated a stronger pipeline, more closed wins, and ultimately a greater ROI.
For B2B marketers, every dollar counts, especially in these unprecedented times. Engagement may be a good signal of campaign performance, but it will not necessarily make your company any money or add any new clients to the roster. Stopping measurement at engagement will put marketers in a tough spot when it comes time to explain how their ABM campaigns actually made a difference. For marketers only looking at account engagement and influence without having a clear way of showing how that approach leads to revenue, it's time to rethink strategy to include a focus on demand generation.