We often review campaigns for our clients, and we're always surprised at how many marketers aren't using the right call to action on their ads. Just like headlines, copy, and images, you should be testing your call-to-action (CTA) frequently and experimenting with what works best for you and your company.
Depending on the ad platform and content type, you have a variety of calls to action available to choose from, but which one should you choose for your ad campaign?
B2B brands can use their paid social and Google Ads to: generate leads from content, start sales conversations, increase their demo requests, and eventually get people to purchase a product. 
So, today let's dive into what are the best call to action options for B2B brands across Google, LinkedIn, and Facebook Ads – all backed up by data.
What is a CTA?
A call to action (CTA) is either a statement or a button that gives the consumer an instruction.
The key word here is action. With social ads, you're not simply looking for impressions or engagement on the platform itself. In most cases, you're looking to turn the impressions you get on LinkedIn and Facebook into leads or traffic to your site to drive brand awareness. You want users to take action.
With your ad copy, creative and CTA button you want the customer to take the next step in the buyer journey. This can be a purchase, an instruction to make a phone call for an appointment, or directions to download an eBook.
The best call to actions then must be divided into categories based on the step you want the buyer to take.
"Best practice" for your CTAs depends on:
Your offer
Your campaign goals
Your budget
Your success metrics (i.e. your ideal Cost Per Lead)
That said, Metadata has collected CTA data from more than $15M in ad spend on LinkedIn and Facebook. Which specific CTA you choose will depend on the intent and the platform.
Keep reading to learn which CTA options you should consider.
Brand Awareness vs Lead Generation: What are the Best CTAs?
Brand Awareness CTAs
The first category of CTAs that we will look at are ones that ask the customer to make an immediate purchase. Or, in B2B terms, at the very least book a demo, sign up for a free trial, or book a sales call. Direct response is typically used for eCommerce, but B2B brands can benefit from tying some of their ads to a sales-oriented CTA.
Which CTA should you use for brand awareness?
For Metadata users, "Learn More" is by far the most popular CTA option on LinkedIn.
Lead Generation CTAs
Marketers know that most people who land on their website are in information-gathering rather than purchasing mode. That's why they try to get the customer to give up their email address so the business can nurture the relationship over time.
Of course, consumers have gotten savvy about giving up their data, so marketers have been forced to get more creative about how they ask for the information.
Some of this is mixing up the free giveaway. It used to be enough to tell people to sign up for the company newsletter. Later, businesses began offering ebooks or other digital products in exchange for the contact information.
Now, people are being offered free trials, entire courses, and even free services so the marketer can continue the relationship. Work out the best offer for your audience, and then tie it to a direct CTA on your ads.
Which CTA should you use for lead generation?
For Metadata users, "Download" is the most popular CTA option LinkedIn.
Google Ads call to action (with examples)
Google Ads must be written to make every character count. Advertisers have just 30 characters in the headline and two 90 character description lines. Further, Google restricts advertisers from using terms such as "click here" in the ads.
The whole point of this kind of ad is to generate a click to a landing page. The page on which the user lands after clicking must do the heavy lifting of getting the person to buy, call, or submit their information.
Metadata is rolling out Google Ads this year as the platform becomes even more focused on automation. With Google's new Performance Max campaigns, advertisers can base even their CTAs on search intent and past search or browsing behaviors. Google recommends using Performance Max when:
You have specific advertising and conversion goals (e.g. driving online sales, lead generation, etc.).
You want to maximize the performance of your campaign, and aren't limited by which channel your ads appear on.
You want to easily access all of Google's advertising channels using a single campaign.
You want to get additional reach and conversion value beyond keyword-based Search campaigns.
Google ads CTA example

LinkedIn ads call to action (with examples)
Advertisers typically use four CTAs on LinkedIn: Sign Up, Register, Download, and Learn More. The platform also offers Apply, Get Quote, and Subscribe as options, but fewer advertisers use them.
For Metadata users, "Learn More" is the most popular CTA for brand awareness campaigns, while "Download" is the most popular CTA for lead generation campaigns. (Although it is followed closely by "Learn More.")
But how does that stack up to performance?
Both options see the highest clickthrough rate (CTR), but they also see the highest cost per lead (CPL).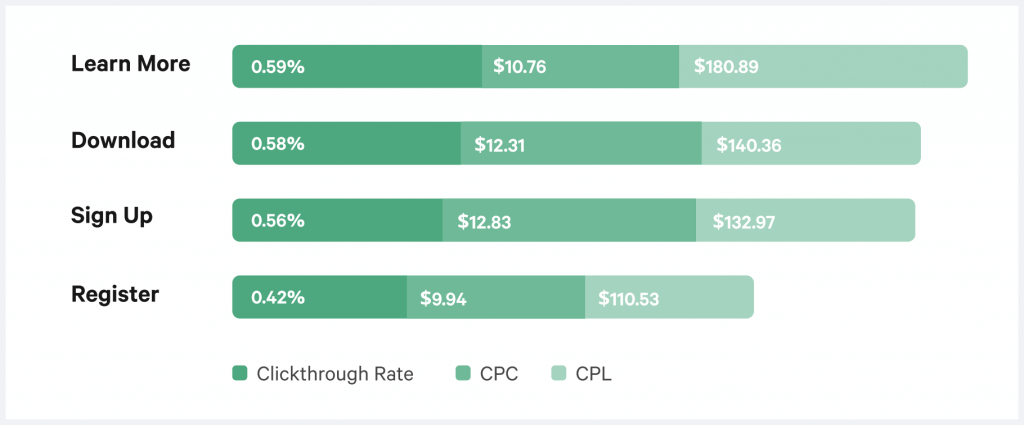 Remember: a higher CPL isn't always a bad thing if your campaigns are driving qualified leads and revenue. Just make sure you're optimizing your ads to metrics that matter, not simply engagement. On the other hand, "Register" is the least used CTA but has the lowest CPL, making it a potentially good option for B2B brands with a lower budget.
Either way, this is where experimentation comes into play.
LinkedIn CTA example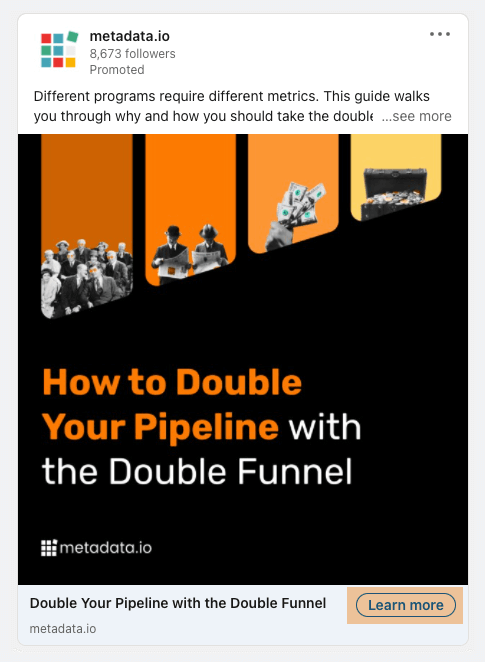 Facebook call to action (with examples)
Advertisers have dozens of CTA options on Facebook. Just take a look at the image below.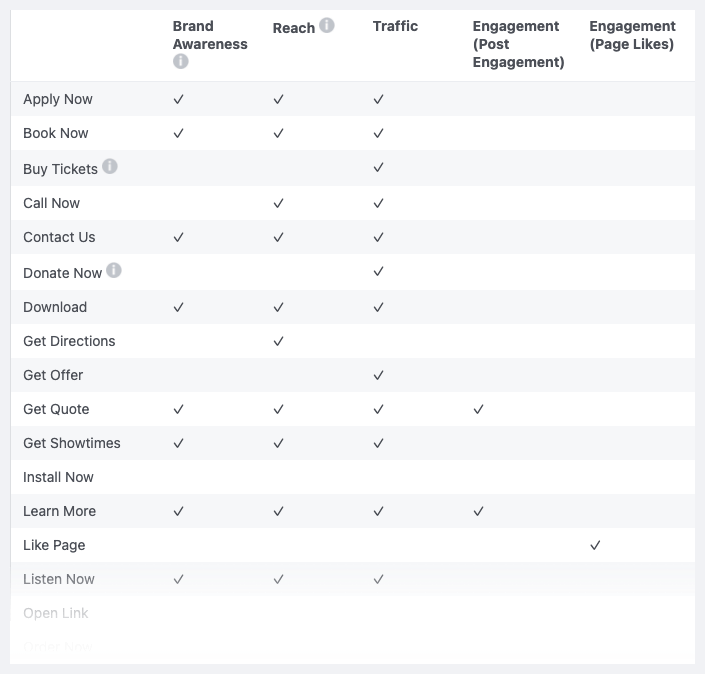 Despite having so many options, "Learn More" is by far the most popular option for brand awareness campaigns on Facebook. While "Download" sees heavy use for lead generation campaigns.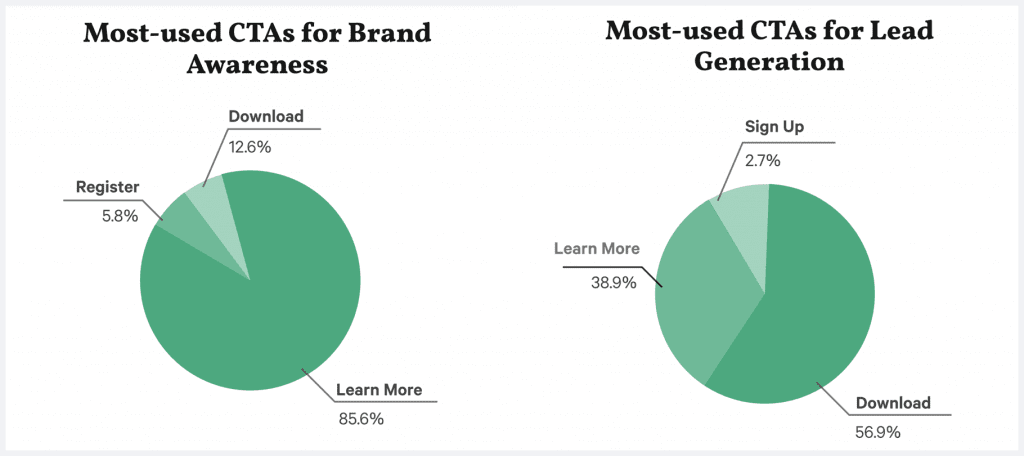 Like LinkedIn, the "Learn More" CTA on Facebook has the highest CTR. But it's also associated with the highest CPL (although it's nearly half the cost of LinkedIn). Notably, both the cost per click (CPC) and CPL on Facebook are far lower than those on LinkedIn.
Generally, the cost per lead is lower on Facebook—anywhere from 10-50% lower.
But not always. For some personas and in some countries, Facebook is just less popular than LinkedIn, which means there's a larger audience there. In these cases, we've found that our customers actually get lower CPLs on LinkedIn.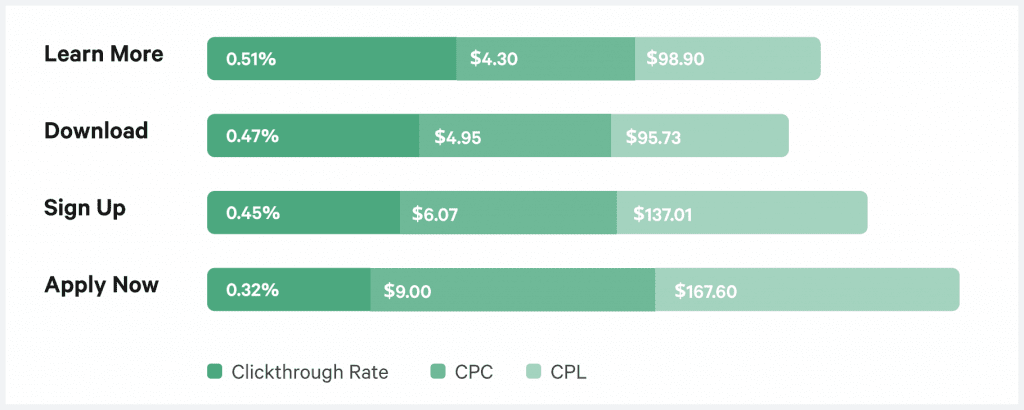 Facebook ads CTA example
So, which CTA is the best?
It all depends on your goals and objectives. I always suggest that you test multiple CTAs to see which ones perform best for you and your company.
The most important thing is to make sure that your ad copy matches the tone of your call to action and fits the right intent for your audience.
Check out our B2B Paid Social Benchmarks report. It includes this breakdown of CTAs, along with ad creative and copy best practices.