Hiring the right person to lead your demand generation effort is tough.
Plenty of candidates can "talk the talk"—dropping buzzwords and impressive metrics as they move through the interview process.
Very few can back up their experiences with an in-depth understanding of successful, modern demand gen.
I just went through the hiring process for the Demand Generation Manager position on our team, and let me tell you: I had to sift through a lot of BS before I found the stellar demand gen expert who ended up joining our team.
The interview questions I outline below helped. A lot.
Many of the questions I ask are to understand a candidate's perspective on demand gen.
Why?
Because the best marketers have their own perspective on everything from metrics to channels to branding.
The answers to these questions differentiate those who are well-read versus those who are well-read and have their own hands-on experience to build a unique perspective on.
Here's what I really want to know: What do you really think about this? Do you have an opinion that differs from the echo chamber of LinkedIn?
My top interview questions for demand generation managers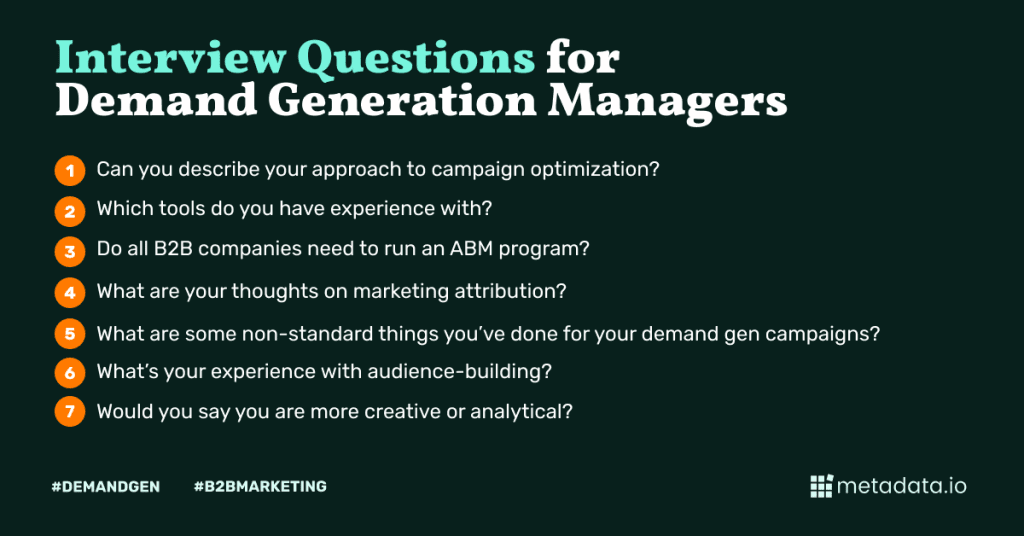 1. Please describe your approach to campaign optimization (and associated metrics)
At face value, what you're looking for in this answer are key terms such as cost per click (CPC), cost per lead (CPL) and click-through rates (CTR).
But the more in-depth the candidate's answer, the higher the likelihood that they understand how demand gen metrics affect the rest of the funnel and customer journey. If they stop short at CTR or CPL or the number of MQLS they've driven, they're most likely not the best candidate (at least for us). I
In contrast, if the interviewee starts talking about Customer Acquisition Cost and Customer Lifetime Value (LTV), you're on solid ground. In-depth knowledge of acquisition cost and lifetime value show that the candidate knows they should be accountable for lead quality, not just lead quantity.
Our best candidates understand the funnel past marketing, all the way through Customer Success and renewals.
Get specific with this one.
After asking the open-ended question, I run through all the tools in our marketing stack one by one. I ask them to rate their familiarity with the tool and a scale of 1 to 5.
Yes, it can be a bit of a process. But, it's worth it.
Drilling down into the tools we use means I get better insight into a candidate's expertise and gives them a better sense of how we operate. After all, you're looking for someone who can run the demand gen gamut. You're not looking for someone who has focused heavily on planning but relied on agencies to actually implement their demand gen campaigns.
At the very least, ask about your CRM and marketing automation tools. Understanding the connection between the two is critical. Hands-on experience working with both is preferable.
3. Do all B2B companies need to run an ABM program?
This one's a little more straightforward: I'm looking for an emphatic (if not vehement) no. Beyond that, a great answer will start with "Not really. It depends on…"
Because, if we're being honest, whether or not ABM works depends on a lot. It depends on your ICP. It depends on your marketing budget. It depends on how well sales and marketing are already aligned. It depends on your ACV.
If, instead, a candidate begins by saying "Yes! ABM programs are fantastic for…", you might have run into that LinkedIn echo chamber I mentioned above.
Yes, they should know how to run an ABM campaign. But they should also know when it's smart not to.
4. What are your thoughts on marketing attribution?
Marketing attribution is a sticky subject. Some marketing folks think demand gen should be able to (or try to) attribute everything. I am not one of those people.
To me, it's a red flag if the candidate says that attribution is critical for justifying marketing spend or optimizing their demand gen efforts—and stops short there.
A great candidate, in my mind, will take a more thoughtful approach to attribution. "Look," they might say, "You can't always attribute good opportunities. That's OK."
I'm looking for them to at least acknowledge that it's often what happens outside what we're able to measure as marketers that actually drives the purchase decision. It could be word of mouth, it could be social proof, it could be good branding.
Here's the best possible answer: "Attribution is an indicator, but it's not the whole truth because we know that not every experience that leads to a sale is measurable."
If we're still in vague territory, I may ask a follow-up question about their thoughts on branding, or influencers, or social media. Sometimes it really gets the discussion going.
5. What are some non-standard things you've done for your demand gen campaigns?
I'm looking for something I've never heard of, here.
When you're marketing to marketers, you don't want the tried-and-true. You want something new, innovative, and experimental. Maybe it's "guerrilla-marketing-esque." Maybe it's a particularly clever way to retarget on social media.
What I'm not looking for is for the candidate to mention all the channels we're well versed in already: LinkedIn, Facebook, email campaigns, and so on.
6. What's your experience with audience-building?
It's not exactly groundbreaking to say that audience-building is one of the most important skills for a demand gen marketer to possess. It's (nearly) in the name.
I'm looking for candidates who have taken a unique path to building their audiences—collecting their own first-party or using third-party intent data via LinkedIn scraping, for example.
Nearly any demand gen marketer could spit the typical data vendors back to me (ZoomInfo, Bombora, G2, BuiltWith, and so on). I'm looking for a unique, hands-on experience here.
7. Would you say you are more creative or analytical?
Marketing has transformed from an old-school brand-building mechanism with no accountability for results into a science of measurable success metrics.
This science requires deep analysis and conversion rate improvement testing. If your candidate is unable to comprehend and analyze metrics, you've got the wrong guy (or gal). You'll need creativity in the role, but it's much easier to outsource ad creatives than it is ad optimization.
The answer you're looking for: "I'm a great hybrid" or "I lean more towards being analytical."
The answer you don't want to hear: "I'm far more creative. I love design, but leave analytics to the experts on my finance or marketing ops team."
Make the interview process a learning process
Quick clarification before you start bombarding your new candidates with in-the-weeds metrics questions in the first five minutes: these questions are part of a longer interview process.
Phase 1
For our most recent hiring round, we started things out with a 30-minute first meeting. This is more of a "get to know each other" space where (hopefully) I'm answering as many questions as I am asking. I can get to a clear 'yes' or 'no' decision in this meeting, but not usually.
Phase 2
From there, I send over a short assignment for them to complete before the next round. Keep it something simple, like asking them to write a handful of headlines for an ad creative you send over.
If the results are boring or don't match the guidance you've given them, it's a good way to answer the "how's your creative writing?" question without actually asking them.
Side note: Don't make this assignment too big. Don't ask them to build your strategy for the next 6 months. It shouldn't take them more than an hour, and you shouldn't be asking them to fix your problems.
Phase 3
Finally, if we both want to move forward, we get a 60-90 minute interview on the books. That's when I ask these questions—once I have a better understanding of who they are and they have a better understanding of how we operate.
Interviewing your own Demand Gen marketer? Use the answers above only as a guide for your interviewee. You'll encounter variations in the answers, but the main idea is the same: you're looking for candidates who offer up their own perspective, who are well-steeped in the analytical, and who can hit the ground running.