A few months ago, I posted a question about the upcoming trends in B2B marketing:
The 100+ comments were flooded with opinions and suggestions from B2B marketing heavyweights and customers. The below post is an attempt to summarize my view and address the most popular responses. And thankfully we're going deeper than email marketing, search engine optimization, or social media.
Here are my top B2B marketing trends to pay attention to in 2022.
1. Revenue > Vanity Metrics
Too often Sales and Marketing teams are not aligned with their goals. There are no checks and balances. Sales can say how many leads they can take with revenue goals, while Marketing has lead goals they can fake using vanity metrics.
It puts the company on a hamster wheel – increasing volumes of leads that result in a bloated sales team left to handle them.
Without the right tools, companies don't realize what campaigns have zero traction and what campaigns are attracting the most potential buyers. Money is wasted on leads that won't lead to revenue.
Focus on data tools that apply to your business and addressable market, and use experimentation to operate those technologies. Monitor which experiments move the needle (generate pipeline) and which don't (vanity metrics).
Vanity metrics matter less. Tangible demand and pipeline are the keys.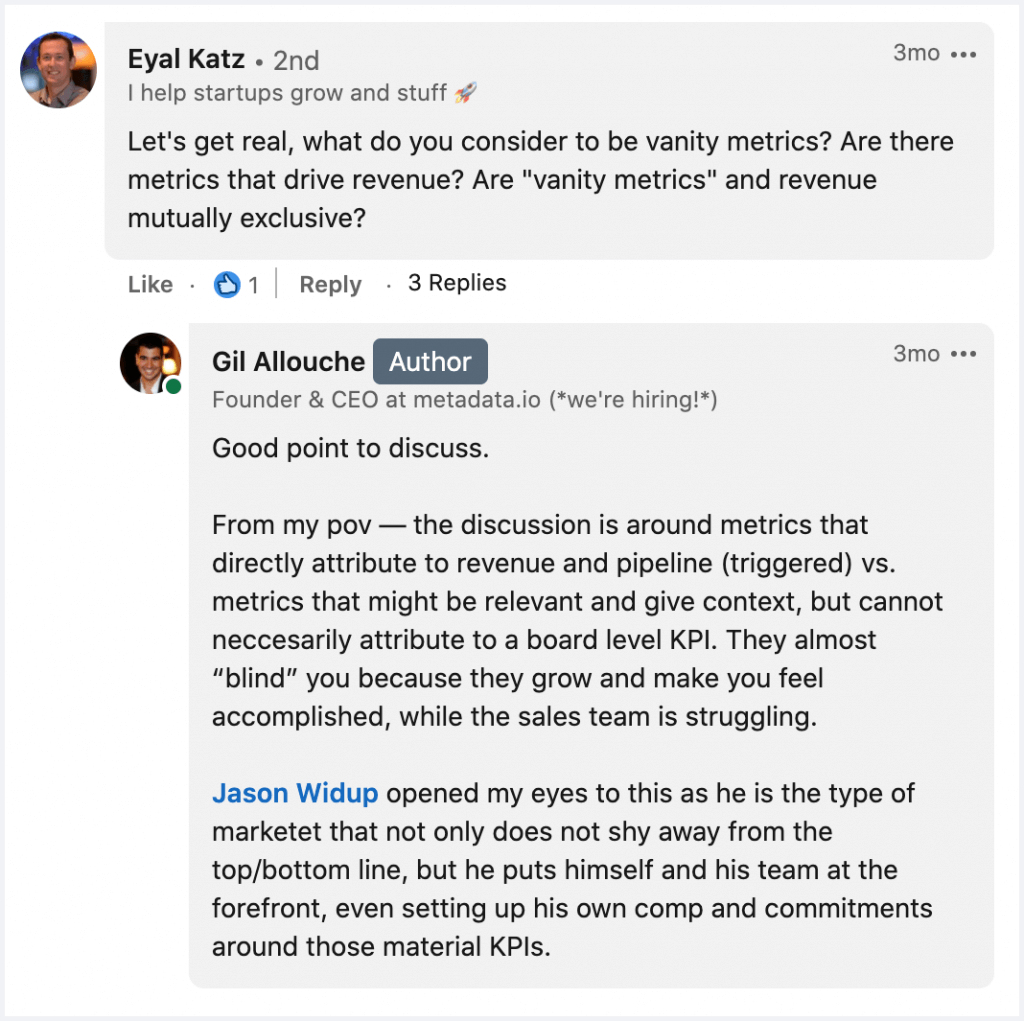 Check out how Jason Widup broke down two campaigns to figure out how each played out looking at vanity metrics vs. lower-funnel metrics like MQLs, Pipeline, and Closed/Won business.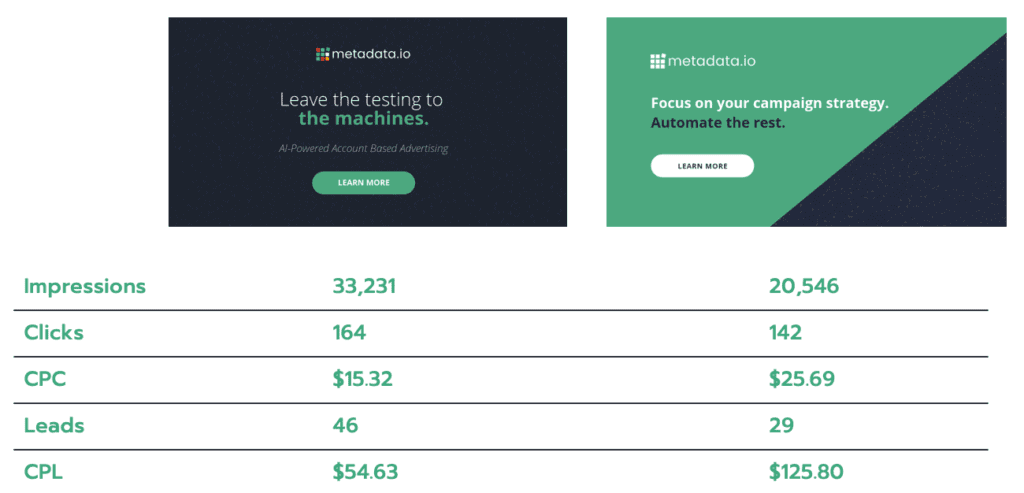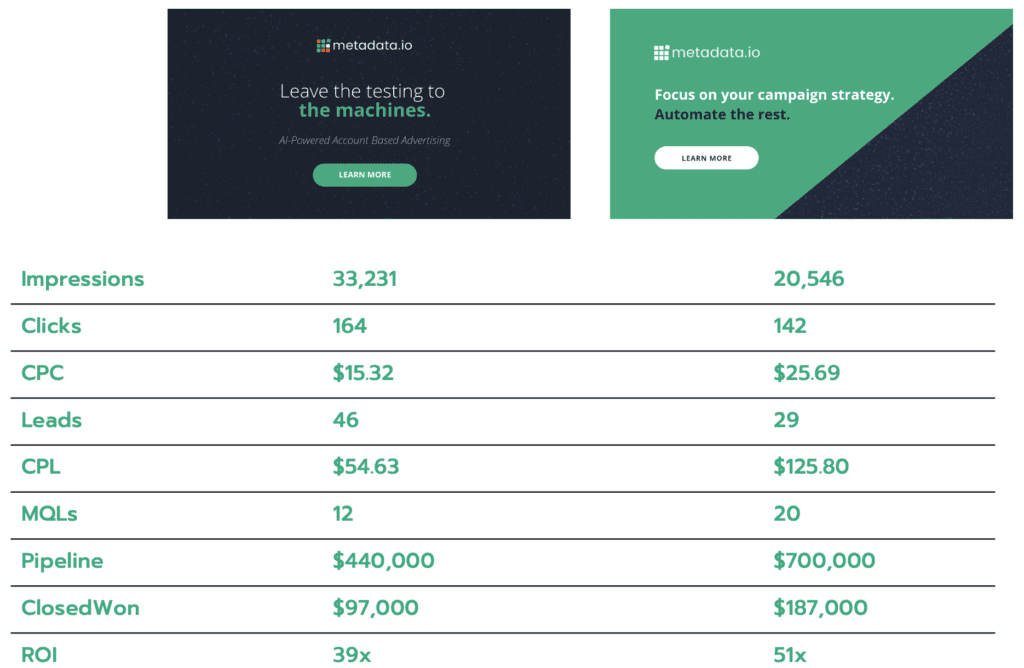 Want to learn how to set goals in line with demand and revenue targets, how to leverage the right demand model, and optimize it over time. Check out Jason Widup's latest Demand template you can use to input your own data points and update regularly.
2. G2 > Analysts
Using accurate insight is critical. I am a firm believer that customer reviews powered by authentic user voice and real-time data are far superior to analyst reports.
I couldn't agree more with Manny Medina from Outreach whose opinion on analyst firms says: "They spend 59 minutes telling you how your software is just a feature in someone else's solution and then try to sell you their consulting services."
They aren't mutually exclusive.
One is top-down and centralized (i.e. A Forrester analyst doing research and publishing their findings) vs. bottoms-up and democratized (i.e. customers and prospects experiencing the sales process, product use, ROI, customer support fist-hand) and based on rankings.
Word of mouth has become the #1 channel in B2B marketing. The word of a customer will always carry more weight than the word of the company. I like to describe G2 as the Yelp for software – something Godard Abel is probably better at describing it:
Godard Abel, Co-founder & CEO, G2
Eden Bidani agrees the customer experience is everything.
3. Pricing on the page > "Contact Sales"
Deciding whether or not to post pricing information is still up for debate. Price and cost are universally searched for in the buyer journey, yet most shy away from adding it to their website.
Pricing for your product or service should always be on the website, even if it's a starting point. A buyer should be able to estimate an ROI without having to speak to sales.
It's ingrained in buyers to search for price as part of any purchase decision. They will keep searching until they find what they want. If it's not on your site, you're not part of the price conversation. And no one wants to hand off a lead to competition because they couldn't find their end goal – how much does it cost?
As one of the most important pieces of data in the buying cycle, companies should embrace price as a marketing strategy that will drive leads.
Own the conversation.
Embrace price and watch conversions skyrocket.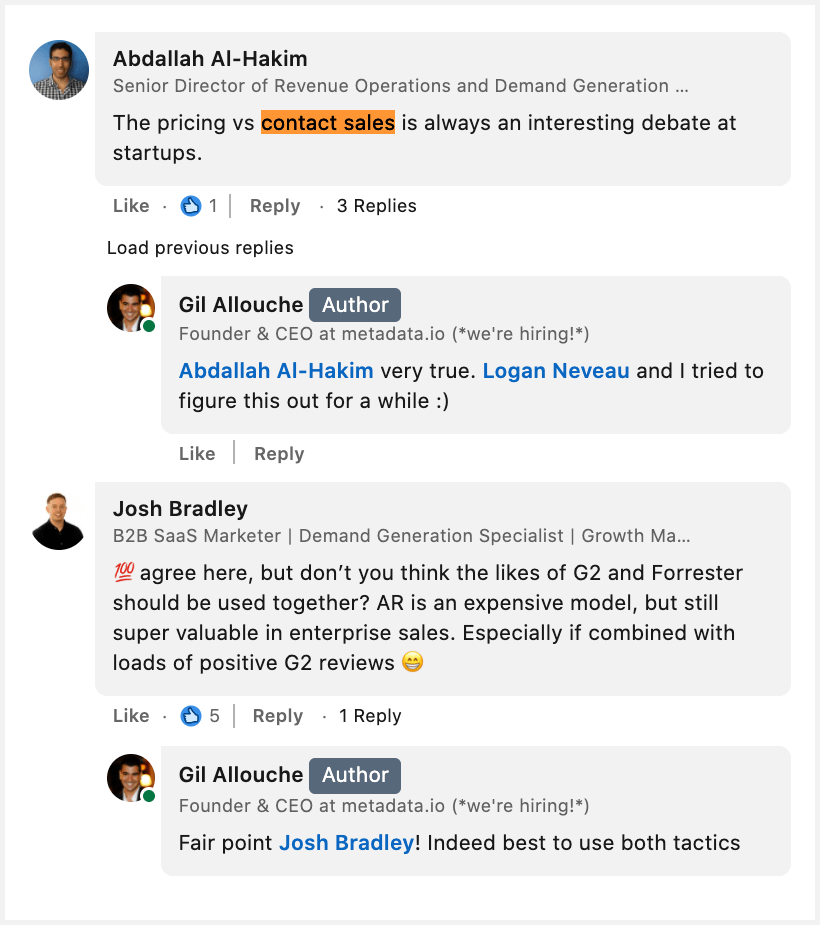 4. Proof > Hype
With all the hype over "big data", businesses are collecting massive amounts of data but are not actually deriving any value from it.
You have to mine your data for insights. With the predictive analytics tools and technology that are available to marketers today, it's a straightforward process to spot buying patterns and trends in your data.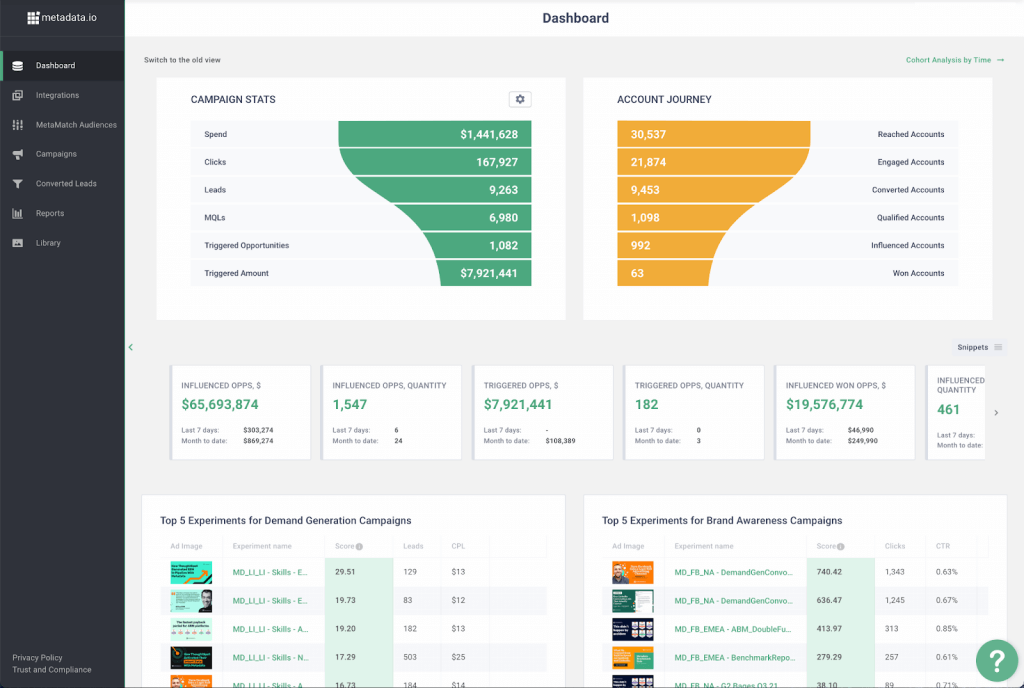 5. Organic content > Gated content
Buyers have grown tired of coughing up their personal information just to get a piece of content. Plus, people who download content aren't necessarily a "lead".
Organic traffic from ungated content converts so much better. It's more economical and your CAC (Customer Acquisition Cost) is lower. To make that happen you have to invest in long-term initiatives. But know that the content might convert a year later.
It might not be measurable in the short term, but putting budget dollars behind targeted, ungated content distribution is a great marketing play.
Bottom line — if growing top-of-funnel traffic is your highest priority or your current conversion initiatives aren't performing well, tell the guards to open up the gates. The more the merrier. Top, middle, and bottom of the funnel offers can be ungated.
For example, at Metadata, we have our benchmark report as a key part of our content strategy and give the dataset away for anyone to look at.
Kill two birds with one stone by improving your website's organic visibility and generating new, more qualified leads.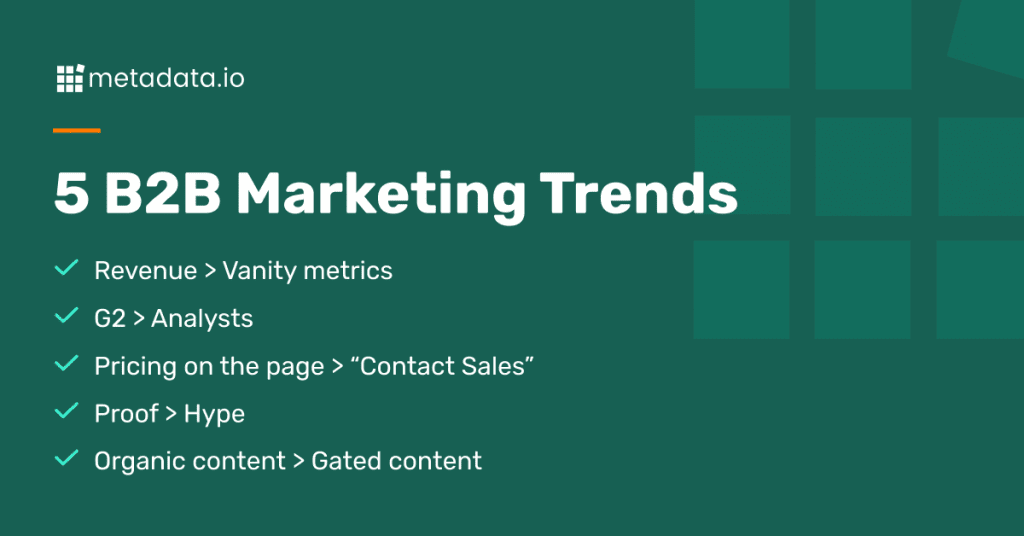 So, let's recap
If you're a B2B company, the marketing landscape (and B2B buyers) are changing faster than ever. And your marketing efforts need to keep pace.
Don't let vanity metrics blind you.
The authentic customer voice is always more powerful than an analyst review. Use it to align with your marketing.
Own the pricing conversation on your page so customers don't wander off.
Filter through your data with the right analytics tools to spot trends and patterns.
Ungate your top, middle, and bottom of the funnel offers and generate more qualified leads.
Cheers to marketers turning the page to 2022.